A family longs for Vision Zero to live up to its promise
What will it take to protect people from dying on Edmonton's streets?
Jane Cardillo and Steve Finkelman don't go to Whyte Avenue unless they have to.
They used to eat there often, as many Edmontonians do, but now all it is to them is the place where their son David died.
It was almost three years ago, on Jan. 27, 2014. David, a 27-year-old musician and radio host, was crossing the avenue in a crosswalk when a woman smashed her car into him as she made a left turn.
The pain still throbs for his family.
"When we lost our son, we lost a great part of our life," said Cardillo. "We are fortunate, blessed that we still have our daughter, but the three of us liken to survivors of a war. Sometimes in my head it feels like I am walking through bombed-out streets and there is nothing but rubble around me."
Despite the devastation, they are willing to revisit the wound if it helps make Edmonton's streets safer. Finkelman is a former journalist and Cardillo is a writer — they know a human face makes a tragedy matter more than statistics.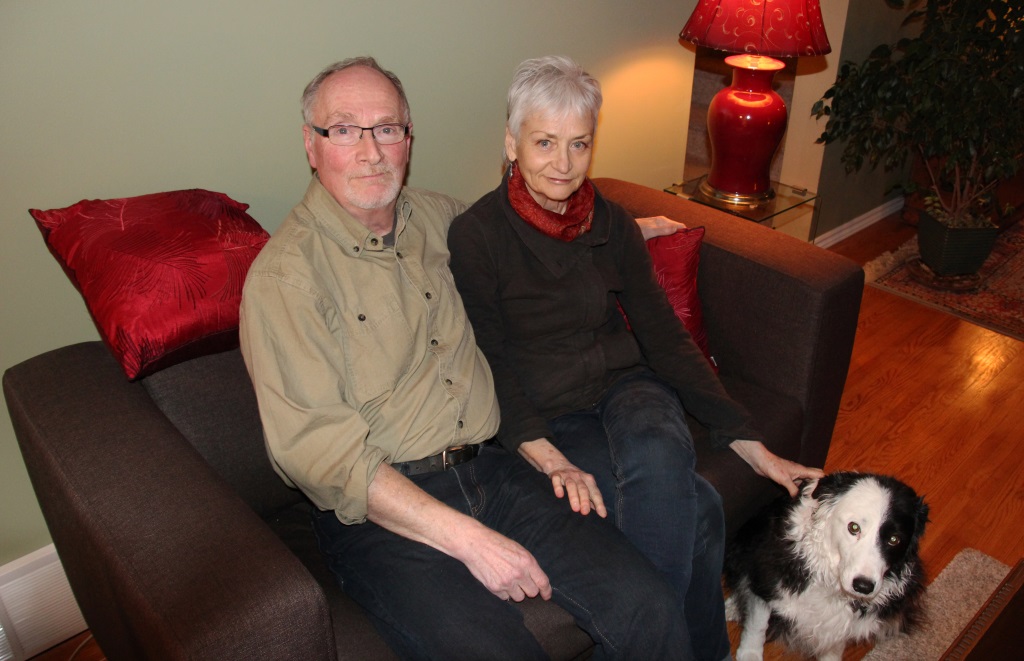 They talk, even though it hurts. They comment, even though people sometimes leave insensitive replies. And they would be willing to be the face of Vision Zero, the city's effort to achieve the goal of zero traffic fatalities and serious injuries, if given the chance.
But they have not had that chance.
"We had pinned our hopes on Vision Zero as something for people who wanted to coalesce around something," Finkelman said of the goal, which Edmonton adopted in 2015, becoming the first major Canadian city to do so.
"I think the city has just completely dropped the ball on Vision Zero," he said.
"We've lost our son. We don't want to see anyone else dying on the streets."
—Jane Cardillo
David's parents encouraged city officials to humanize their son's death and other pedestrian fatalities in a citywide campaign featuring victims' families. Such deaths tend to get less media attention than murders. Often the names of the dead are not released, leaving it up to the grieving families themselves to speak up if they want others to know the person who died.
"If somebody gets murdered, it's a big story and I'm not saying it shouldn't be, it's a big story. But our son and other pedestrians died equally violent deaths," said Cardillo. "I'm not taking away from someone who has had their loved one stabbed or shot, but there's definitely more made of a death that way than of somebody who dies on the road."
Instead, the city's Vision Zero website features a series of interviews with people on the street who recognize after questioning that the only acceptable number of traffic deaths is zero, but who also express some skepticism that this is possible.
(Update: The Vision Zero website also has a series of videos called Voices of Traffic Safety, featuring first responders and a crash survivor, among others. None are specifically related to pedestrians.)
The city's approach to spreading the Vision Zero message so far has frustrated Finkelman's family.
"I know that you can't put all of the onus on Vision Zero," said Cardillo. "I know that you can't put all the emphasis on one program to stop all the vehicles on the road. It's just not reality and I don't expect that. But I was expecting a higher profile from Vision Zero to say this is what happens."
Mayor Don Iveson hears the frustration, from Finkelman's family and other critics of Vision Zero's implementation. But it is a complex problem, and it's impossible to "pull all of the levers at the same time," he said at a December roundtable on the budget.
One of those levers is engineering. Better road design could keep pedestrians safe and ultimately, decrease the number of fatalities.
Another Vision Zero city is San Diego, Calif., which now has a goal of zero traffic deaths by 2025. San Diego administration is hoping to reach that target through several means, including better road infrastructure, something David's parents think Edmonton could learn from.
"We like to go to San Diego and at an intersection, all lights turn red, all pedestrians cross and cars cannot turn left unless they have an arrow," said Cardillo. "Changes like that. Changes that are going to give pedestrians more protection."
It's a concept that Edmontonian Myrna Brososky would also like to see after witnessing many close calls as a driver. After seeing the first Taproot Edmonton story on pedestrian deaths online, Brososky responded to Taproot Edmonton's Facebook post saying she has witnessed pedestrians disobeying traffic signals on several occasions in the city's core.
She later elaborated that if Edmonton were to make intersections and light signals a more co-ordinated effort for all modes of transport, everyone could be safer.
"If you gave [pedestrians] more time to walk across — specifically for both ways — someone could potentially get through one way and go another way without interfering with traffic. In my mind, that might resolve a lot of the issues," she said.
It's something city staff are already looking into, said Gerry Shimko, executive director of Edmonton's Office of Traffic Safety.
"We've added 15 left-turning only signals [for drivers] this year and more will be added over the next two years," he says, adding other technology is also being considered.
"We're looking at advanced pedestrian signals. They would allow the pedestrians to go first, about seven seconds ahead of the driver. It would allow for more visibility of the pedestrians."
He pointed out that the city is trying to encourage drivers to slow down with 100 additional driver feedback signs to city roads this year and additional zebra crosswalks added throughout the city.
But Shimko recognizes there's still a long way to go before Edmonton can achieve zero traffic fatalities.
Signs of change in Edmonton could be seen in the redesign of Jasper Avenue between 109th Street and 124th Street, which is meant to be moving towards a more pedestrian-friendly streetscape.
Initial designs for the area reveal plans to co-ordinate traffic lights for pedestrians, increase the width of the sidewalk and the removal of a parking lane and bus lane to encourage drivers to slow down as part of the redesign slated for 2019.
However, such changes to make the downtown avenue more pedestrian-friendly will do very little if the speed limit remains at 50 km/h, Paths for People vice-chair Conrad Nobert wrote to city officials in response to the Imagine Jasper Avenue plan. Decreasing the speed limit by 10 km/h would only add 32 seconds of driving time for the average driver but could "improve the livability and walkability of the street," he wrote.
"At speeds of 50 km/h, cars are deadly, intimidating and downright scary to people outside of vehicles."
—Conrad Nobert
And that's where the challenge becomes less about road engineering and more about winning "hearts and minds," as Iveson puts it. There has to be a shift towards policy and action that "values the most vulnerable users of the roadway system versus traffic flow," he said.
For Vision Zero to succeed, drivers will have to accept going slower and waiting longer. That's not a budget issue.
"Will is the problem," Iveson said.
David Finkelman's parents are willing to try to help bring those hearts and minds around. It's the only thing they can do.
"Keep your mind and eye on the road," says his mother. "I know it's hard and I've been distracted in a vehicle but you could be saving a life."
Put yourself in our shoes, says his father.
"You're looking at it behind your windshield, behind your SUV, but you try and have two RCMP officers come to your door and tell you your son was killed. That is something I would not wish on anybody. I'm not sure there's anything worse in the world."
Photos taken and audio gathered by Stephanie Dubois.