Whyte's motorcycle oasis, and the ties that bind
How a Tim Hortons parking lot helps connect a community
With the sun setting on a summer Tuesday, Ronnie Brideau walks into the same Tim Hortons he has visited a thousand times before and stands in line to order the usual.
It's been a busy evening. With just over an hour left until closing, the staff chip away at their closing duties between pouring an unending stream of coffees. The restaurant is spotless and, aside from the swelling lineup, clear of any patrons. All that's left to clean is the bathrooms, which have formed a lineup of their own, and the two machines that are still dripping coffee.
Medium coffee, two creams, Brideau requests. Within 10 seconds, he has his coffee in his hand. Instead of sitting down, he walks back outside to what is, on most nights, the actual restaurant at this this Tim Hortons location: its parking lot. And it's packed.
Upwards of fifty motorbikes line the east and west edges of the 25-foot wide parking lot, leaving a narrow gully fit for no vehicles, only pedestrians and bikes. On the east wall, it's mostly sport bikes — Hondas, Ducatis, Yamahas — and on the west, a line of Triumphs and Harleys make up the cruiser line. The leather-clad owners have coalesced into small groups throughout, occasionally moving across the gully to spark up a new conversation or to head inside for a refill. For anybody who has walked along Whyte Avenue between 105th and 106th streets in the summer, this is one of the area's most familiar sights.
Brideau started riding to this Tim Hortons regularly in about 1997, and these early visits laid the bedrock for the gatherings of today. Back then, he and four or five close friends had simply been looking for a good place to hop on their bikes and meet for coffee. It's central, convenient, lively. There's no magic to it. But over 20 years, a group of four or five has grown to be 40 or 50 on any given summer night, though he had no intention of starting a trend.
"I don't know why it stuck there," he admits. "I guess nobody kicked us out, that's why."
Ask a biker why this Tim Hortons is such a hot spot and they'll shrug it off as mostly a matter of convenience. Listen to their stories and a picture emerges of a place that has, albeit accidentally, become a hub for connection, co-operation, and collaboration. Perhaps even more essential is that it's a connection point between riders who endeavour to be good neighbours and a public that can otherwise be completely dismissive, if not outright hostile.
Mighty neighbourly of you
The franchise's current owner, Charn Johal, occasionally receives calls from members of the community asking him to clear out the bikers. He always refuses. The bikers are great for business, he says, and they serve as the de facto security, often stepping in to cool down aggressive panhandlers or too-drunk revellers.
"My belief is they have every much a right to be there as someone showing up in a regular vehicle or on bicycle or by foot," Johal says. "We don't discriminate. Everyone is welcome here."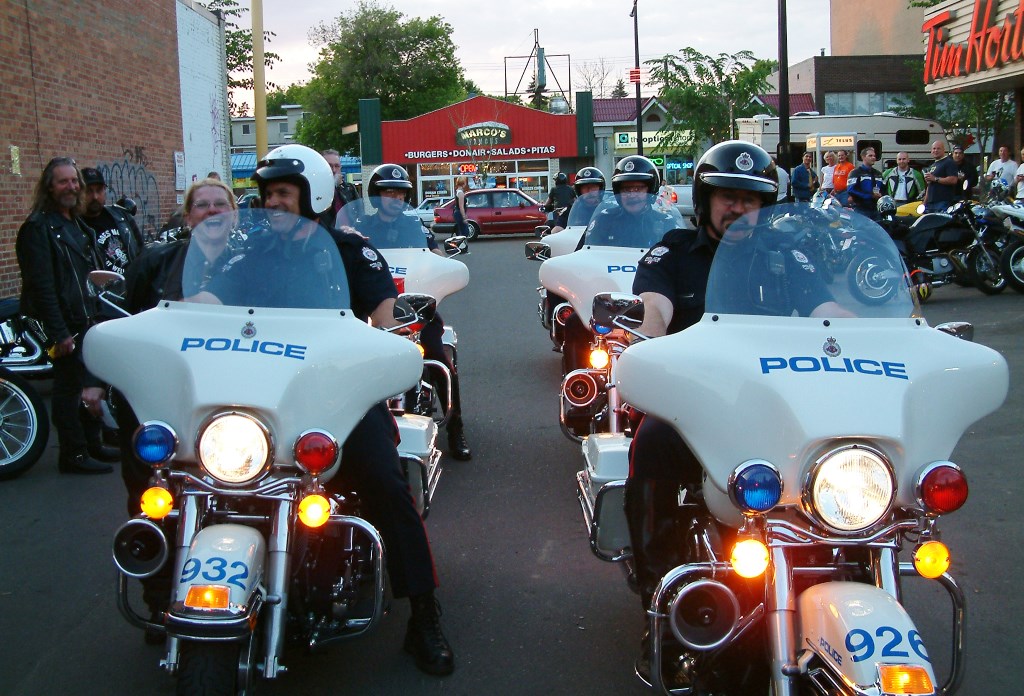 The tension has existed for as long as motorcycling has been a popular hobby. Some are quick to associate motorcyclists with outlaws. But in Edmonton, the source of a lot of this hostility comes down to noise.
"The biker world is frowned upon by many, many people," Brideau says. "Not because we're causing trouble, but because of the guys going home at three in the morning, full pin with six beers in them."
As one of the more visible meeting spots in the city, this Tim Hortons comes with a lot of opportunities to leave good impressions on the community. Brideau explains that a seasoned meeting spot like this comes with a lot of house rules. Keep it quiet. Keep it safe. No burnouts. Just be a good neighbour.
Despite the occasional bad apple, Brideau describes a riding community that, for the most part, peacefully co-exists — everybody sharing the same impulse to gather, socialize, and learn from each other. And if you're on board, you'll always have a safe and welcoming place to go.
"It's kind of like a big happy family, in most cases," he says.

'That's somebody's person.'
The family metaphor is used often within the riding community, and if there is a matriarch, it's Liane Langlois. As president of the Alberta Motorcycle Safety Society, Langlois leads a provincewide campaign advocating for safer riding practices, better understanding between motorcyclists and other vehicle users, and, ultimately, far fewer serious injuries and fatalities in the motorcycle community.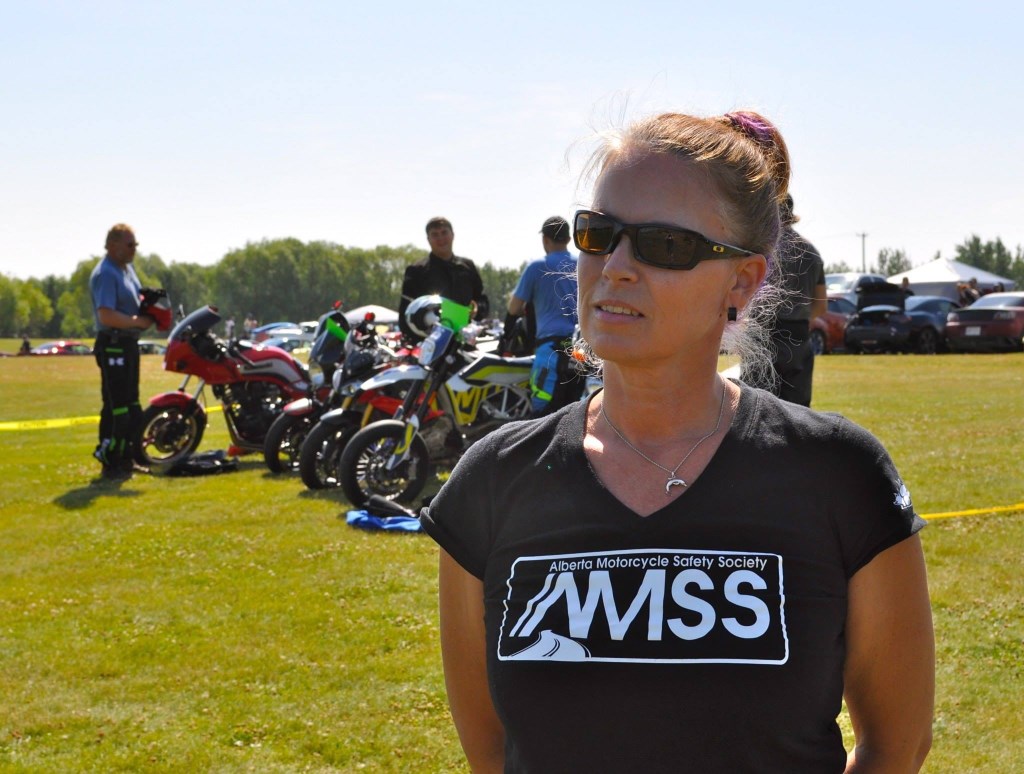 Ten kilometres south of Edmonton and just north of Edmonton International Airport sits Castrol Raceway. On a Saturday afternoon in late May, Langlois attends an Edmonton Motorcycle Roadracing Association event, where sport bike riders push speeds of more than 200 km/h.
As both AMSS president and as a rider, Langlois straddles multiple groups within the larger riding community. She is both a cruiser rider and a sport bike enthusiast who regularly attends events across all divides, like this EMRA at event at Castrol.
"Things like this where we all just get together and support each other and, you know, just show up," she says. "It all threads through the common passion of riding."
This innate devotion to the communal benefit of riding led Langlois to found AMSS in response to what she saw as an increasingly hostile landscape for Alberta's motorcyclists.
In 2010, the City of Edmonton enacted a bylaw that many in the community view as discriminatory to motorcyclists. Bylaw 14600 sets specific decibel limits for motorcycles in various states — 92 dbA at idle, 96 dbA at above idle — while implementing a system to test motorcycle noise on the spot with a portable decibel meter. No such specific benchmarks exist for other vehicles; instead, the law defaults to the Provincial Traffic Safety Act, which sets neither specific noise limits for vehicles nor any imperative for on-the-spot testing. The disparity between the specific benchmarks for motorcycles and a subjective treatment for vehicles is something Langlois and many others are fighting to change, but she's just as concerned about the bitter public environment into which this new approach has fed.
"With every collision and every fatality or serious injury, I'd read the comments underneath [articles] and it was heartbreaking," she says. "Like, 'It's another noisy biker off the road. Who cares?' and I'm like, 'That's somebody's person.'
"AMSS was born out of that — my anger that it felt like open season on our community and nobody cared. I wanted to humanize us."
In 2016, with the backing of notable riders from Edmonton media, such as Edmonton Sun columnist Marty Forbes, Global News anchor Gord Steinke, and CTV's Daryl McIntyre, AMSS officially incorporated as a society, with Langlois at the head.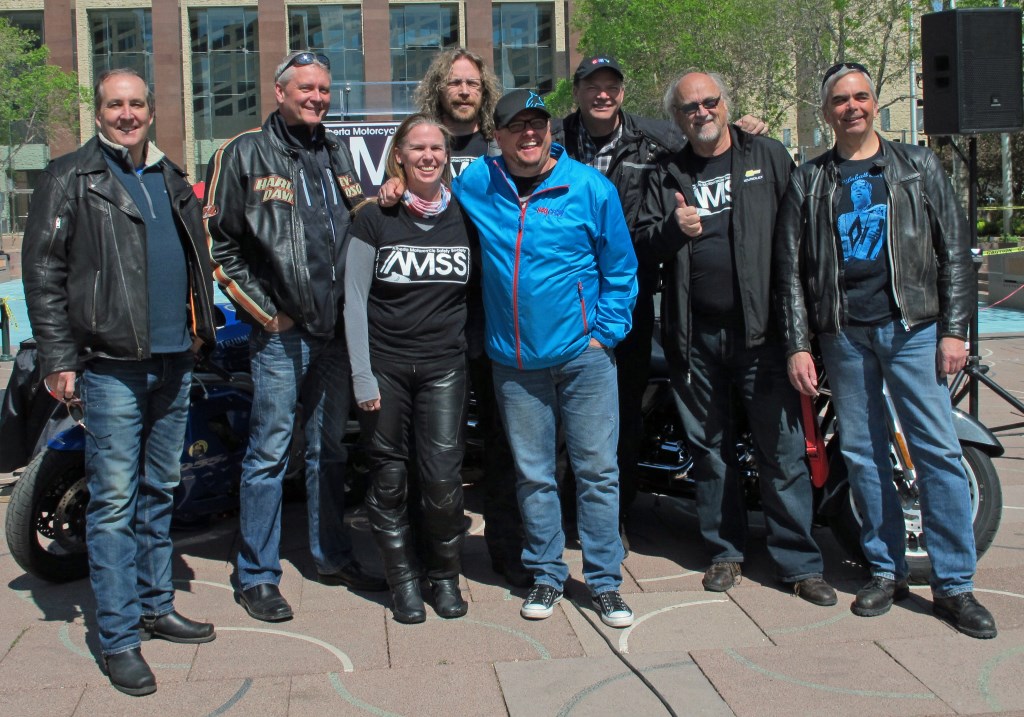 The response from the riding community was swift and passionate, but only a few months later, tragedy would strike again, shifting AMSS's importance into focus.
A tragic crucible
On July 23, 2016, 27 motorcyclists set out on a group ride to Sylvan Lake. Langlois, having to stay in town for a funeral, was planning to meet the group later in the day. On the southbound journey, shortly after stopping for fuel at Pigeon Lake, the 27 riders were about a kilometre from the gas station. A driver waited for the motorcyclists to pass before turning left from the oncoming lane. Another driver slammed into the back of his vehicle, pushing both vehicles into the line of bikes. Four riders were ambulanced out. One was airlifted. Another died.
"When I arrived on scene, it was like a scene out of a movie, with the carnage," Langlois says. "Pieces of motorcycles everywhere, and there was still our friend Bruce under a blanket."
Langlois is quick to acknowledge the danger inherent in motorcycling. But that makes it all the more important that the community makes a collective effort to mitigate danger and minimize accidents.
"There isn't one person who can tell you it's not [dangerous]," Langlois says. "If they do, they're not realists. I know every time I get on my bike that I could die that day.
"And that's why I started a safety society — to remind riders of their responsibility to keep themselves safe and drivers to remind them to share the road appropriately."
What began as a passion project for Langlois was quickly embraced not only by fellow riders, but also by the media and multiple levels of government. Now, AMSS has a clean sweep on the media landscape throughout Alberta, with regular coverage on radio, TV, and print in both Edmonton and Calgary. Billboards bear the AMSS messages along highways throughout the province. It receives support from the Alberta government's Traffic Safety Fund, while the City of Edmonton regularly leans on Langlois and AMSS as motorcycle experts as part of its Vision Zero campaign.
"I'm not going to lie, it freaks me out how quickly it all just blew up into this huge thing, because I'm just this girl with an idea," she says. "Now, all of a sudden I'm being called a safety expert.
"I just want people to understand that we're somebody's somebody, under a helmet."
Langlois is interrupted mid-thought by the sound of metal scratching against pavement. A rider coming through a turn has lost control and is sliding across the track at probably 100 km/h, before coming to rest in the adjacent grass. Langlois tenses and stands to survey the crash before letting out a sigh at the driver stands up. "That's the best part of doing this at a track. Yellow flag is out, everybody will slow down and it'll be fine.
"If that happens on the street…" she says, shaking her head.
All together now
Whether it's habitual flocking to Tim Hortons or the rapid ascent of the Alberta Motorcycle Safety Society, it's clear that survival and progress for many riders is irrevocably tied to some form of the collective. Riding is interesting in that way. It's at once serene, solitary, and chaotic; yet it's also indelibly far-reaching, social, and structured.
As an administrator for the Edmonton Area Group Rides Motorcycle Club, Ronell Osias remembers craving that sense of community from the moment he got his licence and was officially alone on his own two wheels.
EAGR primarily operates as a private Facebook Group. Four or five years ago, when Osias joined, there were about 200 members organizing monthly rides, if that. Today, EAGR boasts a membership of more than 2,000, with non-stop discussion on just about everything to do with riding: advice on repairs, offers to buy and sell, photos, riding tips.
And then there's the crux of the whole group: the events calendar. About once a week, there's an event for a group ride to some destination — Sylvan Lake, Alberta Beach, Elk Island, the list goes on. Within an event, you'll find the rules: "Meet time: 9:00. Kickstands up: 9:30. Please gas up beforehand. Gear is a must, no exceptions. We might have to break the group up with control riders."
Osias says EAGR is quite firm on breaking large group rides into small, more manageable groups of 10 to 12. Each smaller group has a more experienced front rider and rear rider, with each wearing a caution vest. The front rider controls the pace, while the rear surveys the group for anything out of the ordinary. Some riders, he acknowledges, might not like such structure, but then again, the group has no problem finding people to go on trips.
"A lot of people like to group ride; a lot like to solo ride," Osias says. "There are many factors that come into play, but I think that when we do it safely, people want to do more of the group riding."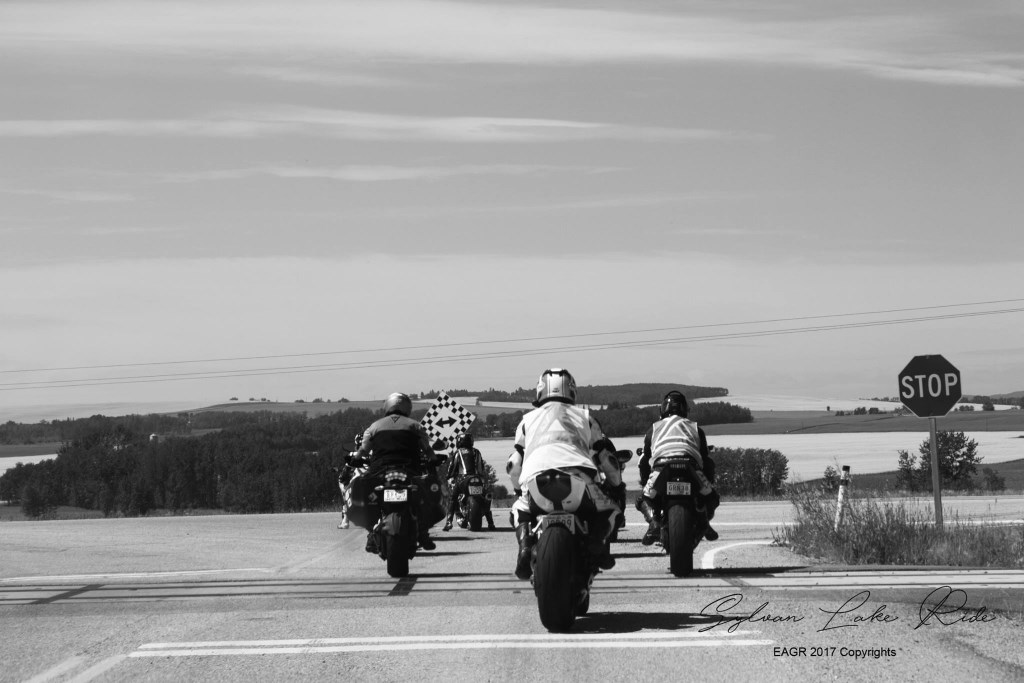 In June, EAGR organized a trip to Sylvan Lake to meet with their Calgary counterparts. The plan was simply to meet new people, discuss bikes, perhaps share insight into the best rides in each group's half of the province. Osias remembers a chaotic first attempt in 2015. It was difficult to find enough space and nobody really knew where to go. This year, the meetup is much more clearly outlined from departure to arrival in Sylvan Lake.
"We learn as we connect," he says.
Family ties
On a hot July afternoon, six bikes are parked outside Tim Hortons on Whyte. Four cruisers stand next to the east wall and two sport bikes on the west, adjacent to the restaurant. A few vehicles are parked at the far end of the parking lot. A few minutes later, another cruiser has joined. Without saying much, the new arrival walks past the sport bikes and gives a friendly nod to their owners, before walking into the restaurant.
Brideau, Langlois, and Osias generally ride with different groups, in different places, and on different types of bikes, but all speak some variation of the same mantra: If you're on two wheels, you're family. And all testify that previously hardline divisions within the riding community are eroding. EAGR, formed primarily by sport bike riders, now sees more and more cruisers on its rides. And of course, AMSS is bridging gaps in a tangible way by providing a structured organization around a universal desire for safer riding practices and better interaction between motorcyclists and with other vehicles.
Relationships within the riding family have improved, and now many are shifting focus to bridging the gap between their community and the public. Most Edmontonians may not see it in the brief five seconds it takes to walk past, but in small, subtle ways, summer afternoons at places like this unsuspecting Tim Hortons are an important part of it.