The new business of farmers' markets in Edmonton
Shoppers may rejoice as multiday indoor markets open, but can vendors thrive?
The multiday farmers' market has arrived in Edmonton, and with it, a sea change in the city's market landscape.
Last year, Edmonton had no year-round, indoor, multiday farmers' markets. Soon it will have two.
If you just want to buy farm-fresh asparagus or free-range chicken or homemade bread or handmade goods, this may seem like nothing but good news.
But there are wide-ranging consequences to the opening of Bountiful Farmers' Market on June 21 and the permanent relocation of the Edmonton Downtown Farmers Market Association (EDFMA) on 97th Street. These developments are already sending ripples through the city's entire farmers' market landscape, changing business models, forcing some hard decisions for vendors, and revealing some striking inconsistencies among current operators. The crux of the matter is a debate about values and what a farmers' market actually is – and what it needs to be economically viable for all concerned.
Edmonton has seen multiday markets before – various seasonal outdoor markets, including Callingwood and the 124 Grand Market, have already added second days. Years ago, the Old Strathcona Farmers' Market (OSFM) was open on Tuesday and Thursday in addition to Saturday, but it shifted back to a single Saturday market and has remained that way for decades.
Edmonton's first foray into the year-round, indoor, multiday market concept was the short-lived Mother's Market, which opened in 2014 but lasted less than a year. Mother's may have been ahead of its time, but the industry has moved definitively towards this concept since then; Calgary already has half a dozen multiday markets.
"This idea is successful in other Canadian cities and around the world," says Bri Vos, who handles communications for Bountiful. "But just adding a day to a market, without thinking about what the vendors need and what the public are looking for, doesn't make a successful multiday market. It takes more strategy than that."
Vendors make choices
Janelle Herbert of Riverbend Gardens is going to be at Bountiful in addition to the OSFM and EDFMA. She is also at several other smaller markets throughout the week. Part of why she was able to commit to a year-round presence at Bountiful was the cold storage it offers vendors; she also has a larger staff, numbering around 25 during peak season, so she has the manpower to cover Bountiful's three days. About 75 percent of Riverbend Gardens' revenue comes from markets.
"We've done this many markets before, but not this many market hours," Herbert says. "I'm a little bit apprehensive about how that is all going to work, but I've also seen [multiday markets] be very successful in Calgary and other cities.
"This is a transitional year for a lot of people at a lot of markets," she continues. "I've heard vendors even say, 'We just want to have our toes in everything until we figure out where we fit best, and then we'll start pulling back.'"
Chris Lerohl of Honest Dumplings will also be at Bountiful. He will be sharing a booth with business partner Jamie Scott of South Island Pie Co. Lerohl did several markets a week when he became a vendor six years ago but has since scaled back to just the EDFMA and now Bountiful.
"It kind of works to grow the business," he says, speaking about the viability of doing several markets at once. "You're not looking as much at the return on investment as building your brand and getting your story out there."
"Pretty much all of the smaller markets just weren't economically viable given the amount of work, effort and organization," he continues.
A year ago, Lerohl says that farmers' markets accounted for about 60 to 70 percent of their revenue. Sales peaked two years ago and have dwindled both years since then. Lerohl isn't sure whether that's a trend or just a momentary setback, though he says he has heard similar reports from other vendors, and this was a large factor in why they decided to expand into grocery stores. Markets now account for only 25 percent of their revenue and while Lerohl has high hopes for Bountiful – and hired two full-time staff in preparation – his focus continues to be on grocery expansion.
"I think we're going to see a lot more companies get beyond the farmers' market in the way they're going," Lerohl says. "It's extremely challenging and costs a lot of money to get out, but once you start getting those other sales channels, it's pretty exciting and amazing and you can see what the growth opportunity is."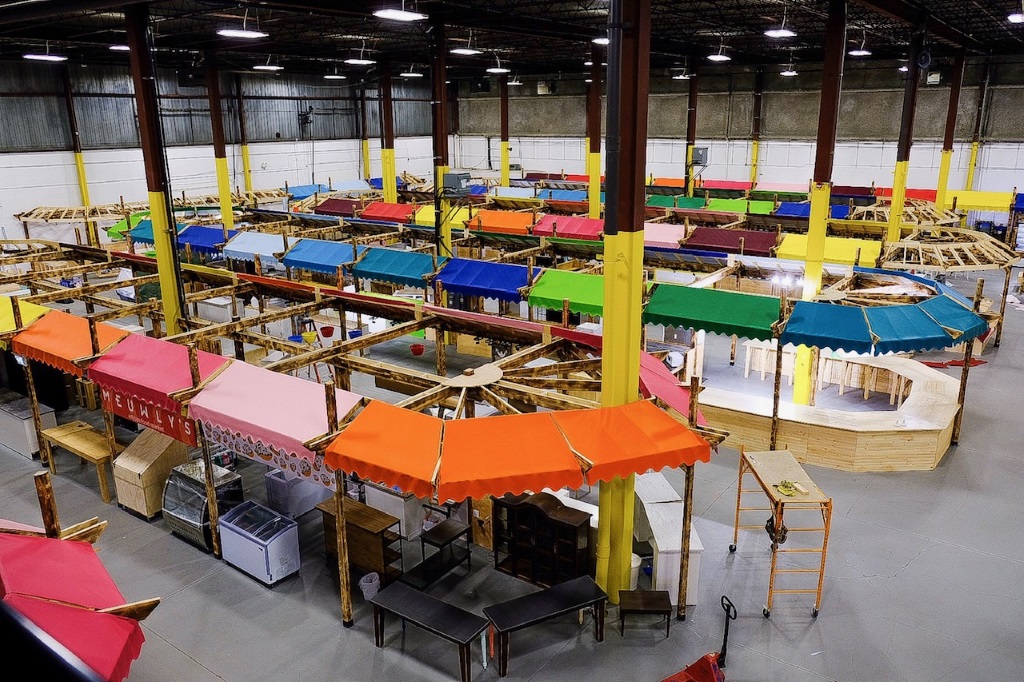 'Do we want to be a mall?'
Not all vendors have embraced the multiday concept. Jenny Berkenbosch owns and operates Sundog Organic Farm with her husband, James Vriend. They are at the OSFM and EDFMA but were not interested in becoming a vendor at Bountiful.
"I really love the energy of a one-day market," Berkenbosch says. "Having one day to sell your stuff makes good economic sense for farmers and food producers. Having three days means that you are relying on A) people on the farm to do the work because you're going to be selling, or B) people to sell your product.
"I would actually go so far as to say that it's errant to stretch what a farmers' market is, in that sense, which is basically an inexpensive and efficient platform to sell product," she continues.
Up to this year, Sundog relied on The Organic Box for between 40 and 60 percent of its income, but changes at the local veggie supplier mean that farmers' markets now account for close to 100 percent of their revenue.
Multiday markets offer the chance to increase their sales, it also requires that vendors scale up their business. Berkenbosch points out Lacombe Fresh, a partnership between Gull Valley and Doef's Greenhouses, which is at the EDFMA and Bountiful. Such corporate structures might enable vendors to be more successful at multiday markets, she says, but they put added pressure on smaller producers to follow suit.
"I feel like we're a little bit unique in that we want to grow slowly and sustainably," Berkenbosch says. "We're not interested in biting off more than we can chew or going big.
"To me it comes down to a values question: What is a farmers' market and what is the character of a farmers' market?" she continues. "Do we want to be a mall?"
Two sets of rules
The EDFMA and Bountiful are both farmers' markets, but they differ from one another in a key way: The EDFMA is an Alberta Approved Farmers' Market, while Bountiful is a public market. "Public" is a bit of a misnomer, as public markets are privately owned businesses, while all Alberta Approved markets must operate as non-profits.
The Alberta Approved designation stipulates a number of criteria that markets must follow, chiefly the 80/20 rule of "make it, bake it or grow it": at least 80 percent of the vendors must sell products that they either made or grew themselves. These markets must be sponsored by a not-for-profit group and be led by an advisory board or board of directors. Their vendors don't have to prepare food in a commercial kitchen (they can make it at home). These markets also have blanket approval to sell Alberta-made alcohol, which was introduced in 2008 for fruit wine and expanded in 2017 to include local beer and spirits. There are currently over 130 Alberta Approved markets, a dozen of which are within Edmonton city limits.
Public markets, in comparison, do not have to follow the 80/20 rule and may have vendors selling vintage or used goods, which is strictly forbidden at Alberta Approved markets. All food sold at public markets must be made in commercial kitchens. If a public market wants to have alcohol vendors, it must apply for its own liquor licence from the Alberta Gaming and Liquor Commission.
Many public markets are virtually indistinguishable from Alberta Approved markets as they follow the same 80/20 rule and share many of the same vendors. Bountiful operates this way, as does the 124 Grand Market. Other public markets stand out from traditional farmers' markets, operating as craft, clothing or night markets.
Public markets have complained about the uneven playing field and the extra hoops they have to jump through, particularly in regards to food handling and liquor rules. The City of Edmonton's relationship with some of the Alberta Approved markets also gives these markets a significant advantage over others, particularly as the City subsidizes some of these markets in the form of very inexpensive lease agreements and parking arrangements.
The City provides the indoor market space to both the EDFMA and OSFM for free. Amber Medynski, communications advisor for the City of Edmonton, confirmed these details in an email. "The City decided to lease the GWG Building to the Edmonton Downtown Farmers Market Association using the same principles and rationale outlined in the City's Non-profit Leasing Guidelines, which allow under-market lease rates of $1/year," Medynski wrote.
Medynski confirmed that the OSFM has the same deal of $1/year for its location in the old Edmonton Transit System bus barn. The City owns that building, but the GWG Building is owned by local developer Gene Dub. The City is leasing the GWG Building from Dub's real estate and development company, Five Oaks. The City would not provide the exact amount of that lease, except to say that they paid "fair market value" on a five-year lease, with an option to renew for another five. The OSFM's lease is also 10 years.
The price of existing retail space in the Quarters is probably between $18 and $25 per square foot, according to Ben Volorney, principal with Avison Young. That puts the 60,000-square-foot GWG Building's lease at well over $1 million a year.
Medynski confirmed that both the OSFM and EDFMA are responsible for all costs associated with operations, maintenance and certain capital improvements on their respective buildings. The GWG Building, given its historical designation and lack of tenant for over a decade since the Red Strap Market closed in 2007, will not be a cheap building to upgrade. As well, going multiday introduces new Alberta Health Services guidelines that markets must adhere to, including handwashing stations at each booth offering samples; this plumbing alone is a significant expense. The EDFMA was contacted for this story but was unwilling to comment on any of these details.
The OSFM is under pressure to go multiday. Market manager Susan Currie notes that this issue was raised last summer by Coun. Ben Henderson because the building sits empty for six days a week. The OSFM is currently doing a building analysis to determine how much it would cost for the renovations required to go multiday.
"We're calling it a revitalization period because we're trying to gather all this information," Currie says. "We want to know, if it's not feasible for us to go multiday, what we can do to make this one day even better than what it already is."
Renovations aside, not having to pay rent is a very good deal for the EDFMA and OSFM – especially given that some of the smaller markets must pay for their spaces. Medynski confirmed that the Southwest Edmonton Farmers' Market (SWEFM) pays $550 per month for its space in a corner of the Terwillegar Recreation Centre's parking lot, which is the same amount that the City charges all outdoor markets held at recreation facilities. She notes that in addition to SWEFM, there is a farmers' market held at the Mill Woods Recreation Centre and there used to be one at The Meadows Community Recreation Centre but it ceased "due to low demand from the public." Both SWEFM and Mill Woods are Alberta Approved, non-profit markets.
Kirsta Franke, founder of the 124 Grand Market, confirms that her market pays about $4,500 per season for the Thursday evening market on 108th Avenue, and around $5,000 per season for the Sunday market on 102nd Avenue. That includes the lease for the space as well as transportation materials (like road closure signs and detours). The 124 Grand Market is a public market and therefore a private business.
It may be understandable that the City would treat non-profit markets differently than privately owned ones, though that means privately owned markets have much higher overhead – even if they are just a seasonal outdoor market. One wonders if this played a role in the demise of the market at The Meadows.
As for the reason why the City has different lease agreements among the non-profit markets, Medynski says these different lease agreements "reflect the unique nature of each market." She notes that the OSFM and EDFMA must pay for building operations and maintenance costs, which factors into the very low lease amounts charged by the City to these markets. She also says the City's non-profit leasing guidelines allow for less-than-market value leases to qualified non-profit organizations:
"The rationale for this is based on several principles, including recognition of the contributions of non-profit organizations towards the improvement of the quality of life in Edmonton through volunteer time, money and commitment as well as the provision of services and programming that would otherwise be an expense to the City or not be provided."
The more the merrier or elbows up?
Currie says the OSFM is "not worried one bit" about the opening of Bountiful, even though both markets are located on the south side and open on Saturday.
"This has been established for 35 years," Currie says. "We do ask some vendors, 'Are you going [to Bountiful]?' and sometimes they don't want to answer. It's not that we mind; we're just interested to know who's spreading out a little bit. … But I think any vendor would be crazy to say, 'I'm leaving here for good and I'm going over there.'"
Things are different downtown, where the multi-day market concept has fostered an air of increased competition, which came to a head with the recent stand-off between two markets. In March, Taproot reported on the EDFMA's decision to leave 104th Street in favour of their new year-round indoor space. A few weeks later, Taproot also covered the EDFMA's surprising decision to return to 104th on Saturdays for the rest of the summer.
After the EDFMA had announced its departure, the 104th Street Steering Committee and the Downtown Edmonton Community League approached Franke about starting another market on 104th in the summer. Franke notes that she had already been looking into other locations downtown for a Saturday market.
When the City realized that 104th Street was not going to be under as much construction as initially feared, it met with the EDFMA and offered the market a chance to come back to the street – which it took, especially in light of a rival market's application to occupy the same space. Coun. Scott McKeen was at this meeting and says that this may seem unfair to some, but the initial source of unfairness was the City's decision to terminate the EDFMA's permit in the first place – and therefore it was right that the City offered the market a chance to come back.
"I'm a little concerned about having a farmers' market on 104th Street, a rival one, at the same time that the Edmonton Downtown Farmers' Market is operating in the Quarters," McKeen says. "I'm hoping that cooler heads will prevail and we'll have the Downtown Farmers' Market over on 97 Street in the Quarters and then we can do something on 104th Street starting next year that will add value and bring people to that street – maybe during slightly different hours and maybe with a different vendor mix."
"I think the last thing that anybody would want to see is we put another farmers' market on 104th Street, operating the same hours as the Downtown Farmers' Market over on 97 Street and they both sort of suffer because of it," he continues.
Whither the little guys?
In the face of bigger markets going multiday, smaller markets may have an even more difficult time attracting and retaining the cornerstone vendors that they need to draw customers.
Christie Anderson, who is market manager for the SWEFM and a director with the Alberta Farmers' Market Association (AFMA), notes that some of the smaller markets can struggle to compete with the big markets, especially for vendors. As vendors get larger, they tend to consolidate their efforts to the larger markets. Losing an anchor tenant, like a big vegetable or meat producer, is a serious blow to a small market.
"There's a lot of markets opening up, and the vendors have to spread themselves pretty thin as it is," she says. SWEFM has no plans to go multiday, she continues, as they have no desire to compete with any of the big weekend markets. Plus, most of their customers are very local and live in the immediate surrounding communities. These folks are easy to attract on a Wednesday evening, Anderson says, but the same may not be true on Saturday or Sunday.
Franke describes a similar situation for her market – she lost some vendors when Bountiful arrived and the EDFMA decided to go multiday. The majority of her market's customers come from the immediate area, and she sees almost an entirely different set of customers at the Thursday evening market than on Sunday afternoon.
"Our markets are heavily supported by patrons from the direct neighbourhood, within 10 to 12 blocks of the market location," she says. "So we're not actually splitting our demographic. We found that they're quite complementary of each other."
This is the main benefit of smaller markets: bring local food and goods to very specific neighbourhoods, as opposed to larger markets which pull in customers from a wider area. But while there's neighbourhood demand for these smaller markets, there isn't necessarily the vendor capacity to back them up – and that capacity is reduced even further when more markets go multiday.
It will take years to realize the full impact of the multiday concept on Edmonton's market industry. Regardless of how it all turns out, there's one thing that no one will miss at the new indoor markets: bad weather. Sure, outdoor markets are wonderful on a sunny day. But a rainy, cold, windy and/or smoky day reduces market attendance, and thus vendor earnings.
"[The EDFMA] was the only market where I cried because of the weather," Herbert says, recalling several particularly windy days last year. "It lifted up my tent and I was hanging with my feet off the ground!"
Editor's note: A previous version of this story estimated the value of the GWG Building's lease at over half a million dollars. It has since been revised to estimate the lease at over $1 million, based on figures provided by a commercial realtor.
Header photo by Mack Male. Feature photo by EEDC.