Tech trailblazers cast cautious eye on city's new innovation path
New entity's destination is a stronger tech ecosystem. But how will it get there?
Almost two years ago, Innovate Edmonton launched a grand plan to transform the disjointed technology sector by bringing its players together under the single roof of an empty downtown office tower.
Though the plan was named The Path Forward, the strategy from the Edmonton Economic Development Corporation ended up going nowhere at all. The path became choked with dust, overgrown with weeds and littered with the broken dreams of terminated EEDC executives.
But it wasn't completely abandoned.
In May, Edmonton city council started down a new path toward tech greatness. This time, the first waypoint isn't a building but another city-funded entity with a mandate to build the innovation ecosystem.
Hopes are high that this time, it's the right course. "This looks like it could be — and it has to be," warns Ian O'Donnell, executive director of the Downtown Business Association. "There is no third chance here."
The path ahead is not a well-travelled one, and lurking pitfalls have potential to mire the expedition in the mud. The entity's leader has yet to be named and there's some question as to whether the travellers —trailblazers in their own right— will be willing followers. But the city has hitched up its wagons nonetheless, hoping to at least keep them upright until the day they reach the storied land of economic diversification.
A second chance
Edmonton's innovation and tech community will be closely watching the first steps toward building this new, as yet unnamed, non-profit organization, trying to understand how it will affect the opportunities and challenges the industry faces.
The Path Forward of October 2018 wasn't well-received. The community felt consultations were weak and the outcome predetermined. Startups weren't keen to move into the 103rd Street tower, and entrepreneurs weren't buying in either. The plan's demise by city council was fitting and — perhaps — predictable.
After all, any startup will tell you that failure is essential to success.
O'Donnell sees the new entity as a second chance to harness the power of the innovation sector — something all the more critical now that EEDC has been yanked out of the innovation space. "There needs to be some kind of glue that even loosely holds the industry in Edmonton together, such that it works more productively as a whole," says O'Donnell.
Recruitment has already begun for the eight-person board, which will be tasked with hiring a CEO. The entity will have an initial operating budget of $5 million a year — about $1 million more than EEDC's Innovate Edmonton was getting — and it could oversee a venture capital investment fund of between $5 million and $10 million.
Hoping for a win
Coun. Scott McKeen best captured the anxiety at the city council table over whether this kick at the can will finally win the hearts and minds of the city's fractious, disparate group of innovation players.
"Do we have confidence that the community can agree? ... Or will there still be infighting?" McKeen said.
"When the new CEO is named, it would be discomforting if we got a bunch of emails saying, 'You've just made a terrible mistake.'"
There are no guarantees, Mayor Don Iveson acknowledged in an interview. But he is hopeful that the "tremendous and very consistent feedback" sought from the community bodes well for its support.
"This is our best guess about what the needs of the community are and what the city's response should be. People wanted a purpose-driven entity focused on supporting entrepreneurs and companies working in technology," he says.
"We've heard that call and made that change, and so the proof will be in the result in the coming years."
The desire for change proved to be seismic for EEDC. Derek Hudson, its CEO, and Cheryll Watson, vice-president of Innovate Edmonton, both lost their jobs in April, and city funding to EEDC has been chopped by more than half.
"I underestimated the concern about some of EEDC's work. ... It had taken on a life of its own," Iveson said. "I was hoping we could reset that without having to completely restructure the space. That's the last thing you want to do, because it's incredibly disruptive."
But even the city's new innovation entity will be disruptive. Iveson expects a period of friction and new challenges as the new organization gets firmed up.
"But if (people in the industry) support the entity that's there to serve them, and see value in it and want to participate in its public engagements and want to be on its board and essentially give it social license — this is what we need to get to."
'It's going to move us forward'
From her new vantage point, Watson worries there's a "leadership void" in Edmonton's tech ecosystem.
Within the past year, three other leaders within the community left their positions: Chris Lumb, the longtime CEO of TEC Edmonton, resigned in June; Tiffany Linke-Boyko left her role at Startup Edmonton in November; and Matthias Ruth, the University of Alberta's vice-president of research and innovation, started a new job in the U.K. on May 1.
"I am disappointed to be sitting on the sideline when I have so much institutional knowledge," Watson said in an interview. "We had so many balls in the air that were really important, especially in light of COVID."
However, she's unequivocal in her support for the new innovation entity, a decision she called "historic" on Twitter.
"I'm embracing this recommendation because it does align with a lot of the previous reports that have been written, it does align with a lot of best practices in other cities, and it's going to move us forward," she said.
Lead? Or support?
Others in the Edmonton tech ecosystem say they're encouraged by the new direction. But they also say it is humming steadily along, having learned to forge ahead independently of elected and city officials.
"Entrepreneurial and investment communities haven't just been sitting back waiting for any announcement for things to happen," said Arden Tse, investment manager with Yaletown Partners, an emerging growth investment firm.
"I see companies continuing to do sales, raising capital, asking for help wherever they can. I think that supports the idea that this innovation entity should support the community and not lead the community," he said.
There have been some major investments in Edmonton's tech community over the last year: $1.875 million for G2V Optics, $1.25 million for Direct-C and $2 million for Tevosol.
With that type of movement already happening, Tse wonders how the new entity will fit in.
"The big question that everybody's asking right now is execution — how and when is this (new entity) going to actually move forward," said Tse. "That will be the proof point. The CEO, whoever they hire, that's going to be a very important decision to make."
Ashlyn Bernier, COO of SAM Desk and co-chair of the Edmonton Advisory Council on Startups, hopes the new entity will start small and be built out with close involvement from stakeholders.
"This proposal was put together with a lot more consultation and community input than we may have seen in the past," she said. Bernier suggested this spirit of consultation — which has produced much goodwill thus far — could even extend to the board selection process itself, perhaps with a community selection committee.
It's important that the process doesn't remain the same, she said.
"Without major changes to that process, how can we anticipate a new, innovative, fresh result?" she asked. "If we're talking about things being new and different, we kind of have to start here with things being new and different.
"The first necessary step to this being successful is to get that right."
Board in place by fall
The hiring process for board members — "ambassadors for the city's innovation ecosystem," as the posting states — is already underway, with a professional recruitment firm vetting the candidates. And while Iveson said he welcomes input from the tech community, formal involvement could compromise human resources protocol.
City council will make the final decisions on board members following an interview process.
Deputy city manager Stephanie McCabe said the board would be announced this fall. The CEO it hires will begin immediate work to stitch new programs and services into the existing innovation patchwork — entities such as TEC Edmonton, Health City and the Edmonton Screen Industries Office, and programs such as Startup Edmonton.
That stitching will require functions to be streamlined and duplication reduced. The new entity will collaborate with Edmonton Global, which is focused on foreign direct investment and regional strategy, and the reformed EEDC, which will handle tourism and conventions.
A separate "entrepreneur advisory committee" is also in the plan.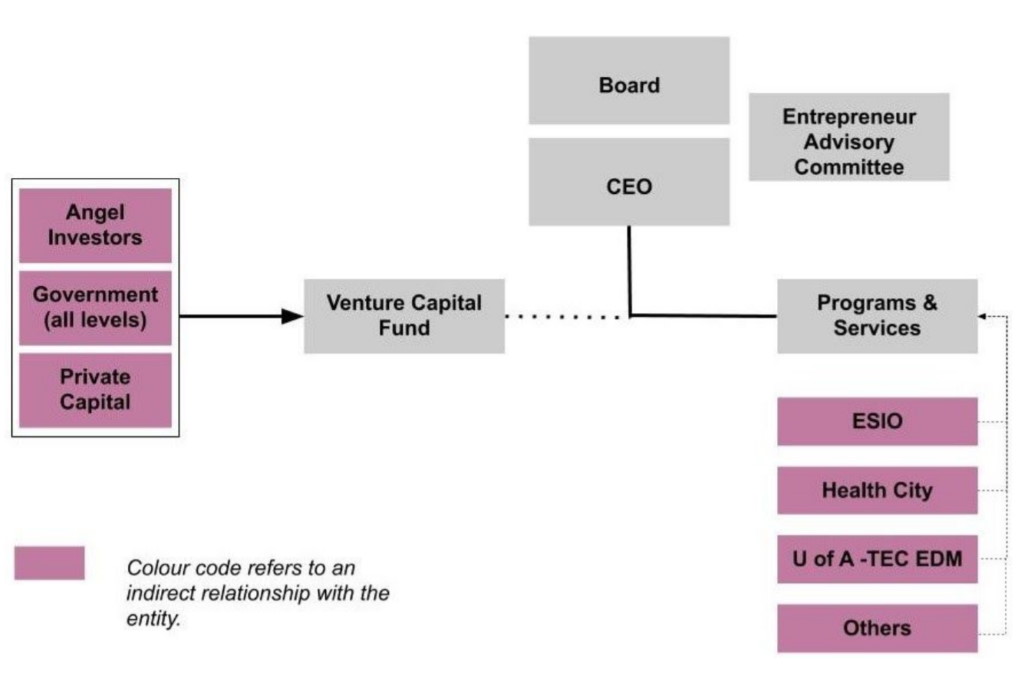 The need to work together while not duplicating efforts is key. An organization like TEC Edmonton, for example, is to get $1 million from the city in 2020, down from $1.5 million the year before.
Iveson said that "a condition of our continuing support" for TEC, a joint startup accelerator program with the University of Alberta, would be "no duplication with the new entity.
"The city remains committed to TEC but at the end of the day, it is primarily a University of Alberta program," he said.
Perhaps most clear — and fitting in a year when a viral pandemic has flipped the world on its head — is that Edmonton's tech and innovation startup sector will have to continue adjusting to major changes. It might even give second chances to paths not taken.
Over on 103rd Street, tech companies are steadily moving into the building that Watson and others had once hoped would become a hub of innovation for Edmonton.
The only thing missing from the vision presented in The Path Forward, according to Watson, is that Innovate Edmonton isn't on the main floor.
"Leading tech jurisdictions recognize that it's not just programs — it's leadership, it's physical space. Those cities are going to succeed," she said.
"Those that don't see the opportunity for investment into not only space, programs, leadership — those are the cities that are going to be left behind."