City council has approved the Edmonton City Plan, which is intended to guide Edmonton's growth to a population of two million people.
It took just a few minutes for council to give its final approval of the plan on the morning of Dec. 7. Charter Bylaw 20000 passed third reading 12-1 with Coun. Mike Nickel as the lone vote against.
"The City Plan brings forward a vision for Edmonton that will allow it to become a healthy, urban, climate-resilient city that supports a prosperous region," Mayor Don Iveson said in a news release. "It ensures that as our city grows, we're building a fiscally and environmentally viable future for generations of Edmontonians to come."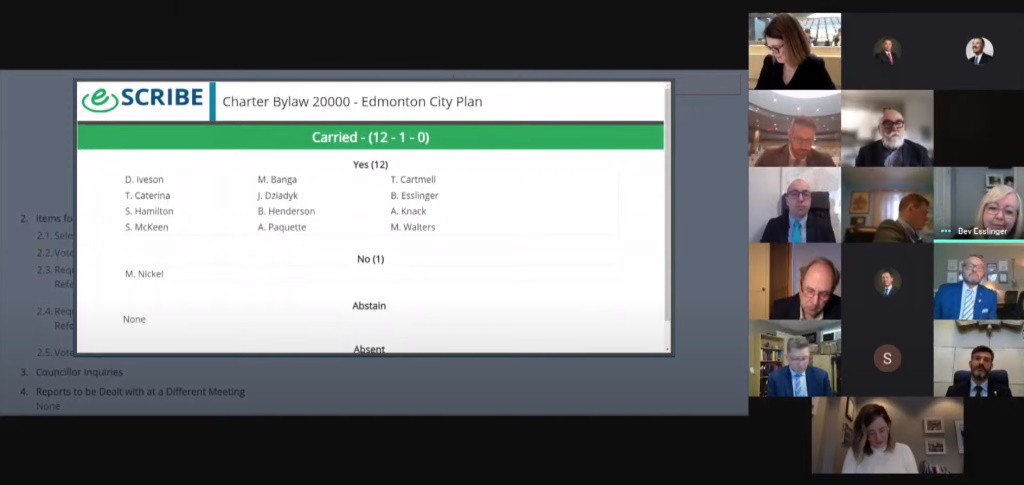 In a tweet posted later in the day, Iveson called the City Plan "one of pieces of policy I will be most proud of when I leave office."
The City Plan combines and replaces Edmonton's existing municipal development and transportation master plans, called The Way We Grow and The Way We Move, respectively. According to the city, the plan "includes strategic direction for environmental planning, and social and economic development" and "provides a clear, integrated policy framework in support of increased connection and wellness, equity and inclusiveness, sustainable community development, and ongoing growth."
Public work on the new plan began in 2018, and a full draft was made available last December. After a series of amendments, the plan passed first and second reading at a public hearing held from Sept. 14 to 16 that featured 33 speakers. The Edmonton Metropolitan Region Board recommended approval of the plan last month.
Learn more about the City Plan: