'We're in for a world of hurt': Edmonton aerosol specialist warns about risks of indoor dining

By Jackson Spring
---
While some Edmontonians celebrated restaurants opening their doors for dine-in service on Feb. 8, aerosol specialist Conor Ruzycki said he was "very frustrated by the situation."
"We've decided to reopen indoor dining in (Alberta) despite the better judgement of basically everyone who understands how this virus spreads," Ruzycki tweeted on the day restaurant restrictions were relaxed.
Ruzycki has been studying pharmaceutical aerosols for about 10 years and is a PhD candidate in the University of Alberta's mechanical engineering department. Since COVID-19 arrived in Canada last year, he has been researching mask and filtration technology. He said that Alberta's decision to open restaurants and bars for dine-in service has the potential to severely damage its efforts to reduce the spread of COVID-19.
The main problem with the decision to reopen, he told Taproot, is that it does not adequately consider the role of aerosol transmission in how the virus spreads, which is a particularly big factor in indoor spaces. Aerosols are small particles that can stay suspended in the air, and they can easily fill the space they are in.
"When you used to be able to smoke in restaurants, I remember going into places that would have smoking sections ... and you could see a big cloud in the space," he said. "That cloud is made up of aerosols."
Similar, invisible clouds of tiny COVID-19 particles can form over time as carriers of the virus, even if they are asymptomatic, take the time to sit down, talk to their cohort, order food, and eat. Ruzycki said that the current provincial health guidelines do not properly allow people to avoid or protect against
"There is this assumption that COVID-19 is only being spread by these really big droplets that fall to the ground immediately," he said. "With aerosols, they don't just fall to the ground. When you're sharing an indoor space with somebody else, there's no real concept of safe distance."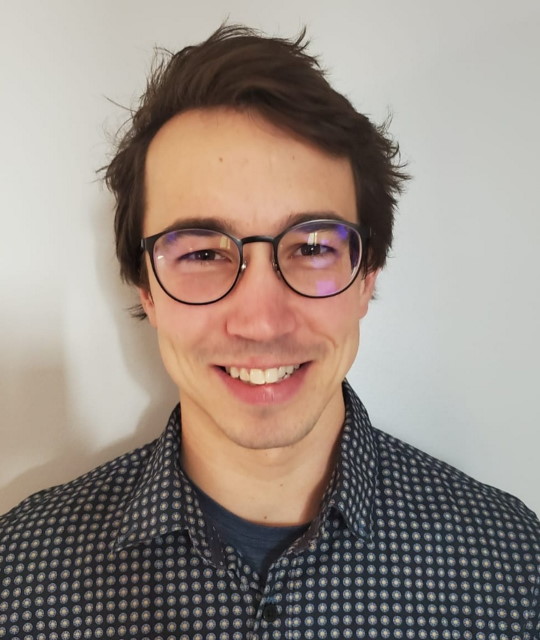 Conor Ruzycki has been studying pharmaceutical aerosols for 10 years. (Supplied)
Ruzycki said Canadian policy makers have consistently overlooked the risk of COVID-19 aerosol transmission. On Jan. 4, public health advocacy group Masks4Canada penned an open letter to the federal government urging it to take aerosols more seriously. The letter was signed by 363 physicians, medical and technical experts, including Ruzycki. A similar letter urging the World Health Organization (WHO) to reconsider its statement that COVID-19 is not an airborne virus, signed by experts from 32 countries, was written last summer. The WHO has since acknowledged aerosol transmission of the virus.
The federal government did not directly respond to the Masks4Canada letter, but its website was updated to include information on aerosols and ventilation at the end of January. Ruzycki said that while this recognition of aerosols is a welcome step forward, he has not seen any policy changes, nor have provinces followed suit.
"I haven't seen anything from provincial bodies even acknowledging that this (information) exists," he said. "I don't really know why there is this hesitation to examine it. The evidence is very strong that this is a problem — it's practically undeniable at this point."
Scientific studies into aerosol transmission of COVID-19 have generally concluded it is a key factor in how the virus is transmitted.
Alberta's restaurants could partially address aerosol transmissions themselves, with upgrades to ventilation, Ruzycki said.
"You're getting more fresh air into the space, reducing the risk, and perhaps removing some of these particles faster, which is important because what you're really trying to do is prevent buildup over time."
But due to a lack of public information on aerosols, ventilation has not been a prominent part of the conversation around precautions businesses can take either.
"I haven't seen many places that have done a good job working at it," Ruzycki said. "That's not their fault. Information that (experts) have been trying to get out there just hasn't penetrated through."
Regardless of any actions restaurants take going forward, Ruzycki maintains that the only way to completely address aerosol transmission is to stay out of indoor spaces entirely. He said the timing of the decision to allow indoor dining is especially concerning, with more contagious variants of COVID-19 making their way into the province.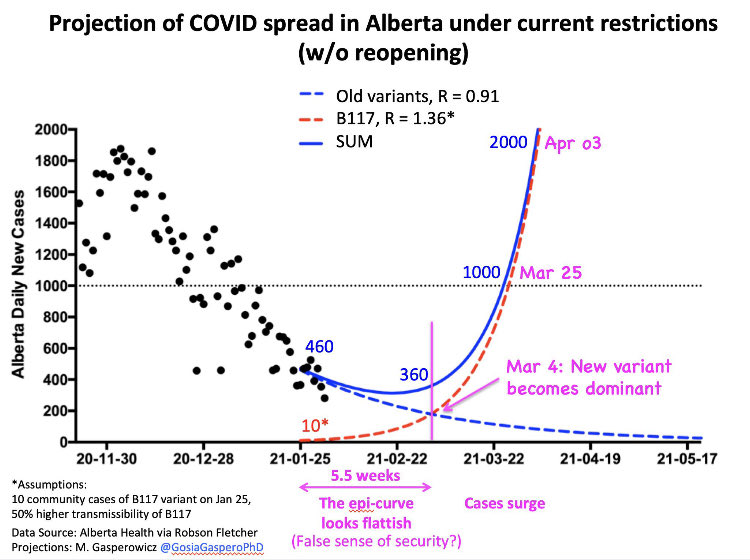 A projection of Alberta Health data shows daily new cases rising above 2,000 by the first week of April. (Malgorzata (Gosia) Gasperowicz/Twitter)