RUNWITHIT Synthetics was declared the "Most Edmonton Startup of the Year" at the first-ever YEG Startup Community Awards.
RWI Synthetics constructs city models with artificial intelligence to visualize complex infrastructure projects like energy transition, economics, mobility and resilience. The adjudication committee noted the company's work to build a "synthetic model of what Edmonton could be in the year 2035."
"Really, we're a little-known, oddball company that has some crazy ideas about how we can get together and use artificial intelligence to solve the world's problems — the biggest ones and the scariest ones," CEO Myrna Bittner told the virtual gathering after Mayor Don Iveson presented her with the award on May 20.
Samdesk and Areto Labs were runners-up in the category recognizing startups demonstrating diversity, innovation, and risk-taking.
The award show, hosted by Taproot's own Emily Rendell-Watson, served as "an entrepreneur-led, volunteer-run, and community-centric initiative to recognize the brilliant work that's being done in our city." Almost 200 guests were in virtual attendance to see 12 individuals and companies rewarded for their efforts.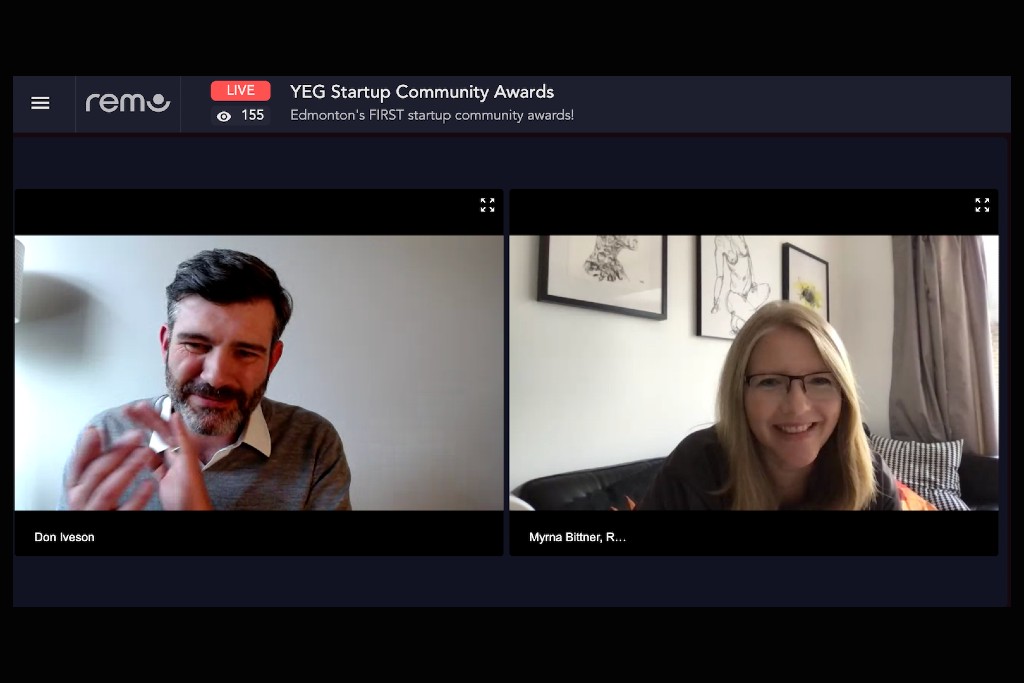 The accolade is not the first for RWI Synthetics. It won the Alberta Leading Edge Award of Business Distinction in 2020, was selected for the 2021 SET100 List, and was a 2021 international finalist for the Toyota Mobility Foundation's City Architecture of Tomorrow Challenge.
"We've been lucky enough in the last year to just kick it internationally," Bittner said.
Award winners received original artwork from Andrew Benson of Hazel, inspired by the "Wall of Encouragement" that reads "Take a risk. It's the most Edmonton thing you can do."
Iveson said Edmonton has been punching above its weight for a long time, and it's good to recognize that.
"I'm so glad that we have the opportunity to celebrate the entrepreneurs and say thank you for their leadership and celebrate this community and this sector that has grown so much and has so much potential," he said. "You folks are going to help power the recovery of our economy and our confidence."
Here is the full list of winners:
Individual awards:
Community awards:
Startup awards: