Black Owned Market returns to Edmonton on strength of community
---
Rochelle Ignacio had almost everything in order a month before the planned return of Black Owned Market YEG. The co-founder of the market was doing her social media rounds, just like any day, when the BOM YEG Instagram glitched and presented her with a notification no event coordinator wants to receive — the account had been disabled.
Gone were 5,000 followers, along with Ignacio's main access point to volunteers, just 30 days before the market was set to come back.
"I was in disbelief, to be honest, because there was no reason listed as to why," Ignacio said. "We rarely reshare community-based content, so I can't help but feel this was targeted."
In a move she calls "going back to grassroots," Ignacio converted her personal Instagram to a new account for BOM YEG, advertised in the BOM YEG's newsletter, and most importantly, reached out to her community. Even with its primary connection to the public disabled, this year's market filled all volunteer vacancies, increased the number of vendors, and added new presenting partners.
BOM YEG is back, bigger than last year, running from 11 am to 5 pm on July 24 in the parking lot of Victoria School (10210 108 Ave.). The market saw tremendous success in 2020, and this year it will boast more than 25 vendors, both new and returning.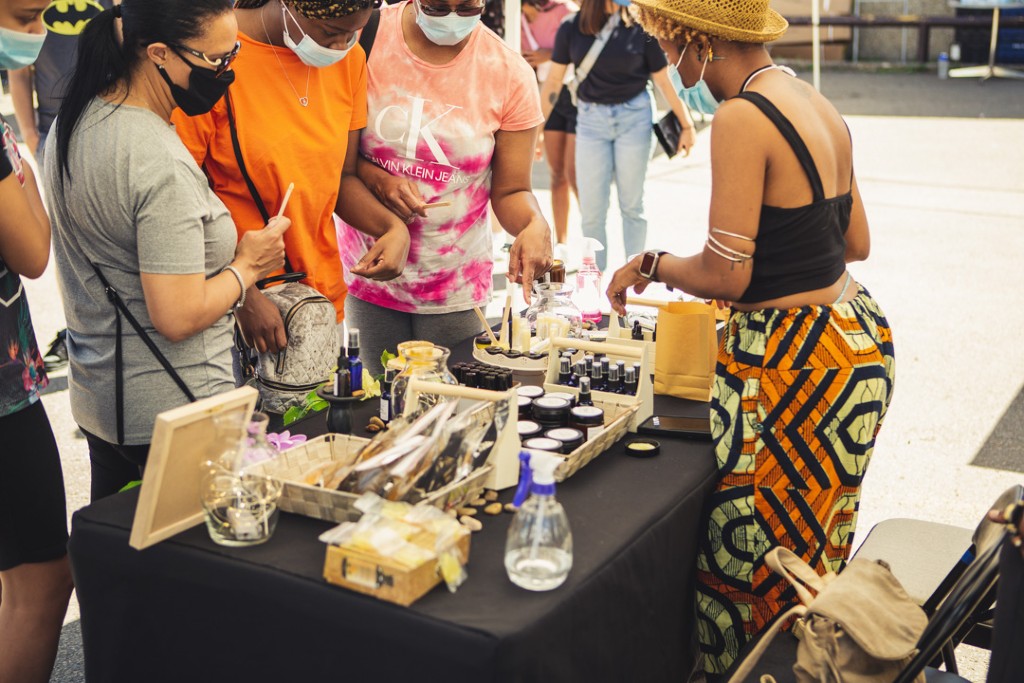 Attendees of BOM YEG can shop at new and returning vendors on July 24, 2021, in the parking lot of Victoria School. (Gallican Buki/BOM YEG)
Ignacio knows relying on her community is the only way to survive. That has been true since the market's inception, as she and co-founder Ivan Touko took inspiration from Calgary's Black Owned Market. Following BOM YYC's success, the duo reached out and found overwhelming support. According to Ignacio, mutual support between Black creators is essential to success.
"We don't have generational wealth. Sometimes we have problems accessing investment and venture capital funding," Ignacio said. "If we didn't have support since Day 1, and if we didn't have continued support, we wouldn't have been able to get as far as we have."
The markets emerged in Calgary and Edmonton amid a reckoning with anti-Black racism ignited by the murder of George Floyd in May 2020. Over the past year, studies have indicated that Black-owned businesses were hit hard by the pandemic and have not always had access to help.
The Melanin Studio, an Edmonton skin and body care boutique, is a returning vendor to this year's market. While there are several barriers to success for Black businesses, BOM YEG is a good place to start eliminating them, said owner Megan Vernon.
"(BOM YEG) has allowed us to be in front of potential clients which we otherwise would not have been in front of," Vernon said in an email, noting the market's immediate impact on the businesses involved as well as the longer term impact on the socioeconomic status of Edmonton's Black community.
"Edmonton is the definition of community," said Ignacio. "We saw that in our first market, and we've seen that throughout the year that we've been in operations.
"Edmonton just shows up for one another."
The event will take place outdoors, rain or shine, and while admission is free, attendees are encouraged to RSVP.