A former political operative is opening a new cashless, app-based shop downtown in hopes of revitalizing the community convenience store through tech.
Vender Convenience is slated to open this June at 9917 109 Street NW, directly across from The Common and just a few blocks north of the Alberta legislature. It fills a niche for a bustling section of downtown, founder James Johnson told Taproot.
"109 is a busy street," he said. "We've got people at WCB, people at the Legislature, all kinds of offices, and the people that live downtown."
Johnson, a former advisor to the UCP caucus who currently works as a consultant and lobbyist, said he began exploring the concept behind Vender when he noticed his go-to local convenience store had closed during the pandemic, leaving a gap in the quintessential community experience.
"I think for anyone growing up, the corner store is the first place you go to ride your bike and buy candy," he said. "It's just kind of a fixture of every neighbourhood."
Johnson cited a piece by Canada Convenience Store News that says on average, more than three Canadian convenience stores closed per day between 2020 and 2021. That report says credit-card-processing fees are profit-killers, but Vender is banking on its card-payment-only model to save money on labour.
Shoppers must install Vender's app and create a profile using their name, phone number, and payment info before entering the store, then use the app to unlock the door and complete any purchases.
"(The model is) becoming more common in Europe and Asia and other places," said Johnson. "I think it's unique for Canada."
Vender will be open 24 hours a day, seven days a week, but it will only be staffed during the day. Workers will clean, restock, and answer customer questions, but they won't be operating tills.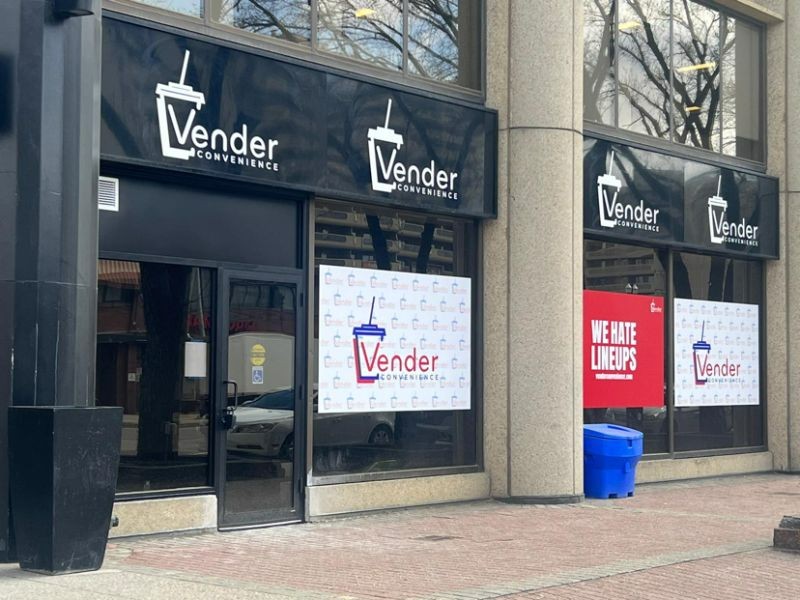 While some customers like a little chat with their checkout — to the point that a Sobeys in Belmont introduced a slow lane for that purpose — Johnson hopes Vender's staff can still provide a bit of human connection while maintaining its "no lines" philosophy.
"People still have that connection with people, they enjoy that experience," Johnson said. "I think people probably appreciate the different way of doing it, but also having that support there."
It's natural to wonder what would stop someone from stealing or committing vandalism during unstaffed hours. Johnson isn't too concerned. The door can only be unlocked using a customer's profile, and there is security on site.
"I think it's also lower risk because we're not carrying cash, we're not selling tobacco or lottery," he said. "I think most people are pretty good. They know there's benefits — there's nowhere to go downtown at night that's really 24/7. So I think there's a bit of a trade-off, but I think people are happy to have that option."
Some U.S. states and cities have banned cashless businesses out of concern that they exclude the most vulnerable: unhoused citizens who may not have bank accounts or a smartphone. Johnson said he considered this when making plans for Vender.
"I did do research on the uptake of smartphones, and if you do a bit of a literature research, a lot of the unhoused have smartphones," he said. Johnson also mentioned ATB Financial's initiatives to provide people experiencing homelessness with banking, such as Four Directions Financial, a project created in partnership with Boyle Street Community Services.
"I felt that this model is accessible to 99% of people, though there might be a few exceptions," he said. "If you don't have these stores (nearby), then they become even less accessible for people. You have to order with the delivery apps, or you have to drive further. So I felt like there's always going to be tension of accessibility, and this struck a fair balance."
Johnson said Vender will stock convenience store staples like snacks and drinks, as well as some grocery items due to the lack of current grocery options downtown. He's less interested in carrying unusual flavours such as those at YEG Exotic or the 161 Avenue NW location of Your Spot Convenience Store and Gas Station.
He also plans to partner with small businesses, such as bakery Sweet Gi's, to carry higher quality products that support the local economy.
"I think a lot of the smaller brands struggle. They work farmers' markets and the other things, but they struggle to get into the big, big chains and getting that foothold. I think there's a benefit going both ways," Johnson said.
Johnson is still working on some construction and permits required to get Vender ready for opening, with a target of mid-June.
The closest approximation to the Vender concept in Canada is Aisle 24, a fully self-serve convenience store chain currently operating in Ontario and Quebec. However, Aisle 24 uses self-checkout counters, whereas Vender's checkout takes place on your phone.