If you've tried to enrol in a cooking class at The Kitchen and found it was already full, you're not alone.
Since the Edmonton Public Library opened the community kitchen at the Stanley A. Milner branch in March 2022, cooking classes on everything from pastry to bread to salads to main courses have filled up quickly.
"We've learned that food can be a powerful community connector," said Kitchen coordinator Zofia Trebaczkiewicz, a chef with more than 20 years experience in restaurants and catering who also worked for years as a library assistant.
Up to 36 participants can be accommodated in The Kitchen's 2,100 square feet of space at workstations that are equipped with commercial ovens and induction cooktops. There is a quality ventilation system and a scullery for cleaning and storing materials. The Kitchen also offers online classes, such as a June 14 session on making cinnamon coffee cake.
"During the last few years there has been a trend to rediscover and learn basic life skills," Trebaczkiewicz told Taproot, noting that the EPL's 2019-2023 Strategic Plan includes the imperative to address the growing needs and interests of its clientele.
When renovations to the downtown library were planned, public consultations "indicated a strong interest in culinary literacy and food security issues, with many voicing a need to create a space for hands-on cooking," Trebaczkiewicz added.
"The success of The Kitchen is a result of the needs of the community being answered."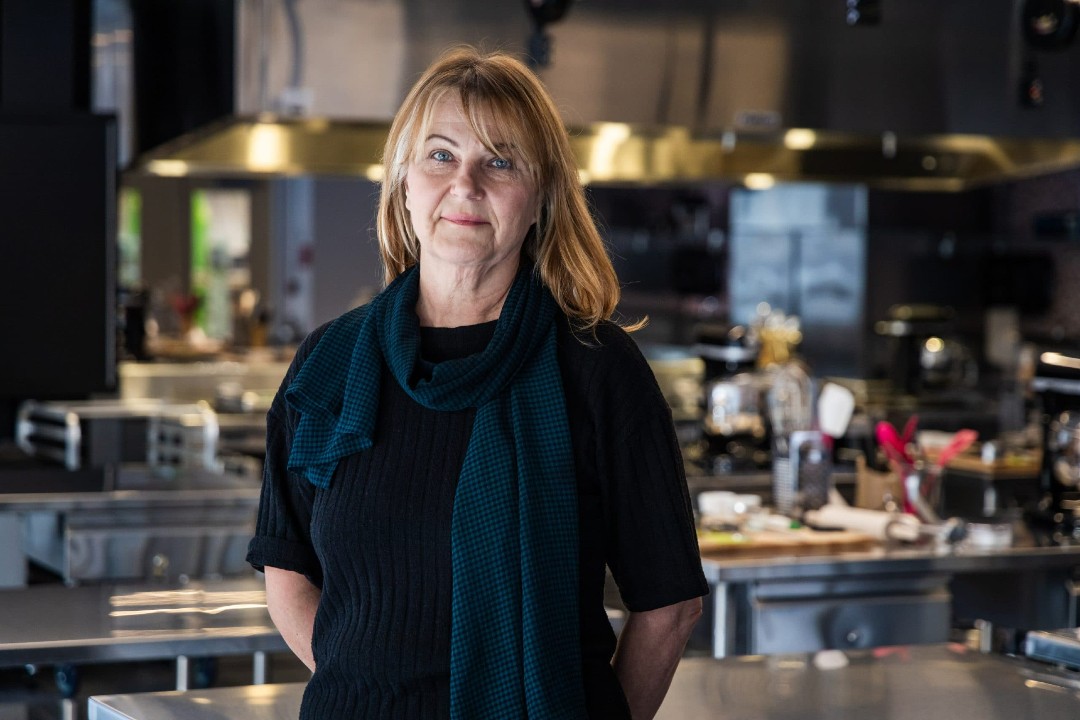 Another way The Kitchen is addressing community needs is by teaching skills that may help households on a budget.
"As we are experiencing unprecedented inflation, Edmontonians are choosing to learn more about cooking," Trebaczkiewicz said. "The Kitchen is a safe, inexpensive, and fun way of doing just that."
It's difficult to say which food-related topics are the most popular at The Kitchen, since classes fill up pretty much as soon as registration opens, but "we find that any community events where participants can learn about culture through food have seen the most engagement," Trebaczkiewicz said.
Food enthusiast Tammy Vineberg took a class on making brownies back when The Kitchen first opened.
"I know how to make brownies, but the class was free, online, and I was curious," Vineberg told Taproot. "The class was packed with people who had questions that I would never consider, (about things) like measuring ingredients. It was interesting to see people from backgrounds who never had an opportunity to learn how to bake before. It reminded me of my privilege."
Future offerings at The Kitchen will include classes for seniors, family baking, a focus on cooking smaller amounts, creatively using leftovers, and addressing changes in taste. That's quite a diverse offering, but one which reflects the diversity of participants, Trebaczkiewicz said.
"Children supervised by parents, teens learning with parents, young couples, seniors, new immigrants, new Edmontonians, lunch dates, customers with disabilities — everyone loves to cook!"
While EPL is not planning to add community kitchens at other branches, it is something it may consider in the future.
"I would take a class from The Kitchen again," Vineberg said. "When I go to the website, it's often too late and the classes are full. I do want to find a class that I can take with my teenage son so he can learn how to cook."