Three Edmonton companies — Kello Inclusive, UpRow, and Nyah Health — won pitch competitions held during the Inventures conference in Calgary.
"To be recognized in a startup pitch competition that is so often driven by profits and profitability, that feels really, really good — that people are seeing the value in the social impact of what we're doing and how much we need to move that needle of social change," said Katie MacMillan, co-founder of Kello Inclusive, a modelling agency for people with disabilities.
She won $10,000 in the "future of work" category of the startup pitch event organized by Alberta Innovates on June 1.
Kello, founded just a year before the event, entered the pitch competition to make useful connections more than to earn cash. As a non-profit, getting the word out about the organization is key to its success, MacMillan said.
"We made some connections with people who are running their own startups, and businesses that — for particular reasons and just more generally speaking — care about accessibility and inclusion," she told Taproot. "We did a little scouting because there were several folks who self-identified as disabled, who of course I gave my business card to, and said 'Have you ever considered modelling?'"
Also at Inventures, The51 held its annual HerStory competition, which gave 30 women and other members of underrepresented genders a chance to pitch for investment on the strength of their stories.
Kelise Williams of UpRow, a virtual marketplace connecting immigrants to services, and Hoda Soboh of Nyah Health, a virtual health platform for women experiencing menopause, were among the five winners chosen after the June 2 event.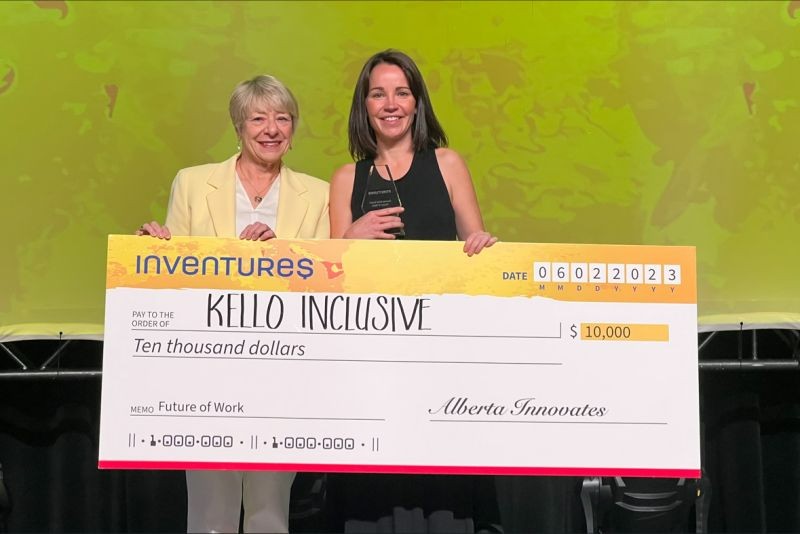 "This whole experience has been absolutely mind-blowing, and I'm forever grateful for the support and love I've received," Williams posted on LinkedIn after her win.
Soboh expressed deep gratitude, too. "To receive guidance and mentorship from The51 is really any femtech company's dream."
Williams and Soboh, along with Calgary's Aamna Zia of Fuse Financial, Liz MacRae of Village Wellth, and Leilani Mustillo of Animal HealthLink, will now go through a due diligence process towards receiving up to $51,000 in investment.
Diversity is a strength of Edmonton's innovation ecosystem, Mayor Amarjeet Sohi said during an Inventures session with fellow mayors Jyoti Gondek of Calgary and Alanna Hnatiw of Sturgeon County.
"I am absolutely blown away with the leadership that is emerging in Edmonton among racialized communities, Indigenous communities, among women," he said on the panel, which took place before the winners of the pitch competitions were announced.
Inventures also awarded $10,000 to pitch competition winners in five other tracks: the metaverse, ag- and food-tech, health innovation, cleantech, and computing infinity. Edmonton's vrCAVE and Story City lost out to Winnipeg's Delphi Technology Corp. in the metaverse track.