An Edmonton startup that helps immigrants navigate the settlement process in Canada credits a suite of accelerators brought to the province by Alberta Innovates for helping it get traction.
Lawtiq began as a "marketplace for lawyers like Expedia" before it joined Alberta Catalyzer, one of five programs created under the Alberta Scaleup and Growth Accelerators Program. After participating in the pre-accelerator, Lawtiq became an AI-powered "immigration and settlement platform providing services to newcomers in Canada," co-founder and CEO Ali Salman told Taproot.
"Because of Alberta Catalyzer, we hired our first employee," he said at a July 25 event highlighting the accomplishments of the program known as Scaleup GAP. "We pivoted to immigration and settlement, and that's exploded for us."
Salman's Lawtiq is one of 234 Alberta companies that have benefited from Scaleup GAP since it began in earnest 15 months ago with the creation of Alberta Catalyzer and the introduction of four accelerators: Alberta Accelerator by 500, which is run by 500 Global; Plug and Play Alberta, which is run by Plug and Play Tech Center; the TELUS Community Safety and Wellness Accelerator, powered by Alchemist; and the SVG | Thrive Canada Accelerator, run by SVG Ventures.
"Our target was 100 companies that we would help during that first year," Alberta Innovates CEO Laura Kilcrease told reporters. "I'm pleased to say we knocked the ball out of the ballpark."
Alberta companies participating in Scaleup GAP have raised $147.5 million in investment, created 118 jobs, and grown revenue by $12.4 million, Alberta Innovates says. The province has invested $35 million over three years in the program.
Aside from Lawtiq's first hire and pivot, Salman credits the program with his company's first customer transaction. He also says it directly led to growth that includes seven hires in the past six months and 30 to 40 more to come.
"One of the things I would emphasize is the conversations with the mentors," Salman said. "These mentors are someone that you cannot access. These are all successful business people. They are the ones who have made it."
Having graduated from Alberta Catalyzer, a joint project between Edmonton Unlimited and Platform Calgary, Lawtiq is now part of the current batch of companies in Alberta Accelerator by 500.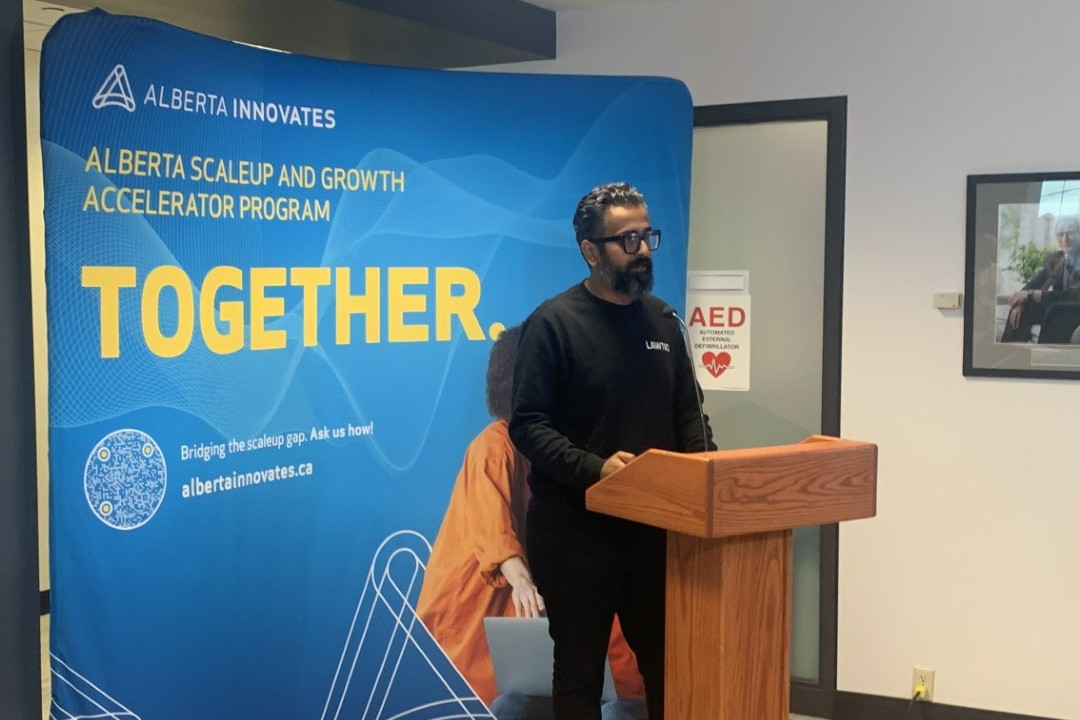 "Catalyzer would be, let's say, grades 2, 3, 4," Salman said. "Alberta Accelerator by 500, you jump into grades 8, 9, 10."
Alberta Catalyzer is a good fit for pre-revenue startups, he said, while Alberta Accelerator by 500 is more intense and "very accountability-driven." He didn't mince words about the expectations for participants.
"It was straight-up: '$100,000 has been spent on you, OK? So you've got to get your shit together,'" Salman said.
He's grateful for the outside pressure applied by the accelerator's organizers, Silicon Valley-based VC firm 500 Global. The affiliation comes with a reputation-preceding pedigree, too, he said.
"Being a Global 500 alumnus comes with a lot of capital access — huge capital access," he said. "It's also like a certificate… like an MBA."
Accelerator alumni develop new markets
Fly and Fetch, a traveller-powered international shipping startup, has also been helped by Scaleup GAP. Co-founder and CEO Shelvie Fernan participated in Alberta Accelerator by 500 and raised funds during her time there (though she would not disclose how much). Since graduation, she has been able to expand her international shipping businesses into two new markets: France and Italy.
Fly and Fetch, which began with services between Canada and the Philippines, made $60,000 in sales on its inaugural Euro-trip, Fernan told Taproot. Her next target is Japan, where she'll embark on a trade mission in August.
Another Alberta startup that participated in Scaleup GAP is Kid Drop, a Fort McMurray-based shuttle service for children that is kind of like a cross between Uber and school buses. After participating in the Community Safety and Wellness Accelerator, Kid Drop is planning to launch in Edmonton's west end by September.
Founder Julieta Miranda's sister will be spearheading the Edmonton launch. "We want to have at least one shuttle running by September for the start of the school," she said.
Notwithstanding the list of tangible results so far, we've not yet seen the full extent of Scaleup GAP's effect, Kilcrease suggested, citing the long-gestating effects of "fellowship" that's been built at the accelerators as well as the relationships developed during a trip to SXSW earlier this year.
"The participating companies, who were there less than three months ago, have already raised and closed $1.8 million from the connections they made," she said during the event. "There's another $10 million in venture money that actually is under due diligence with several of the other companies."
Scaleup GAP has also attracted 111 companies from outside of Alberta, six of which are registering their businesses here after participating in an accelerator. That's how Plug and Play Alberta alumnus Ciba Health of New York chose Edmonton for its Canadian headquarters.
What's next for the accelerators