A young Edmonton startup has received a $250,000 grant from Pfizer Canada to test a product that compresses years of patient history into a more digestible visualization.
Theragraph, founded by Edmonton gastroenterologist Brennan Walters, is working on a medical data aggregation and display software for healthcare providers. The grant from Pfizer will support a pilot to test the tool later this year at two gastrointestinal clinics — at Walters's practice in Edmonton and at another one in the greater Toronto area.
While the company was incorporated just last year, Walters came up with the idea for Theragraph about five years ago while working with patients with ulcerative colitis — an inflammatory bowel disease.
About a third of a physician's day is spent on chart review, evaluating or analyzing a patient's medical record, Walters said. With the tool Theragraph is developing, he hopes to reduce that time by automating the process.
"I realized that there was a significant need to look at compressing data into manageable formats," he told Taproot. "There's been a significant escalation in the type of information that we need to make effective clinical decisions."
Inflammatory bowel disease, which includes ulcerative colitis and Crohn's disease, is a chronic condition characterized by periods of relapsing and remitting inflammation of the digestive tract. A 2023 report from Crohn's and Colitis Canada states that 322,600 Canadians live with inflammatory bowel disease.
Because it's a chronic condition, patients with ulcerative colitis have 10 to 20 years of medical history that a physician needs to go through, Walters said. On top of that, he said up to 40% of patients with ulcerative colitis have other chronic conditions that can overlap with one another.
Patients with the disease often require the use of biologic drugs made from living cells that have large, complex molecular structures. And due to the complexity of biologics, Walters said a physician needs to work with a pharmaceutical company's patient support program to get a patient on the drug.
"I've spent years looking into this," he said. "There are some dashboards, for example, that have been developed in this specific area of ulcerative colitis, but also in other areas, but there's nothing that does what this does, what this tool does."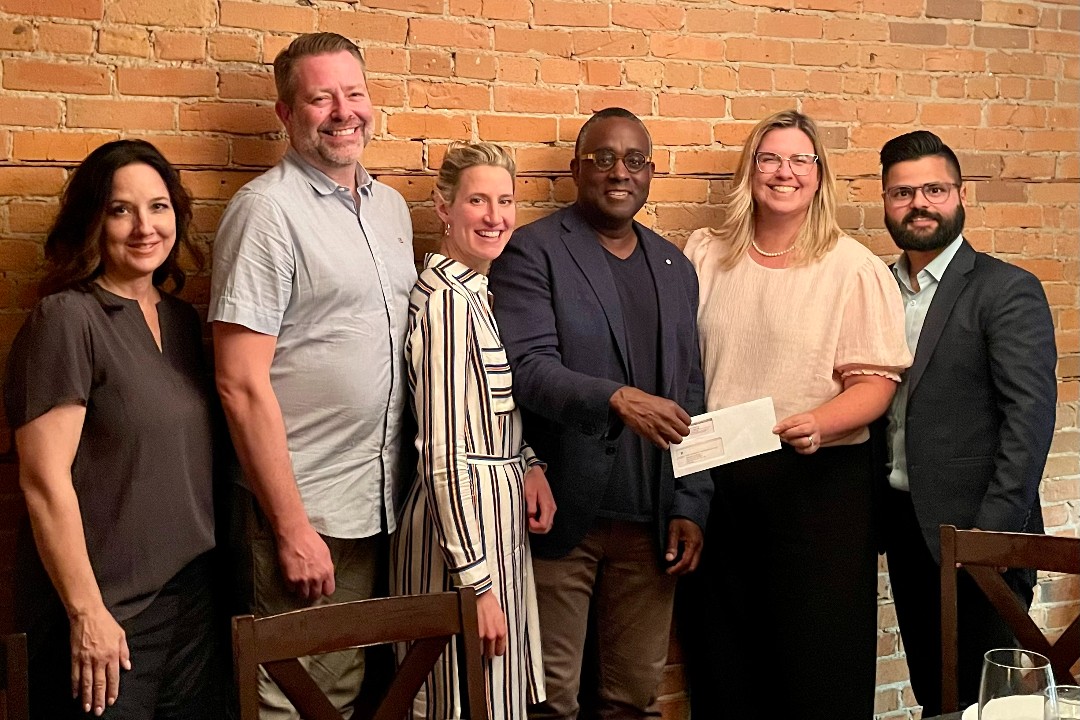 Pharmaceutical companies are the paying customers in Theragraph's business model, as the tool will be used in patient support programs. But physicians and patients will also use the tool, Walters said.
In recent years, eight provinces have moved to switch patients on biologics to a cheaper version called biosimilars — medication that has no clinically meaningful difference from the biologic medication it is based on. The Alberta government announced its plans to make the switch in 2019, though some doctors and patients have voiced their concern about the move.
Ruth Levin, Theragraph's operations lead, said its software could be a tool for doctors in making that choice either way, especially as the number of biosimilars on the market increases.
Theragraph recently completed Alberta Catalyzer's Velocity stream, an eight-week pre-accelerator program that supports startups that have a customer base and are focusing on growing operations. Walters's pitch won the people's choice award — a stuffed unicorn — at the Velocity North showcase in June.
"I think Theragraph is definitely demonstrating that they are solving a real-world problem, that they have a really unique product to be able to solve that problem, and they've got an exciting trajectory ahead of them in terms of really building the future for their business," said Dawn Newton, co-director of Alberta Catalyzer.
While Theragraph's minimum viable product hasn't launched yet, it's close, Walters said.
As for the future, while Theragraph was created for patients with ulcerative colitis in mind, Walters said the tool could be applied to patients with other conditions.
"This is something that could be applied beyond this area of medicine," he said. "So beyond ulcerative colitis, beyond inflammatory bowel disease. It's something that can be applied to virtually any area of medicine because we are all facing the same issues."