A library showcasing Tamil culture, an art project enlisting kids to decorate trashcans, and a rock art workshop are among the community-based projects a city councillor's office will be funding in Karhiio this year.
"I've been involved in community-building work my entire adult life," Coun. Keren Tang told Taproot. "I've learned that if you can put a question or decision out to the broader community and involve as many people as possible… typically, it generates a much stronger result than when only a few people make that decision."
Tang's office allotted $20,000 to be distributed through the second annual Community-Based Budgeting Project. Of the 18 proposals received, nine will receive the full amount requested, which ranges from $500 to $2,000:
CansForKids YEG, where students will learn about environmentalism while painting trash cans;
Elder & Youth Lunch & Learnings, a series of intergenerational and cross-cultural culinary events;
Guide to Ward Karhiio Booklet, a publication to help newcomers navigate the ward, created by youth non-profit Step Up YEG;
Re-wilding Ward Karhiio, an initiative to plant a wildflower meadow;
Shoot hoops & have a hotdog, a weekly basketball-and-barbecue event meant to engage youth and deter mischief at Sakaw Community Gardens;
Seeds of Change, a program to teach youth about sustainability through planting;
Small Arts of Kindness, a workshop to paint rocks to be placed in Mill Woods Park;
Tamil Little Library, a library stocked with books by Tamil authors to foster inclusivity;
Thirukkural Art Mural: a mural featuring bilingual quotes from Tamil poet Thiruvalluvar.
The rest of the proposals will have an opportunity to share $4,500 in remaining funds, Tang said.
"You either scale down or you adapt, or you work with another team, or you modify your proposal," she said. "We put that proposed approach out to the project leads, and everyone says it's a sensible way to move forward."
Transparency, civic engagement, collaboration, inclusion, and equity are among the values of the Community-Based Budgeting Project, says a report on the inaugural iteration. That first year funded such projects as Greater Mill Woods Dining Week and a BetaCity YEG project mapping bike paths in wards Karhiio and Nakota Isga.
Traditional granting structures tend to be more opaque and less likely to provide application support than this kind of participatory budgeting, which is part of what drew Tang.
"We can talk about being an anti-racist city. We can talk about all these values and things that we're doing when it comes to social justice and equity, but nothing will change if we don't start talking about changing our overall power structure," she said.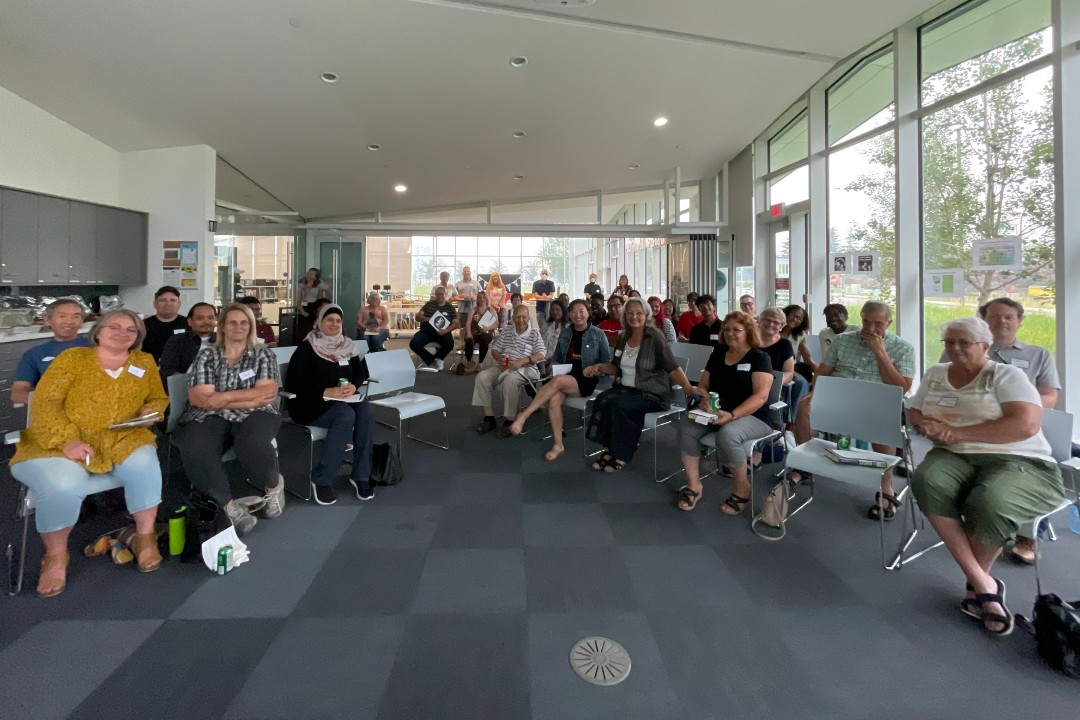 The process started with rough ideas on a community brainstorm board. Participants had access to a template for planning their project, tips on writing an effective proposal, and coaching sessions. A community pitch night followed, and community members voted on which projects to fund throughout the month of July.
"When we talk about community accountability, this is how you generate that," Tang said. "You build relationships. I think if you compare it to traditional granting accountability, which is much more administrative-driven, very paper-trail-based … I think community-based or participatory budgeting is much more relationship-based."
Because the project is at a comparatively smaller scale than other granting bodies, it is nimble and able to pivot. That's how Tang arrived at full funding for half the projects and partial funding for the rest. For example, a project proposed by ABC Head Start for a "low-tech augmentative alternative communication device" might have another way to achieve its goal to display pictograms to help non-verbal people communicate.
"What they're envisioning is a solid piece of structure, with things designed, built in place, and bolted down. That's great, but that's also costly," Tang said. "One alternative we have proposed is a laminated-poster version that you can throw onto a community hall."
Alternative sources of funding may make themselves available as projects go forward, Tang added. For example, the Edmonton Transit Service ended up paying for materials for the Mill Woods Transit Centre Pride Walk last year after receiving a request to paint on its property.
"The original proposal actually resulted in basically no money spent on supplies," Tang said.
Depending on how the partially funded projects work out, this year's iteration of community-based budgeting will see up to 18 projects approved, compared with 13 in 2022. This despite fewer resources, as Coun. Andrew Knack's office in Nakota Isga didn't participate this year, and Tang's office contributed $20,000 instead of last year's $25,000.
"I feel like the increase in numbers is a reflection of people learning more about it. The project got quite a bit of media coverage last year," she said, noting that word-of-mouth was helpful, too. "What I love seeing from this year's cohort is there's a lot of young people."
Tang isn't sure whether her office will conduct community-based budgeting again in 2024. That's in part because of Tang's successful motion in February instructing administration to conduct a participatory budgeting pilot in one or more of the city's existing community grants programs. Kim Turcotte, the city's community grants team lead, told Taproot via email that a participatory budgeting process will launch this fall, with more details to come in the "next couple of weeks."
This year's Karhiio projects are slated to be implemented between now and Nov. 30. However, Tang and her team intend to be flexible with timelines.
"The goal here is to support residents where they're at and try to empower as many ideas as possible," she said. "If that means they have to go into next year, that's OK."