A Calgary-based specialty liquor store chain is now open on 124 Street after a successful appeal to bend the city's rules governing the concentration of alcohol vendors.
Vine Arts Wine and Spirits opened its first store outside Calgary (and third overall) on Sept. 9 at 10961 124 Street NW. It's the result of a longtime goal of its proprietors.
"We probably first started looking at spaces kind of casually in 2014," co-owner Jesse Willis told Taproot. "Edmonton actually has more stringent municipal bylaws about liquor store licences than Calgary or elsewhere in Alberta. So that was part of the challenge."
Willis cited a bylaw passed in 2007 that requires a minimum distance of 500 metres between liquor stores. That rule was loosened for suburban communities in 2016, but a recommendation by administration to do the same in Oliver and downtown was voted down in 2019.
"The original intention of those bylaws is to make sure that we don't have clustering of liquor stores either in an area where it might potentially have some negative social impacts, or just somewhere that it doesn't make sense," Willis said.
The new Vine Arts is in fact within 500 metres of two other liquor stores: Cheers and Beers Liquor Store and Westmount Liquor Hub. The company behind the retail space, Beljan Development, took its case to the Subdivision and Development Appeal Board in July 2022 and won.
"On the basis of the evidence presented, the Board is of the opinion that the proposed development would not unduly interfere with the amenities of the neighbourhood, or materially interfere with or affect the use, enjoyment or value of neighbouring parcels of land," reads the appeal board's written decision.
Vine Arts isn't the only specialty liquor store on 124 Street to receive an exemption. Sip Liquor Market's owners went through the same appeals process prior to opening in June 2022.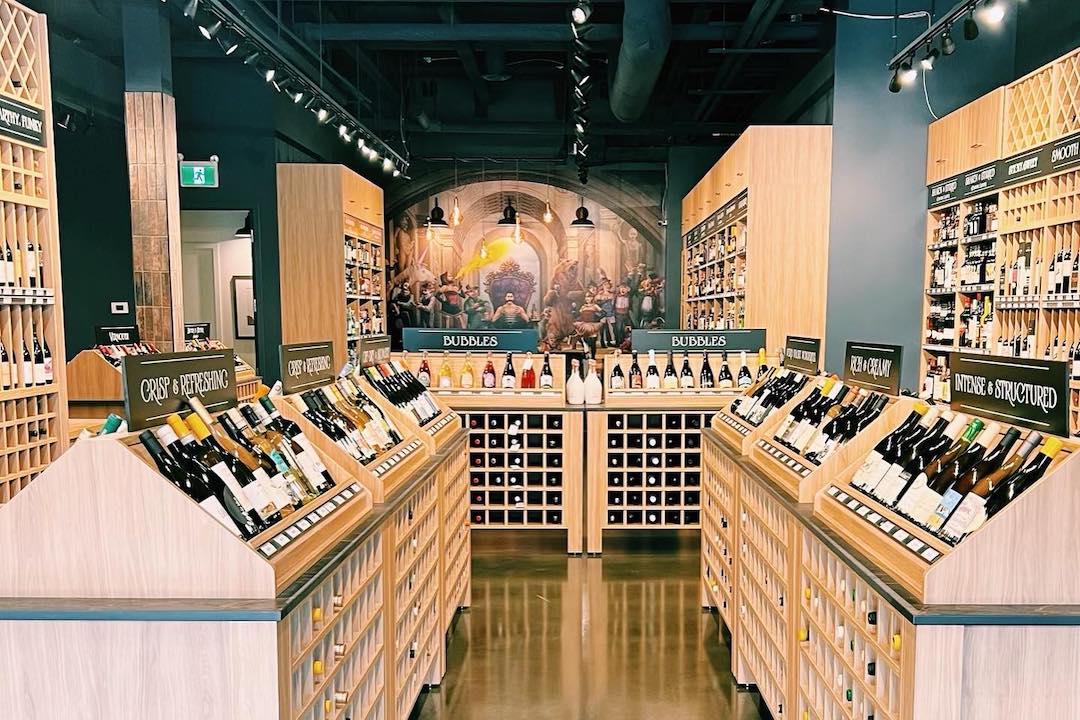 "We don't necessarily like the bylaw," Sip co-owner Eric Remagni told Taproot. "I think what it's led to is some liquor stores that are entrenched in their communities no longer need to worry about competition. And so you don't need to innovate necessarily as much, because you have a certain bubble where you're safe."
Sip is located just 1.3 kilometres south of Vine Arts, but Remagni (who created CoffeePass and works as a destination development specialist for Explore Edmonton) isn't worried about competition.
"I think there's a lot of space for specialty liquor distributors to grow," he said. "When we see Vine Arts come into Edmonton, we don't see it as a threat. We more so see it as an opportunity, and having the ability to supply more will just kind of expand the market."
Willis feels much the same. Not only is he confident that his shop is distinct from other businesses in the category, but he also sees room for cooperation within the industry.
"One thing that's always worked well for us in Calgary, and something I've always appreciated about the Calgary scene, is that with the smaller boutique stores and specialty stores, everyone for the most part plays nice in the sandbox. We help each other," he said.
Willis and his business partner Jeff Jamieson opened the first Vine Arts back in 2004 at the onset of the craft cocktail craze. Vine Arts is known for wine, but perhaps even more for its hard-to-find spirits and cocktail-making accessories. The store has a medium-sized inventory of craft beer, but Willis doesn't hesitate to send his patrons to other shops like Sherbrooke Liquor when necessary.
"We have a great selection. We have an interesting selection. But if you want to go to the best beer store in Canada, Sherbrooke is down the street," he said.
Remagni pointed to specialty importers like Garneau Block and UnTapped Craft Supply growing in popularity with consumers and restaurants. Both have dedicated shelves at Sip. He and business partner Galen Kjargaard, a former brewer who has worked at Sea Change Brewing Co. and Alley Kat Brewing Company, must be selective with their offerings because of the shop's small size.
"We have roughly (600) to 700 square feet in the front. And it's all taken up by local breweries or local breweries, local distillers, and the wine — it obviously can't come from around Edmonton very often, just because we only really produce fruit wine," he said.
Remagni is working on another specialty liquor project at his day job. Explore Edmonton is collaborating with the Alberta Ale Trail on a formalized "trail" in Edmonton that will showcase local craft beer and other hospitality businesses.