As the Edmonton Transit Service decommissions older fare machines, the adoption rate of its new smart-fare system is nearing two-thirds of Arc-eligible riders, exceeding expectations.
In September, Arc users accounted for 63% of Arc-eligible fares — that is, the U-Pass, adult fares, and youth/student fares, which were added on Sept. 25. That resulted in 55% of total revenues coming from Arc in September, the most recent month for which data was available.
"Other jurisdictions that have implemented smart fares — I'll just caution, it wasn't necessarily done in a phased manner like we're doing — but they typically had, at the high end, maybe 30% adoption until they eliminated their paper fare products," Carrie Hotton-MacDonald, branch manager for ETS, told Taproot. "We will see a sharp increase, obviously, when you take away the older traditional fare products."
Efforts to reduce conventional fare payment continue with the decommissioning and replacement of older fare machines at LRT stations and transit centres starting on Nov. 1. For now, the new machines will still sell individual paper tickets, but the ultimate goal of Arc is to go completely paperless, including the elimination of the current physical monthly pass. The decommissioning process should take "a few weeks" and be completed by the end of the year, Hotton-MacDonald said.
Will there be growing pains as the new machines replace the old ones? Hotton-MacDonald doesn't think so.
"We have a lot of the vending machines already in place, and this is just adding even more," she said. "We're also working on plans to ensure that we have the older style ticket validators for people that are still using paper tickets. But we highly, highly recommend people switching over to Arc if they're able."
Some transit users have experienced outages at fare validators, which read the cards at the bus door or entry to proof-of-payment zone in LRT stations.
"We recently learned some validators were having technical issues and are working closely with our vendor to resolve these issues," Hotton-MacDonald's office said in an email. "When validators appear to be offline, riders can still tap their Arc card. Once the validator is back online, any transactions made during the offline period will be reflected in the account."
These outages have created some strain on bus drivers.
"Like any new technology, the Arc card has come with its glitches," Amalgamated Transit Union Local 569 president Steve Bradshaw told Taproot. "When it doesn't work, and you've got maybe half a dozen or a dozen passengers … holding up the operator who has a set schedule that he or she needs to keep to, that can be frustrating for them."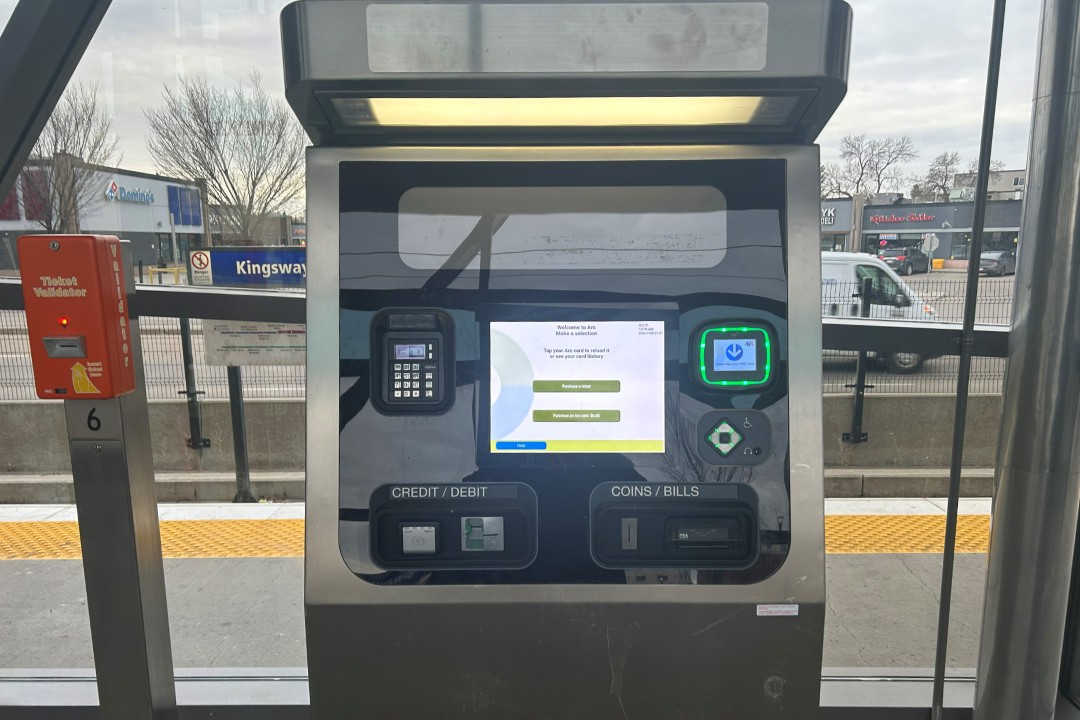 But Bradshaw also said his union is pro-Arc, in part because it helps avoid fare disputes and offers the promise of a simplified regional transit system.
"Sometimes, a fare dispute can lead to violence. And we don't need that. We need to find ways to avoid that," he said. "We want a regional system, because it'll make a better system for everybody, and it'll cost less."
Vix Technology, a multinational automated fare collector company, developed Arc for ETS. It will also handle the removal and installation of fare machines. The Valley Line Southeast LRT, which starts running on Nov. 4, will only have the newer machines and old-style ticket validators.
The cost to replace the fare machines is included in the city's contract with Vix. That contract cost $31.4 million and covers the design, implementation, operation, and maintenance of the Arc system for 12 years. Arc currently works for ETS as well as the transit systems in Strathcona County and St. Albert. In the future, it could expand to other municipalities in the region.
Arc first rolled out for U-Pass users in August 2021 and for adult fares in November 2022. With the expansion to students and youth, all that remains are seniors, low-income pass holders, and para-transit users. A pilot for seniors is underway now, with low-income pass holders to follow. Hotton-MacDonald didn't want to speculate on when full access for those groups will be granted, but she said she expects all users to be Arc-eligible by some point in 2024.
"We're working with our regional partners on it. It's not a decision that we can make on our own," she said.
More changes ahead
Arc will eventually phase out the plastic cards, which cost $6, for a more convenient payment method. Hotton-MacDonald said part of the reason for the card fee is to discourage users from throwing them away and thereby generating waste.
"Once all of the user groups have transitioned, we'll be looking at how we consider using the open-payment method, which is really exciting," she said. "That would be using credit or debit cards, potentially, or smartphones, depending on the design."
Calgary Transit debuted its smartphone-payment system in June 2020, partly as a way to reduce physical contact in response to the COVID-19 pandemic. Hotton-MacDonald said ETS's system was in development before the pandemic began and is complicated by the need to ensure its compatibility with regional operators.
"It was always intended to be a regional solution … Having that regional fare capping — we're the first in Canada to offer it — is a really key feature of regional Arc implementation," she said. "One of the positive aspects of making sure we're giving everybody the time to adjust and adapt to the change is that we're preparing them properly and providing the amount of support they need to change their behaviours."
Looking further ahead, Hotton-MacDonald said ETS will explore whether new kinds of fares are needed.
"We're also considering whether there are other offerings related to Arc that people are looking for, in terms of the types of fare media and how people are travelling," she said. "Do we need a multi-day Arc pass, as an example?"
For more on the Nov. 4 opening of the Valley Line Southeast LRT, listen to Episode 239 of Speaking Municipally.
Correction: This story has been updated to reflect that ETS has seen 63% adoption of Arc card use on Arc-eligible fares, rather than on all fares.