Edmonton-born brand Poppy Barley has launched a knitwear line, its first foray into garments after a decade of focus on sustainable leather footwear and accessories.
"It was a product that we felt we could deliver on within our values that would also help with our growth," co-founder and co-CEO Justine Barber told Taproot.
The launch features three sweaters made with certified materials: a crewneck, made from 100% lambswool; a cardigan, which is 100% cotton; and a mockneck that is 50% merino wool and 50% recycled cashmere. The mockneck costs $348 while the cardigan and crewneck are $248.
"Something we did with sweaters is we said, 'No synthetics, only natural fibres,'" said Barber. "We looked for certifications for the different fibres that we chose, such as organic, our responsible wool, our 50% recycled cashmere. So we incorporated different material certifications."
The lambswool and recycled cashmere-wool blend are both sourced from Italy, and the cardigan's cotton comes from Portugal. A family-owned factory in Cuenca, Spain, manufactures the sweaters.
Barber said the decision to expand Poppy Barley's offering into sweaters came from the team's personal and professional experiences.
"We are very proudly Canadian, very proudly designed in Edmonton, so we definitely have an Edmonton perspective on what we bring to market," she said. "We live in a winter city, a cold city where sweaters are one of the most worn items in our closet, and for a very long season."
Barber said the company will expand the knitwear collection in 2024 to include summer knits, skirts, and tank tops, in addition to a second fall capsule.
Along with this year's online release, Poppy Barley held a knitwear launch on Oct. 3 at the Fairmont Hotel Macdonald. The company has an ongoing partnership with the hotel's Confederation Lounge, which has crafted a cocktail called "Knitwear" for its seasonal winter menu. The lounge will donate $1 from every cocktail ordered to the YWCA, a women's social service that advocates for equitable communities.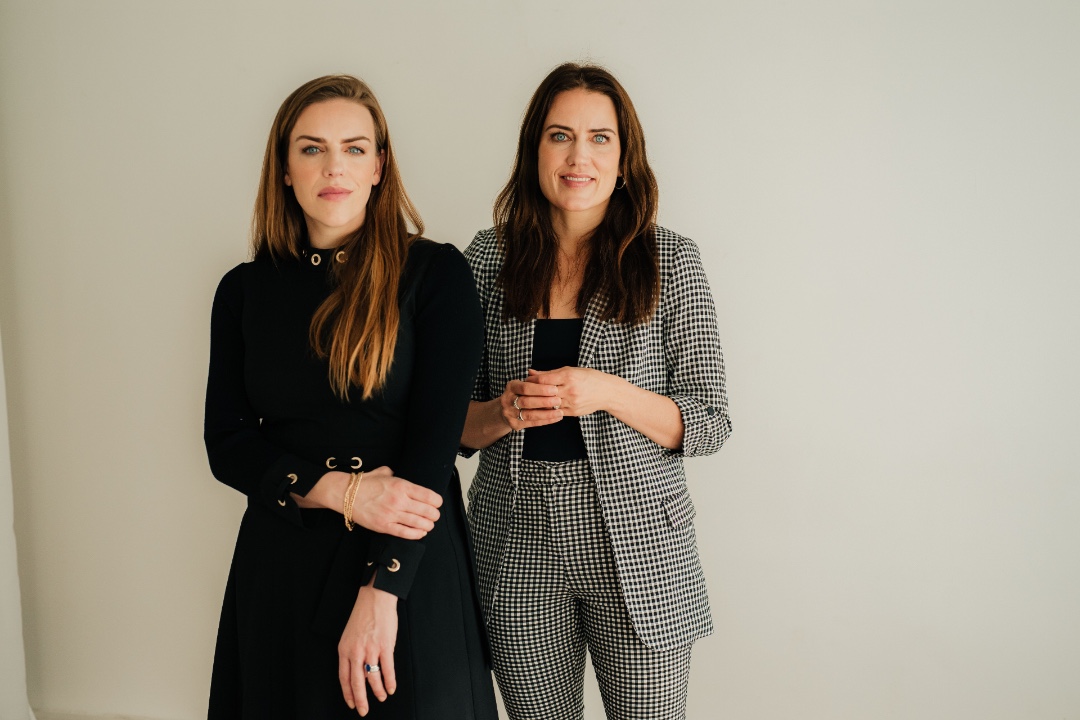 Sisters Justine and Kendall Barber founded Poppy Barley in 2012 as an online retailer with three leather-boot designs that people would order custom-fit. They stayed with this model for about two years before deciding it was not sustainable.
"We had this little factory that was pretty dependent on us for their orders, and they were either crazy busy, and then they really struggled to deliver on time, or we had no work for them," Barber said.
The sisters then switched Poppy Barley to a ready-to-wear model and started to redefine the brand's purpose. The primary philosophy became to "design products for the woman too busy taking on the world to have sore feet," as the website puts it. Later, the sisters merged their vision of sustainable luxury with this mission, and opened their first bricks-and-mortar store in 2017, in Southgate Centre. The company now has locations in Calgary and Vancouver.
"With every product we do, going back, we want to say, 'How can we create luxury for people and the planet?'" Barber said. "So, we put similar goals behind that. The first is traceability, so we always know directly the factory that we're working with. We visit there, we get to know them, we screen them for ethical production, for paying a living wage, and for respecting human rights."
This new approach laid the groundwork for Poppy Barley to secure status as a Certified B Corporation in 2019. B Corporations have a "triple bottom line of purpose, people, and profit," indicates the Poppy Barley website.
Businesses must score 80 points with certification non-profit B Lab to have their status approved. Poppy Barley currently has a score of 92.8. Barber said they will work to increase this score in the future.
"What we'll plan on doing ahead of the next recertification is identifying a few places that we want to do more on," she said. "We like to use the B Corp framework as helping us decide what our next goals should be."
Materials matter: Ethical leather production
A large contributor to B Corp status is the company's choice of materials. Poppy Barley's footwear and accessories use leather sourced from tanneries certified by Leather Working Group. This means the materials are byproducts of food production, the tannery is water- and energy-conscious, and it manages chemicals responsibly.
Poppy Barley also offers a few vegan leather alternatives in its PB PLNT accessory line, made from Desserto, a cactus-based leather. Barber said Poppy Barley has both ethical and practical reservations about expanding vegan leather into the footwear line.
"Until we see meat consumption dropping, there's also not as much, I guess, reason to not use leather because it's using the whole animal. So those two things have to go together," she said.
Aside from the waste that would be created by abandoning traditional leather too soon, it has been difficult to find an alternative that meets customers' needs, Barber said.
"We pride ourselves on making insanely comfortable shoes for women too busy taking on the world to have sore feet, and the comfort of a non-real leather isn't comparable," she said.
Despite the difficulties, the Barber sisters will continue to grow and adapt their products as the opportunities come.
"I think if we could find a material that recreates being leather without some of the side effects, hopefully that's the future."
Although the leather industry must change for Poppy Barley to achieve some of its leather goals, its expansion into knitwear was a growth opportunity that didn't require compromising the Barbers' vision.
"The future is continuing to execute on our vision, which is luxury for people on the planet, and looking at opportunities for growth and for opportunities to become a more sustainable company," Barber said.