Fluffy snow + high standards = a noisy Edmonton winter
You weren't imagining things — leaf blowers were in full force
There is at least one good thing about the slushy snow that tends to hit Edmonton in the spring: Leaf blowers are powerless against it.
Edmonton had a perfect winter for the use of gas-powered leaf blowers, or "backpack blowers" as they are called in the snow removal industry. More frequent use of these machines means that more citizens are impacted by their use – for better and for worse.
Using backpack blowers to clear snow is a uniquely prairie phenomenon. It's also limited to seasons with certain conditions: Small accumulations of light, fluffy powder that are easily blasted off sidewalks and driveways by the high-powered blowers. This past winter presented perfect conditions for backpack blowers, says William Horner, senior business adviser for Yardly, an on-demand property maintenance service.
"We've been able to use backpack blowers almost 100 per cent of the time, which is why you've probably noticed them more – they've been used a lot more this year," he explains. "Last winter, as an example, maybe we would have used them two or three times in the entire season, maybe amounting to five per cent of the time that we were out servicing properties. This year it's almost the complete opposite."
Winter blower use is much less common in areas east and west of the prairie provinces, owing to the prevalence of heavy, wet, lake-effect snow in these regions. That's also why you won't see blowers out now, during the soggy shoulder season: Salt, ice melt, sand and shovels are much more effective tools to deal with wet conditions.
Blowers occupy a particular place of ire in the urban landscape. Regular stories have appeared about what a nuisance the sound is, with some communities seeking to ban them entirely because of it. Others identify additional negative effects like high levels of carbon emissions or an increase in dust and other potential allergens kicked up by the high wind speeds; some communities have sought to ban them on these grounds.
Edmonton doesn't have any bylaws related to leaf blowers specifically. Instead, only the general noise regulations within the Community Standards Bylaw 14600 apply. In residential areas, the bylaw forbids any sound exceeding 65 dB(A)* during the day and 50 db(A) overnight (from 10 p.m. to 7 a.m.). There are also some exceptions for louder, shorter-interval noises during the day:
70 dB(A) lasting a total period of time not exceeding two hours in any one day;
75 dB(A) lasting a total period of time not exceeding one hour in any one day;
80 dB(A) lasting a total period of time not exceeding 30 minutes in any one day; or
85 dB(A) lasting a total period of time not exceeding 15 minutes in any one day.
*Note: dB(A) stands for A-weighted decibels, which is an expression of loudness as perceived by the human ear.
Alison Burns, communications adviser for the City of Edmonton, notes that enforcement of any type of noise complaint or violation is assessed on a case-by-case basis.
"If someone is using a leaf blower once a snow event for 15 minutes during the day, it would not be something our officers would be overly concerned about," she says. "If it were someone using a leaf blower every day to keep their driveway spotless, it might be a different story. Basically, we look at from the perspective of, is this noise reasonable or is it affecting other citizens' right to peaceful enjoyment of their own property."
Horner identifies the Echo Model #PB770T as the backpack blower with which he's most familiar. The company specifications for that blower quote a decibel level of 73 dB(A) – about the same loudness as a vacuum cleaner – so it's permitted within city bylaw for someone to use one for up to an hour a day.
But what about people who live in areas with multiple properties that are maintained by several different companies, who might hear a succession of blowers in the same area throughout the day?
"They're going constantly around here," says Cameron Winters, a downtown resident. "If they cut the grass then they blow the clippings off with the blowers. They blow the leaves off the lawn with the blowers and then they blow the snow all the time with the blowers. So it's kind of loud and it's kind of constant."
Winters lives in a condominium complex on 111th Street and 102nd Avenue, an area with several other condo developments and a large seniors' housing complex. He heard leaf blowers throughout the day all winter long – one will have just stopped when another starts farther down the block. But it's a trade-off, he acknowledges, since each condo board sets its own maximum level of snow accumulation that triggers removal. His building clears the walks after about one centimetre of snow.
Of course, snow removal crews could use something else to clear the snow. But residents in the prairies have very high standards when it comes to snow removal, which has led to the ubiquity of backpack blowers.
"Snow removal standards in Alberta particularly are some of the strictest there are anywhere," Horner says. "When you go to, for example, Ontario, you'd be hard-pressed to go to any property – residential, commercial or otherwise – and find a property that's fully bare to the sidewalk, bare to the driveway or bare to the pavement in a parking lot. They just get so much more snow there, and the type of equipment they use – you just don't see that. Really, the standards or the culture of the snow removal there are such that that is the accepted standard.
"If we were to clear properties here in Edmonton or Calgary or Regina in that same way, you'd lose that contract very quickly because it just wouldn't be up to standard," he adds.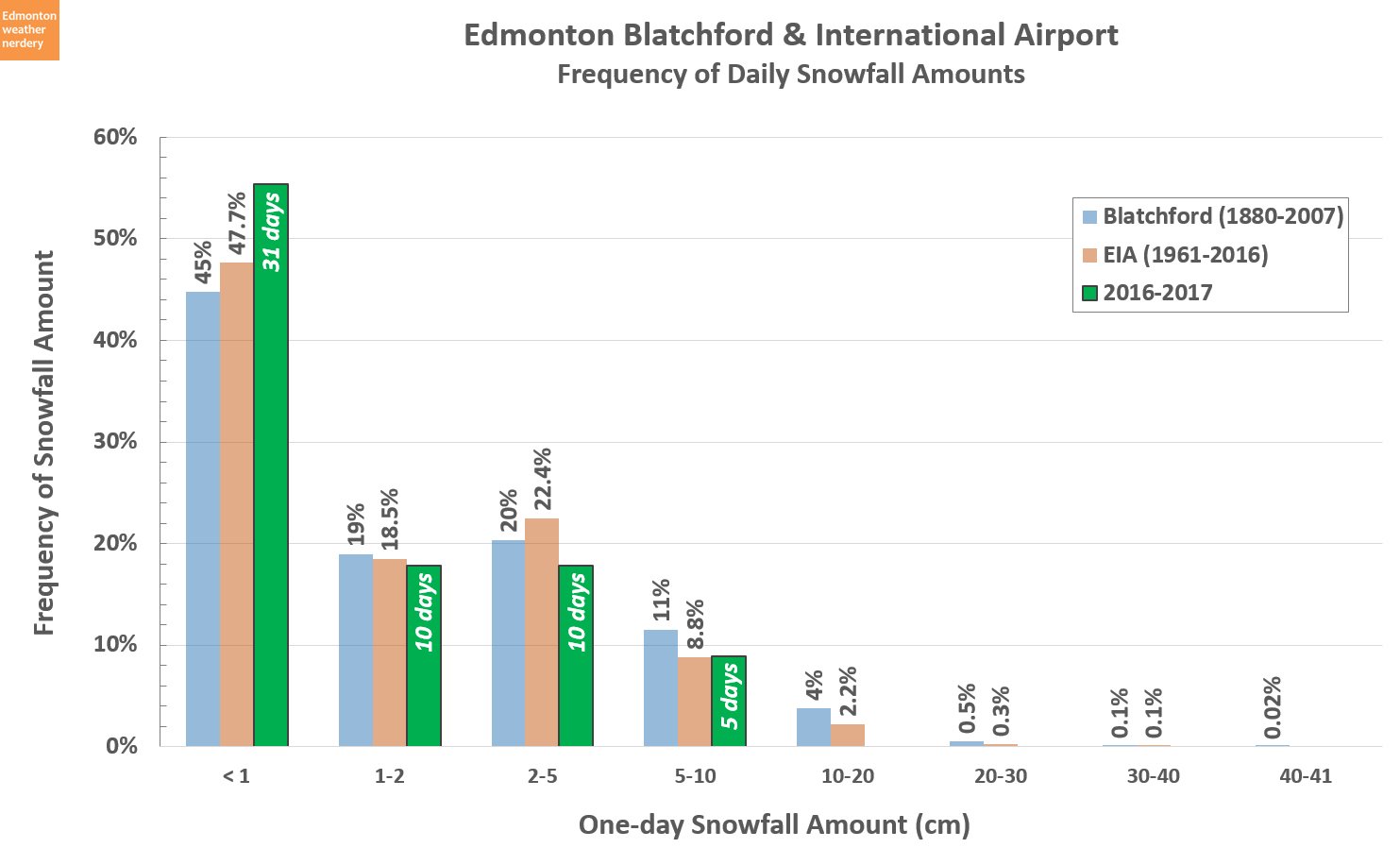 Chris Nelson, a citizen who tracks Edmonton's snowfall totals on his blog Edmonton Weather Nerdery, supports Horner's comments.
"The times I've been in Montreal in the winter, walking in the downtown and on the Plateau and stuff, I was just amazed at the snow – how trampled and rutted and just difficult it was," he says. "I couldn't imagine being a senior in downtown Montreal because it seemed so impassable to me, compared to here."
The City of Montreal doesn't publish any specific numbers about its snow clearing operations, but is regularly featured in the news for the massive snowfalls – and the corresponding chaos – that happen there all winter.
Halifax, which also receives huge bouts of heavy, wet snow, clears downtown sidewalks after four centimetres of snow and residential walkways after 15 centimetres. The City website even provides before and after pictures of what to expect in terms of snow removal. The "after" picture of residential sidewalks shows some bare patches, but still snow cover on most of the path.
The City of Toronto's snow removal standards are more stringent. Toronto clears high volume sidewalks after two centimetres of snow from December to March and after eight centimetres in November and April and throughout the winter on low volume sidewalks. The City of Toronto also asks property owners to deal with minor accumulations less than five centimetres, especially where sidewalk ploughs may not be called out and/or ice may develop due to freeze/thaw cycles.
These snow removal operations seem aligned with the amount of snowfall each city receives. Statistics Canada reports that Edmonton receives an average of 121.4 centimetres of snow per year – far below Montreal's average of 217.5 and Halifax's average of 230.5. Toronto's snowfall average is about 115.4 centimetres. So it makes sense that the snow removal standard in cities like Montreal and Halifax simply has to be lower than places like Edmonton, because they just get so much snow – and it's often heavy and wet – that it's impossible to clear it away completely.
During the past winter, Nelson confirms that Edmonton had an average number of days of snow, but smaller snowfall accumulations in general.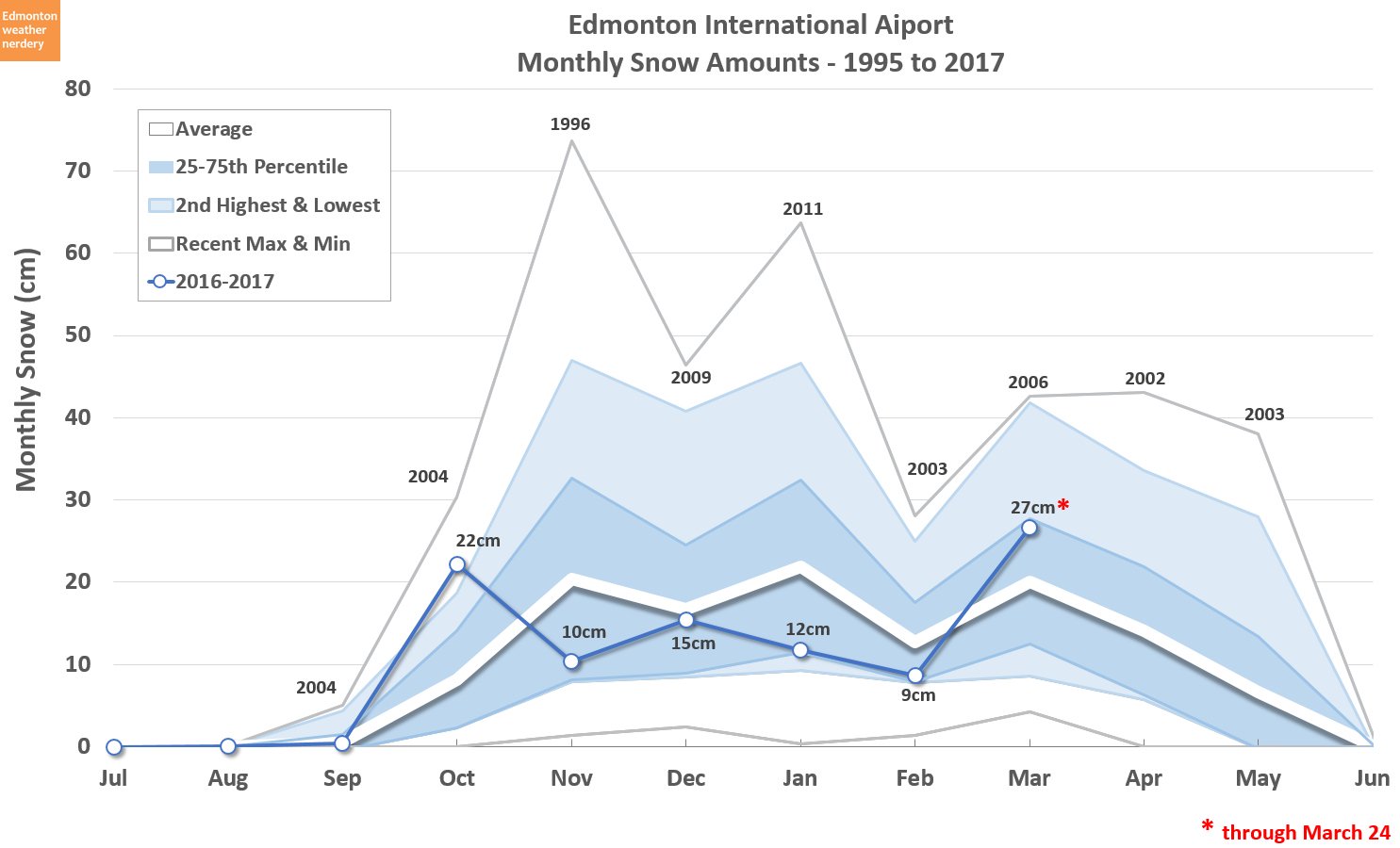 "Generally, when it snows here, about half the time we get less than one centimetre, and about 65 per cent of the time it's less than two centimetres," Nelson says. "That seems perfect for leaf blowers. This year we weren't too far from those averages, with 40 days less than two centimetres, compared to only 15 days with more than two centimetres that might need a shovel or sweeper."
Gas-powered backpack blowers have become critical to the snow removal industry on the prairies, because the tornado-force winds they emit (averaging 315 km/h) are able to blast pavement bare in minutes. Horner says it takes about four minutes to clear a residential property using one. He says the cost would be "astronomical" if companies were not permitted to use them anymore.
Using a blower at night is clearly not permitted under Edmonton's noise bylaw. But as local writer Tim Querengesser recently reported on his blog, that doesn't stop some from using them in the middle of the night anyway. Because Edmonton has a complaint-based enforcement system, it's up to citizens to report infractions. The city bylaw office confirms that noise complaints have increased, but not solely due to leaf blowers; in general, noise complaints have been increasing annually.
Indeed, Horner notes that while it may not be legal, it still happens regularly and some companies may simply accept any fines (it's $250 for the first infraction) as a matter of course, especially in certain areas of the city.
"The reality is, in a lot of what I'll say commercial areas – so downtown, Jasper Ave, Whyte Avenue – when you get out to some of the industrial or commercial areas in the city, contractors certainly do work outside of those hours," he says. "And in some cases paying that fine might even be a cost of doing business because the alternative is just not practical or feasible."
The City of Edmonton is currently reviewing its snow and ice removal practices. Interestingly, the impetus for this review is the perception of Edmonton as a "dirty" city in the winter. This seems to contradict Horner's comments about the city having more stringent snow removal standards as compared to other areas in Canada, though the review is focused at the city level, on roadways.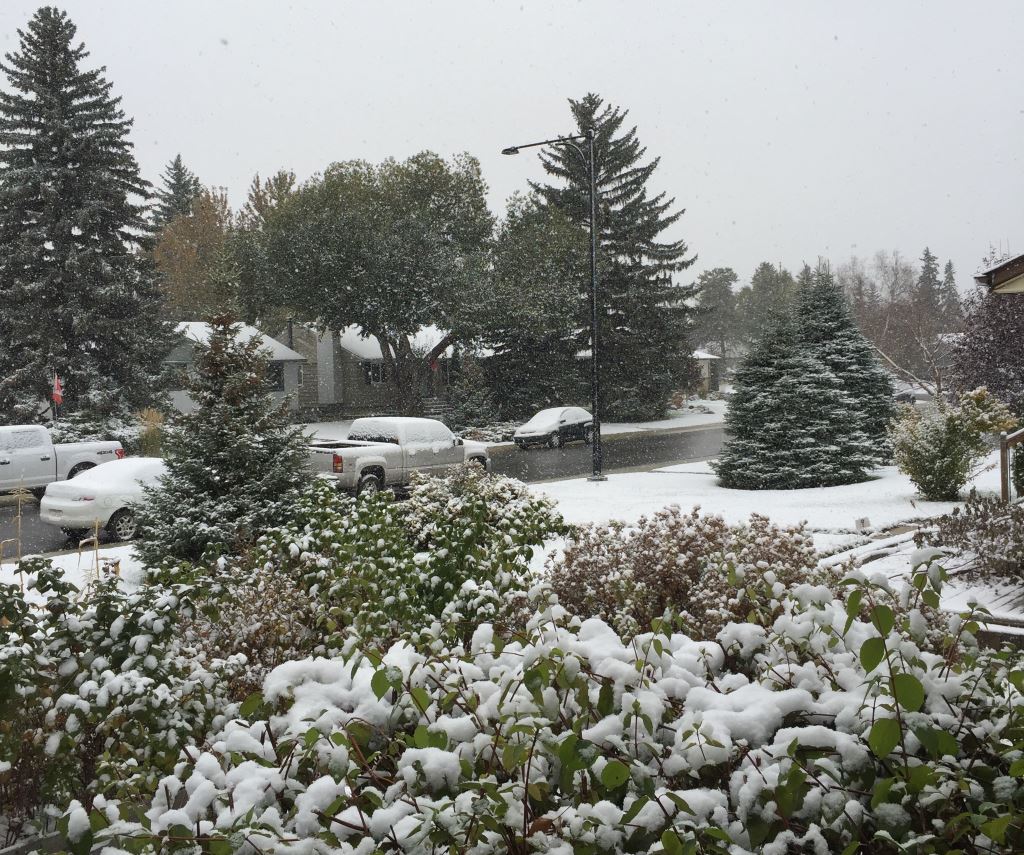 Unlike many other municipalities in Canada, Edmonton requires its citizens to clear their own city sidewalks. That means snow clearing in residential areas can be very uneven: Some sidewalks are messy and treacherous, others completely clean, even within the span of a single block. It's up to each individual resident to determine how much snow accumulation warrants clearing. Edmonton's snow clearing rule simply states that it is your responsibility to clear sidewalks around your property within 48 hours of a snowfall, but it doesn't give any specific accumulations or set standards for the degree to which sidewalks must be cleared.
The one centimetre limit that Winters's building follows is not very much accumulation, but it makes sense that residents would want their sidewalks cleared more frequently and completely if they're not the ones expending the effort. For those who clear their own sidewalks, purchasing a personal backpack blower might be more appealing than labour- and time-intensive shoveling, especially as they become prevalent across the city in the hands of commercial contractors.
Having the city take over residential sidewalk clearing operations might not solve the problem of noisy blowers, either. In fact, it might get even worse: Horner notes that the city uses all the same equipment as commercial companies – plus, city crews and contractors are exempt from noise bylaw restrictions.
We'll have a reprieve from them as we head into the spring, though not for long: Horner reports that his contractors use backpack blowers more frequently during lawn maintenance season.
Perhaps the city could limit their use to certain hours of the day, suggests Winters.
"I don't think I would be in favour of a ban," he says. "I think I'd be more in favour of controlling the amount of use. If it's an hour a couple of times a day – not bad. But when you start to listen to them pretty much constant[ly] from 6am until 6pm and sometimes later in the summertime, it gets a little bit much."
What can you do?
To report a noise complaint, the City advises first discussing the concern with the person making the noise, if safe to do so. If the problem cannot be resolved directly, record the address of the violation, description of the problem and call 311 to report the complaint. You will be asked to provide your name, address, phone number and the details of your concern in case your testimony is required in court.
For further details on bylaw enforcement and what to expect after you make a complaint, check out the City of Edmonton website.
If you have some concerns, comments or suggestions regarding snow removal in the city, consider contacting the City or your ward councillor with your feedback. City Council will be examining its snow removal practices in June, so there's lots of time to have your voice heard.
It is also a municipal election year, so now is definitely the time to bring these issues before your councillor and the candidates running in your ward.
If you use a snow removal service or live in a building that uses one, consider reaching out to the company directly, or your landlord or condo board, to discuss snow removal options and standards.