Bonne Vie Bakery, which specializes in artisan sourdough bread, commemorated its first anniversary this month. Bonne Vie was a part of a large contingent of home-based businesses that opened during the pandemic after the province relaxed the rules around the preparation and sale of low-risk home-prepared foods in June 2020.
Owner Larry Harris started the microbakery in November 2020 after losing his job at MacEwan that summer, and the subsequent twelve months have been a whirlwind.
"I'm dumbfounded as to how well things have gone," Harris told Taproot. "A year ago, we baked a dozen loaves of bread, and we wanted to see if people would pay money for it, and they did! Yesterday, we baked a record eighty loaves of bread."
He credits the rise of social media platforms as one of the reasons for Bonne Vie's success. "I don't think I could have done this ten years ago," Harris said. "But with Instagram in particular, it helps to spread the word about something and get you noticed."
It was also fortuitous that Harris landed a spot on the fourth season of CBC's The Great Canadian Baking Show, which began airing in February 2021. "Before the show was announced we were selling out in two to three hours," said Harris. "After the show, everything was selling out in 15 minutes."
His appearance on the show also led to a connection with Get Cooking Canada, which booked him soon after to conduct online sourdough classes. It's also fed back into his business in a number of ways, including being able to sell bread baking tools such as proofing baskets and bread bags to students through Bonne Vie directly, and creating new customers for his bread products.
"It's neat that the customers take the classes and learn how to make sourdough but they also keep buying bread every week," Harris said.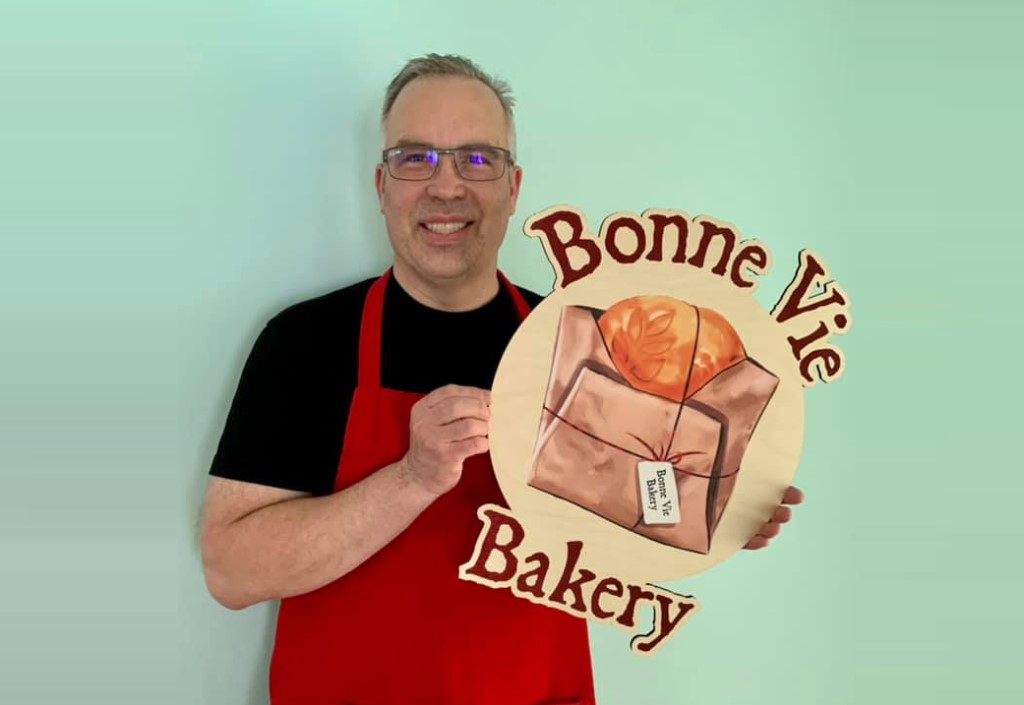 Bonne Vie's bread is also used to create Partake's signature croque 'mon' soubise sandwich. After the restaurant's previous supplier closed down, Harris met with owner Cyrilles Koppert about the potential partnership. "I had to make lots of practice loaves and finally got it right," laughed Harris.
Although the volume for the contract is modest, Harris is pleased with the validation. "This is a well-known restaurant saying they want your product," said Harris.
Harris is keenly aware that while his home kitchen cannot meet increasing demand, a significant expansion has to make financial sense. A space he was interested in fell through over the summer, but Harris is in no rush to secure another spot.
"The right space would allow me to substantially grow and have some employees and economies of scale, but it has to be the right place," said Harris. "It's hard to find that right community, and try to keep it close to where we are [now]. We have to think about the customer and how we want to serve them."
For the holidays, Bonne Vie will be offering Christmas cookie boxes, and so far has had great feedback on a new hot chocolate mix just added to its product line.
Harris is hopeful that Bonne Vie can continue into the future, but acknowledges the challenges of running a small business.
"I've never been so happy when doing Bonne Vie and baking for people and seeing the joy of people getting their bread and breaking into it," Harris said. "But it takes a lot of work for an individual to put themselves out there and create their dream."
"Support all of these little businesses that have started up – they need the support from the community."