With pandemic lockdown measures in the rearview, new rules for patios that obstruct public space have come into effect, causing headaches for some Edmonton business owners.
"We're extra focused on creating the same vision that the businesses want for their space, but balancing the needs of everybody that's using the street as well," said Shewkar Ibrahim, the city's director of traffic operations.
New rules for patios on public space launched on Jan. 23. Ibrahim said they came about for several reasons: to conform with council priorities determined in the 2023-2026 budget cycle; to better reflect increases in car, pedestrian, and active transportation traffic as compared to the height of the pandemic; and to improve accessibility along sidewalks, roads, parking spaces, and alleys.
Though Ibrahim's team consulted with Business Improvement Areas and their members from January to March, some businesses felt caught off-guard. That includes DOSC (part of the Hoot Company restaurant group) and its brand director Bianca Condren.
"We're prepared from year to year to do the same thing over and over again, and then all of a sudden it had changed, and there were so many different new restrictions," she told Taproot.
The Edmonton Downtown Business Association (EDBA) is offering a new grant program designed to help businesses offset costs associated with the rules, said executive director Puneeta McBryan. The program provides up to $5,000 per applicant from a total pot of $240,000, most of which comes from the city's Downtown Revitalization Fund.
"Compared to the ultimate flexibility over the last few years, without having to incur really any major costs, that comparison I think is a bit tough to swallow for some owners right now," McBryan said. "The rules themselves, I think, are really well-thought-out and rational, and equitable for both pedestrians and the public and the restaurant owner."
The new rules offer four different patio sizes. Each has different requirements for built infrastructure to make up for the space obstructed, ranging from none for a small, partial sidewalk patio to fencing and boardwalk for a patio covering the full sidewalk.
Condren and McBryan both agreed that the temporary patios of the past few years posed issues for pedestrians, especially those with visual impairment or who use mobility aids. "It was a really poor pedestrian experience," McBryan said. "Those ramps were atrocious. They would break, and we witnessed more than one wheelchair almost tip over."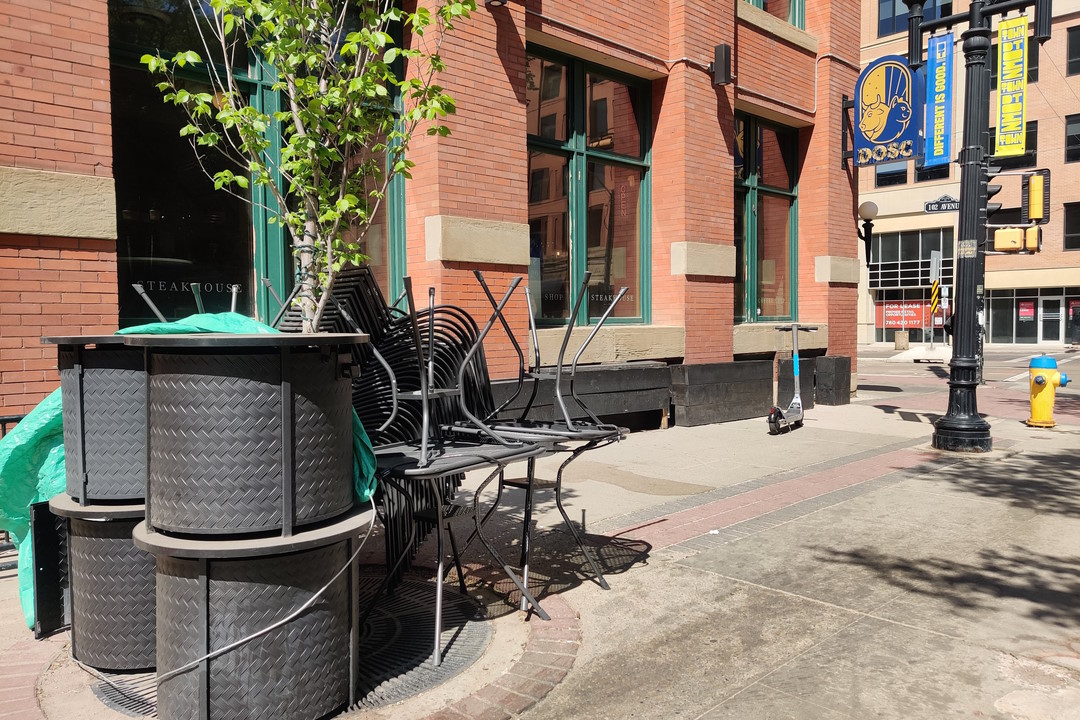 Working together?
Ibrahim said her department is working directly with restaurants to find a balance between their budgets and the requirements.
"There was budget that was made available to us to staff (the patio program) well and make sure that we have the resources that we need to support the businesses throughout their application process," she said.
Condren and her team worked with the city to get an exemption from building a boardwalk. Because the sidewalk outside DOSC is level with the street, the city determined fencing would suffice instead of a raised platform.
"(It) took two to three weeks for us to have a conversation with the Downtown Business Association, the city, and other restaurants to see what they were doing," she said.
Condren added that DOSC has been waiting four to five weeks for an update on its application, despite making three follow-ups to the city. She is frustrated but remains open to the process.
"We do try to work as much as we can with the city, and we want to be really great community members as well," she said. "It just seems like we're not really getting the information until it's been announced."
The new patio rules allow businesses to apply for licences that last up to four years. While Ibrahim says this helps make costs for businesses predictable, Condren said being locked into the same patio configuration for four years is not ideal.
"You don't need to reapply year after year, which isn't necessarily the best thing for us either, because things can change," she said.
Cost vs. opportunity cost
While there are four different types of patio licences available, and the ones requiring built infrastructure can be designated as seasonal or year-round, Condren said it only made sense for DOSC to go with the seasonal, full-sidewalk patio option.
"We only have eight tables on our patio," she said. "If we went to minimize our patio and take, let's say, two tables away for the summer, that would cost the restaurant $400,000 in sales."
The DOSC team spent $500 to $1,000 each year for its pandemic-era patio. This year, they've calculated the cost at $7,774.35 before in-house labour. DOSC received EDBA grant funding and expects to make significant sales once the patio is open, but Condren points out the restaurant is losing money while it awaits approval.
"We're already seeing the repercussions of people going elsewhere or people not staying here as long," she said.
Also, prices can vary wildly from business to business. MEAT co-owner Saylish Haas told Edify's Urban Affairs that the southside restaurant's patio will cost $45,000.
Accessibility is key
Everyone interviewed for this story agreed that obstructed public space must be replaced in an accessible way.
Tonia LaRiviere, the chair of the city's Accessibility Advisory Committee, said the main accessibility concern her committee heard about pandemic patios was about the ramps. Members of her team had the opportunity to test the new ramps coming this summer, and they were satisfied with the improvements.
"Parks and Roads has worked really hard to build safe metal ramps, which are going to be installed this year around the city," she told Taproot.
LaRiviere cited the requirement for fencing as an improvement to accessibility, as these structures help people with low vision navigate pathways while using canes or other aides. She also believes that new rules will come with a degree of trial and error.
"I think (the new system is) better. The city is taking accessibility very seriously, they're listening to our concerns, and they're acting on ways to improve," she said. "We'll just have to pay attention, see what comes about, and get some input from the community on what's worked and what hasn't."
Looking ahead
As new and/or improved patios roll out this season and kinks are worked out, Condren is looking forward to collaborating with the EDBA on its annual Al Fresco on 104 dining event, when part of the street is closed to traffic and restaurants can expand their patios.
"Maybe as a restaurant group, we shouldn't anticipate that things are always going to be staying the same, especially coming out of COVID," she said. "I mean, what we would love is for 104 Street to be a walking street, and to not necessarily have to put (our patio) up and down so much throughout the years."