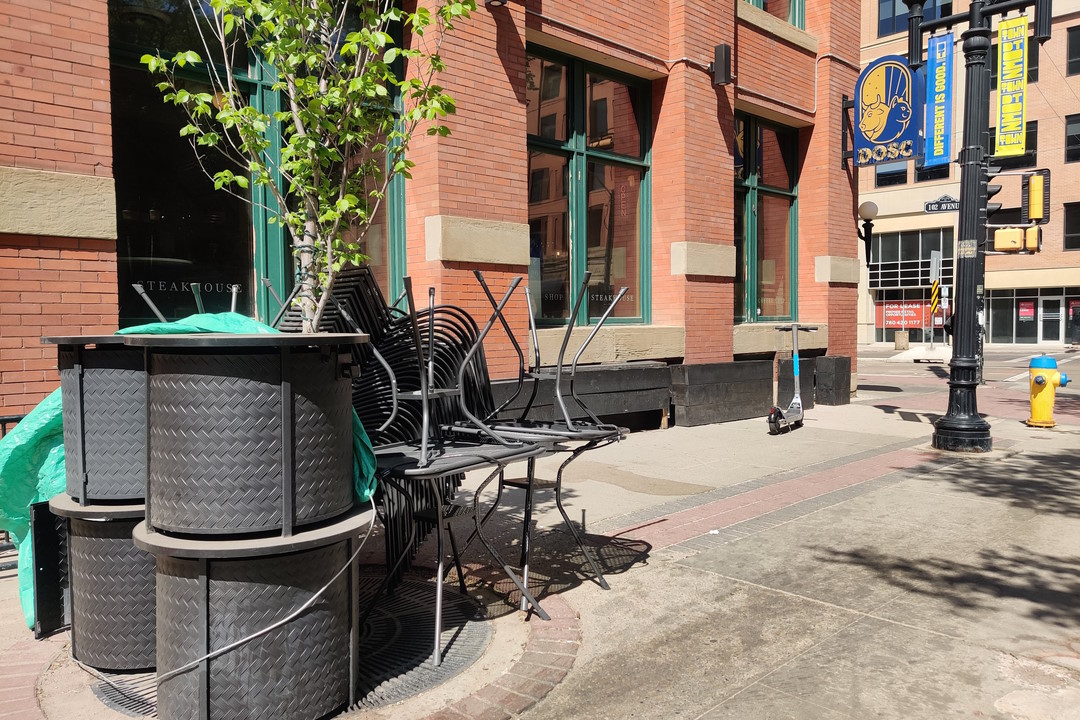 By
Colin Gallant
With pandemic lockdown measures in the rearview, new rules for patios that obstruct public space have come into effect, causing headaches for some Edmonton business owners.
"We're extra focused on creating the same vision that the businesses want for their space, but balancing the needs of everybody that's using the street as well," said Shewkar Ibrahim, the city's director of traffic operations.
New rules for patios on public space launched on Jan. 23. Ibrahim said they came about for several reasons: to conform with council priorities determined in the 2023-2026 budget cycle; to better reflect increases in car, pedestrian, and active transportation traffic as compared to the height of the pandemic; and to improve accessibility along sidewalks, roads, parking spaces, and alleys.
Though Ibrahim's team consulted with Business Improvement Areas and their members from January to March, some businesses felt caught off-guard. That includes DOSC (part of the Hoot Company restaurant group) and its brand director Bianca Condren.
"We're prepared from year to year to do the same thing over and over again, and then all of a sudden it had changed, and there were so many different new restrictions," she told Taproot.
The Edmonton Downtown Business Association (EDBA) is offering a new grant program designed to help businesses offset costs associated with the rules, said executive director Puneeta McBryan. The program provides up to $5,000 per applicant from a total pot of $240,000, most of which comes from the city's Downtown Revitalization Fund.
"Compared to the ultimate flexibility over the last few years, without having to incur really any major costs, that comparison I think is a bit tough to swallow for some owners right now," McBryan said. "The rules themselves, I think, are really well-thought-out and rational, and equitable for both pedestrians and the public and the restaurant owner."
The new rules offer four different patio sizes. Each has different requirements for built infrastructure to make up for the space obstructed, ranging from none for a small, partial sidewalk patio to fencing and boardwalk for a patio covering the full sidewalk.
Condren and McBryan both agreed that the temporary patios of the past few years posed issues for pedestrians, especially those with visual impairment or who use mobility aids. "It was a really poor pedestrian experience," McBryan said. "Those ramps were atrocious. They would break, and we witnessed more than one wheelchair almost tip over."
Continue reading