The economic argument for subsidized childcare helped transform it from an ideal to a reality. Now, a panel asks, can we do the same for housing?
"We were able to move the needle on affordable, quality childcare when business started understanding the value of quality, affordable childcare," Mayor Amarjeet Sohi said following a State of the City event on June 28. "I think that's what we need to do on housing. That's what we need to do on mental health. That's what we need to do on some of the challenges related to (the) opioid crisis."
The panel discussion, entitled The Economic Argument for a More Equitable Edmonton, is part of a series of conversations organized by the mayor's office to further explore issues Sohi raised in his State of the City address. Before a sold-out crowd at MacEwan University's Allard Hall, Sohi and his fellow panellists argued that social equity has economic benefits, and framing the situation in that way will help lead to positive change.
Panellist Scott Crockatt, the vice-president of communications and external relations for the Business Council of Alberta, said he's seen data on the federal program providing $10-per-day childcare that shows it led to more new people entering the workforce in Alberta than in any other province.
"That shows you that there were more people being kept on the sidelines because they couldn't afford childcare in Alberta than anywhere else in the country," he said. "That's been a tremendous economic benefit to creating a more equitable society and wonderful local economy, where those parents… can participate more actively in the economy."
Sohi said an economic argument for affordable housing can be found in a data point from an economic multiplier survey done by the province that says every $1 invested in affordable housing creates $1.74 dollars in total economic output.
"How could you be productive at your job if you worry about if you're going back to a safe place? (To) housing that is decent enough, that is meeting your needs?" Sohi asked.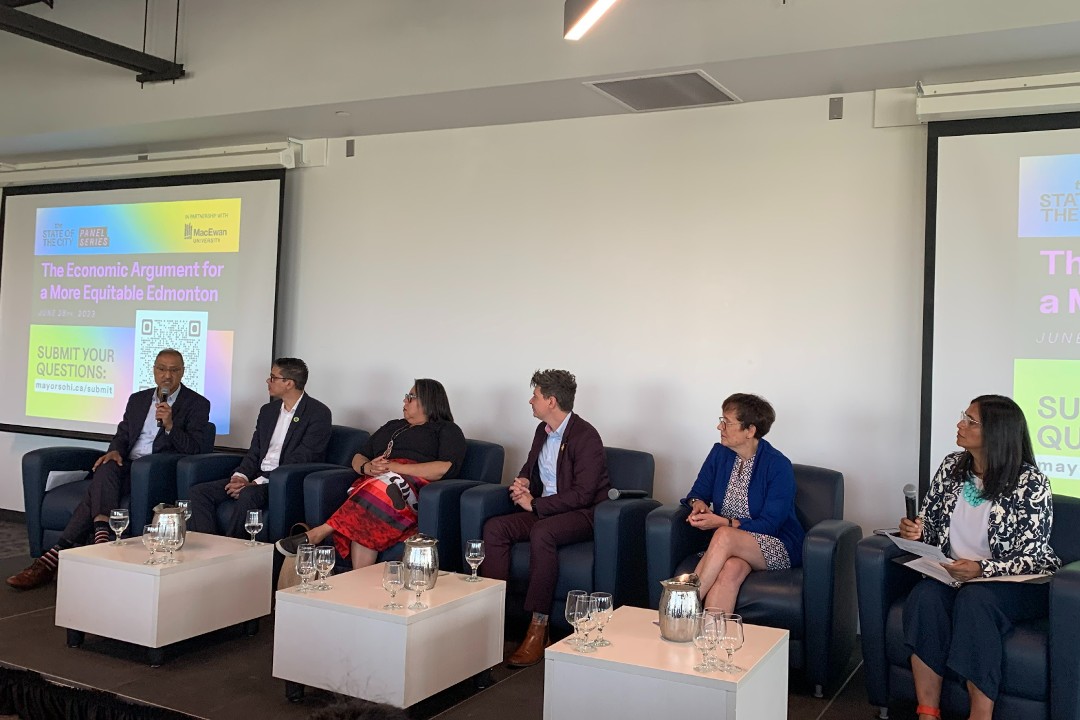 Many like-minded people were on the panel, which included Bent Arrow Traditional Healing Society executive director Cheryl Whiskeyjack, EndPovertyEdmonton executive director Erick Ambtman,MacEwan president Annette Trimbee, and moderator Tina Thomas, the CEO of Edmonton Community Foundation.
Another piece of the puzzle is demonstrating this value to those who are apprehensive about what it means to have more equity-focused housing and services for unhoused people throughout the city, Sohi said.
The current zoning bylaw renewal initiative has faced some opposition, but it's important for Edmontonians to embrace this opportunity to permit supportive housing in every community and to remove barriers to building more affordable housing, he said.
"We're in this together. Three thousand Edmontonians are houseless — if we don't provide them housing, they will be here. They're not going anywhere," the mayor told reporters. "More people are falling into houselessness. How do we prevent that? As a society, we need to become more embracing and more welcoming of people into our own neighbourhoods."