An unorthodox research initiative called Auricle is returning to Edmonton this year to learn more about how safe and well people feel in transit centres.
The $90,400 project, which is run by social design agency InWithForward, is looking to recruit eight "local listeners" to collect stories at the Clareview, Churchill, and Jasper Place transit centres about what influences transit users' sense of well-being. Applications close on July 30 for the positions, and the work will take place from August to early November.
The project isn't just about looking at things like the number of security guards at a transit station, said Natalie Napier, InWithForward's lead of research and storytelling. Instead, the project aims to explore the factors that influence people's sense of community, as well as reach those who are normally left out of traditional engagement methods.
"We are trying to understand what influences the way that people are interacting in these spaces," she told Taproot. "People who might be regarded as the cause of the safety issues in transit spaces, they will be among the people we speak to. We're not just talking to your middle-class professional commuters."
Rochelle Nieuwenhuis, a community co-researcher with InWithForward, said the approach Auricle uses differs from conventional data collection methods.
"Just using numbers as a way to represent well-being misses so much of the context for people," she said. "One of the things that's unique about Auricle is because it uses micro-stories as data itself, it can look at the context, and what does something like well-being means to different people."
Nieuwenhuis was a local listener with Auricle during its first project in 2021, which focused on Alberta Avenue. Dressing up like a clown was one of the things she did to draw people into conversation.
"Some of it is based on just creativity and the emergence of what the local listeners come up with as ideas," she said. "We don't want to come across as like a salesperson. We want to bring some joy and some intrigue right off the bat."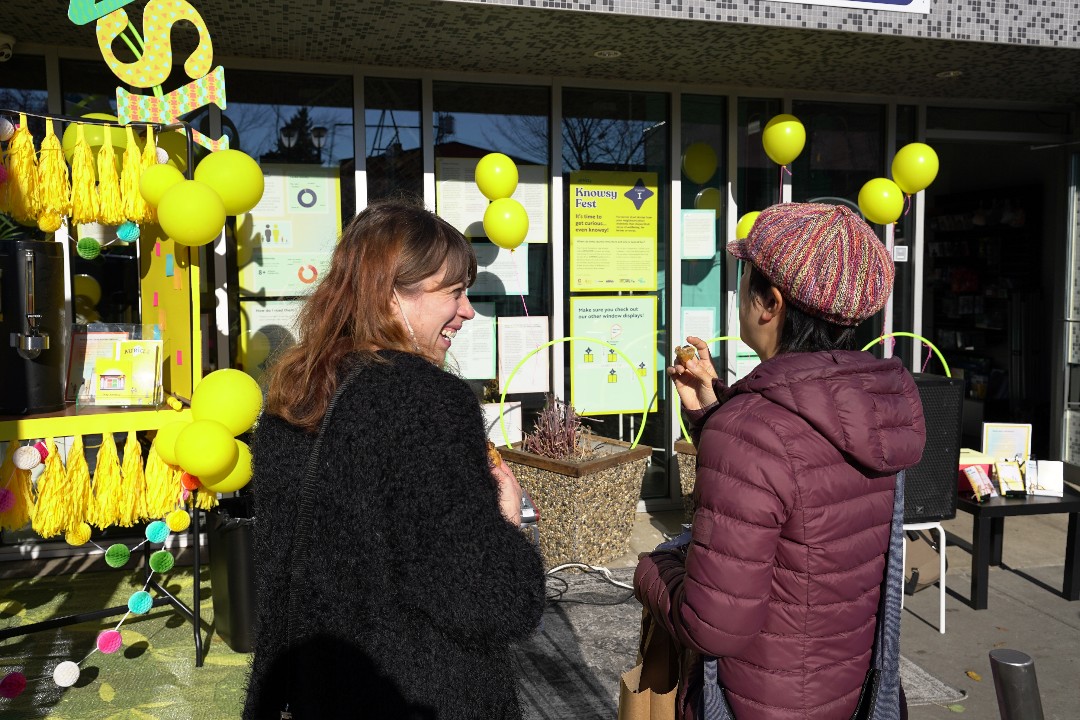 The stories collected in Auricle's Alberta Avenue project were shared at Knowsy Fest, a carnival of community story-sharing that took place in October 2021. The information Auricle gathered could also be viewed on a dashboard on its website, and some of the stories it gathered were put together in an online storybook.
"A goal of Auricle is around decolonizing research methods, and part of that is not dictating to a community what is important about that community, or telling them what their stories mean," Napier said.
"We try to keep our questions fairly open so that people can guide us towards things that we would not have known to ask about. And we try to keep those things in context by recording people's stories rather than just single answers."
Stories gathered in this upcoming project will also be shared at a similar event, the details of which will be announced later.
Pilots part of urban well-being initiative
Auricle is one of several prototypes the city is testing as part of Recover: Edmonton's Urban Wellness Plan.
Recover was created in 2017 around the time when plans were under consideration to turn the old remand centre into a centralized service hub for those experiencing homelessness. Recover found that wasn't the right approach.
"Nobody said a big wellness centre was going to help," said Recover project manager Sue Holdsworth. "So we went back to council after a year and said 'Sorry, we didn't work on a wellness centre. Instead, we dove into this research, and we experimented with smaller solution ideas that emerged from the research.'"
While it was initially meant as a one-year project, city council extended Recover's mandate for four years to 2022, with $1 million in funding. This year, the Community Safety and Well-being Strategy is funding Recover, with a base budget of $350,000.
Another prototype project InWithForward is doing this year as part of Recover is Soloss, which works with people in encampments. The aim of that project is to help people process feelings of grief and loss through creative expression.
Holdsworth said the city was able to learn a lot from Auricle's 2021 prototype at Alberta Avenue, with one of the takeaways being that social factors influence people's well-being more than material or environmental ones.
The transit-oriented Auricle project complements other city initiatives around transit safety, including a QR-code-accessible survey that's being piloted at Churchill, Belvedere, Century Park, and Stadium stations.
"The reason we want to do it in transit is because we're trying to align our work with city priorities, and safety tends to be thought of largely as absence of threat," Holdsworth said. "But it's about more than that, it's also about the presence of connection."
She doesn't know what the research will yield, but collecting the information in this way has great potential, she suggested.
"It's a different kind of data we're going to be collecting, a different way of engaging Edmontonians, hopefully reaching out to people that are left out of other datasets."
Correction: This story has been updated to reflect that Soloss is ongoing.