An event that pairs chefs with drag performers to raise money for a queer cause is coming to Edmonton for the first time this month.
Sashay, Fillet! takes place at CKUA's radio hall on Aug. 23, smack dab in the midst of Edmonton's Summer of Pride.
"I wanted to support the cause because I love drag queens. I always have, and I thought it would be really cool to be able to mesh what I do with what drag queens do," said Bri Campbell, the executive chef at May and one of two Edmonton chefs competing in the event. "It's just right up my alley."
Yuhua Hamasaki, who competed on Season 10 of RuPaul's Drag Race will host the soirée. Attendees will be welcomed with signature cocktails before sampling four canapés matched with four drag performances. Edmonton-Highlands-Norwood MLA Janis Irwin, singer-songwriter Celeigh Cardinal, food writer Phil Wilson, and rapper Tea Fannie will judge the dishes. Proceeds benefit Calgary's Skipping Stone Foundation, which supports trans and gender-diverse youth, adults, and families.
"I think being one of the chefs for the first one in Edmonton is pretty amazing," Campbell told Taproot. "Honestly, I don't let the pressure get to me. I just want to go and have fun, and do what I do best, and let Karla do what she does best."
The Karla in question is Karla Marx, a Calgary-based drag performer, burlesque artist, host, and standup comedian. Campbell's dish and Marx's performance will pay homage to the drag performer's German heritage — any further detail would spoil the surprise.
"The dish that I'm doing is a very well-known German dish, and I've done a completely different spin on it," Campbell said.
The other Edmonton chef in the competition is Steve Brochu of MilkCrate. He'll be paired with Edmonton queen Pheromone Killz, the reigning Alberta's Next Drag Superstar. That team's approach to the competition is a little more laissez-faire.
"He did ask me about my food preferences, and it was hard for me… I'm actually a construction worker — I love all kinds of food," Killz told Taproot. "I asked him if he had any preferences, any genres that maybe he'd like to see. And he was so sweet. He was like, 'You know what, you do what you gotta do.'"
While Campbell and Killz are approaching the competition differently, they're in agreement that part of the appeal of Sashay, Fillet! is that it's the antithesis of rainbow capitalism, a phenomenon where corporations feign allyship for profit. The event is organized by a partially queer-owned company, features queer talent, and supports a gender-affirming charity.
"Skipping Stone helps with gender name changes, top surgery support for our trans community, (and offers) group programs for families and children and youth," Campbell said. "That's something that I'm really strong about because we need more of that in Alberta."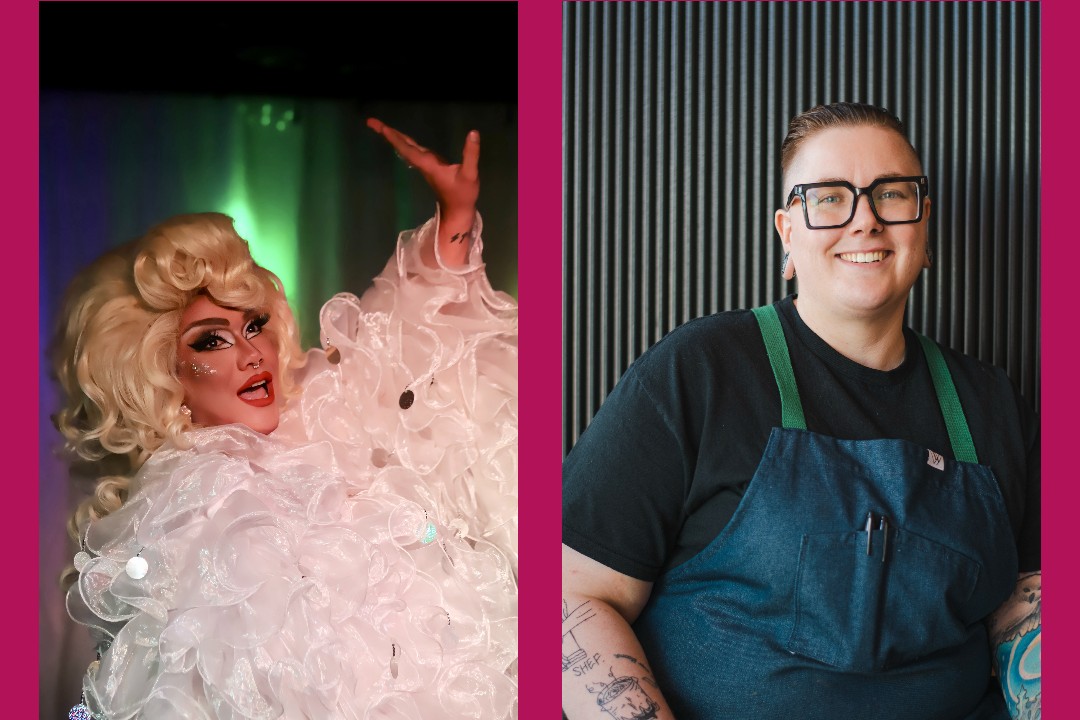 Campbell, who spoke to organizer Dan Clapson a couple of years ago for a Globe and Mail story on non-binary chefs in Western Canada, finds a sense of belonging in this arena.
"I can be 100% truly who I am at this event. I won't have to go out to tables in the restaurant, and they refer to me as 'she/her,' because sometimes that's really hard in this industry," they said.
Fundraising in the queer community isn't new to either of these contestants. Killz was elected Mz. Gay Edmonton 32 by the Imperial Sovereign Court of the Wild Rose. That role involves acting as a figurehead for the registered non-profit, which supports LGBTQ2S+ causes in Edmonton. And Campbell has participated in Shake, Stir & Strainbow!, another event run by Clapson's Eat North in support of Skipping Stone.
For that event, restaurants around Alberta offer signature cocktails to raise money. At least seven Edmonton-area restaurants are participating in the 2023 edition, including Biera, Chartier, and RGE RD. It runs until Aug. 25.
The rest of the competitors at Sashay, Fillet! are chefs Dez Lo and Monika Wahba, two Top Chef alumni who are respectively paired with Edmonton drag artists Plastika and Honey Dijon.
Tickets are $35 for general admission or $70 for VIPs, who also get meet-and-greets, additional canapés, early access, and a copy of Prairie, the new cookbook by Clapson and Edmonton food journalist Twyla Campbell.