Security at summer festivals evolved this year, but not because of a fear of violence, despite a general narrative that the city is less safe.
Organizers of Cariwest, the Edmonton International Fringe Theatre Festival, and K-Days say security is an ever-changing consideration.
"I don't think there was an added pressure to increase security for our events," Fringe executive director Megan Dart told Taproot. "I think that something we prioritize as event producers is an evolving, integrated approach to safety. And it's a focus for us every year."
Safety certainly garnered a lot of attention heading into summer festival season, as police released crime statistics suggesting growing violence downtown and urged hypervigilance because "you can literally end up with a knife in your chest."
But all three organizers interviewed by Taproot say the threat of violence wasn't a core concern for adjustments made to their safety plans. Cariwest was most concerned with protecting its vendors from vandalism or theft; K-Days was focused on efficiency and guest experience; and the Fringe wanted security to contribute to its overall hospitality.
"As we operate and run events, every year we're looking for ways to make tweaks to our approach," said Arlindo Gomes of Explore Edmonton, who oversees K-Days. "That might just be adding more people to a certain gate for access, and we might even look at it from a customer-experience perspective."
Staff Sgt. David Goodkey works directly with festivals in his role with the Disaster Emergency Operations and Planning Section for the Edmonton Police Service. He said police presence generally did not increase at summer festivals this year, and fears for personal safety are relatively low when it comes to events.
"The feedback that we have been getting is that the events are fantastic," he said in an interview. "It would contradict the perception that's out there that the city is unsafe, and there's some aspects that I would agree with that."
Each festival in Edmonton is unique and takes its own approach to safety and security. With this in mind, here's a look at how security and festivals typically interact.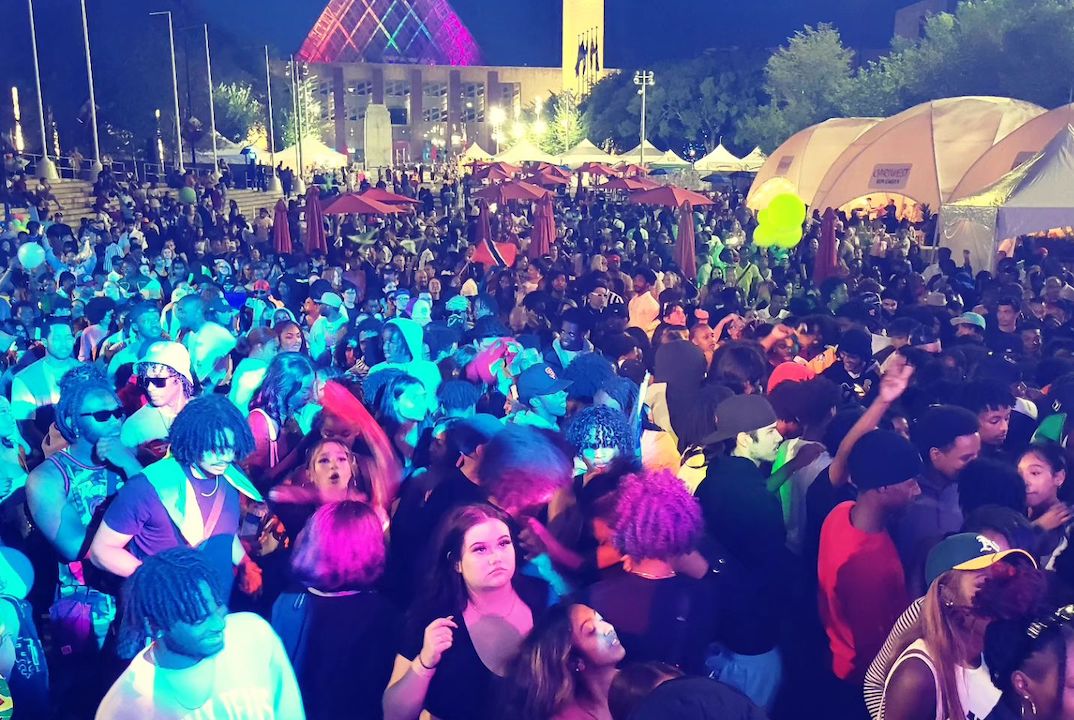 Who decides if a festival has adequate security?
The City of Edmonton's civic events and festivals section issues licences for events held on public property, such as Churchill Square. Julie Stormer, a supervisor in the department, told Taproot that the city reviews safety plans and considers permits for around 580 events each year.
"Our role is to coordinate civic services and work through what their event plans are, what they might need from the City of Edmonton, and then to organize those collectively within the organization to give them what they need," she said. "Safety, security, and emergency planning have been a discussion item for a number of years."
Stormer's team provides a template as a starting point for safety planning. She said there is no fixed formula applied to safety requirements for events, but each is reviewed on its own merits. Considerations may include venue location, expected attendance, the number and location of access points, time of year and day, and more.
"It's a dialogue," she said. "Because there's so much complexity and differences on events and spaces, etc. ... It depends. It's a big old 'It depends.'"
Did festivals approach safety differently this year?
Festivals change plans every year. Dart said there were no notable changes to the Fringe, though air quality became a new consideration. Edwards from Cariwest boosted the number of guards on site for set-up, and it closed Churchill Square overnight, requiring security guards to escort pedestrians between just two access points at the site.
Gomes said new measures at K-Days included a "unified command structure" where EPS, EMS, and private security had a central location. "It re-streamlined our work and made the way we approach health and safety a lot more effective," he said.
He also mentioned that security plays an important role in the guest experience. Because K-Days added metal detectors around three years ago, security presence at entryways increased to expedite the admissions process. This year, for select events, a clear-bag policy was in place to make sure screenings moved quickly.
Which professionals are responsible for security operations?
Festivals can have a mix of in-house, private, and/or police security. Police are usually only required by the civic events team if a lighted intersection is closed for an event, as per the Alberta Traffic Safety Act. Stormer said her department encourages police presence for things like large concerts, because they involve a large audience at a concentrated time, versus a festival-type event that sees ebbs and flows throughout the day.
Many organizers do choose to implement a police presence, a form of service called "extra duty." This service pulls officers from different areas of the city together to deal with events, so that local beats aren't over-burdened and remain available to respond to general calls for assistance.
Police were present — and welcome — at Cariwest. "Police are specialized," said Edwards. "I'm glad they were there."
EPS sponsored the festival's kids zone, providing a vehicle, a mascot, and programming to "foster more positive relationships between EPS and the Caribbean community," said Edwards.
In addition to police, Edwards employed both U-Security Services Inc. and Backwoods Security, two companies she described as "BIPOC," plus harm reduction workers from Boyle Street Community Services.
Dart is proud of the Fringe's emphasis on creating "radical hospitality" and providing "community care." She is quick to say that security is only one small piece of those endeavours, and notes that Fringe has its own security team.
"We carry our own security licence, and so we train all of our security guards in-house, and we build that program from the ground up with the intention of steeping it with this radical hospitality philosophy of creating a welcoming space for everyone," Dart said.
Did incident rates go up?
It's hard to say. Stormer's team encourages events to submit reports on major incidents but doesn't track them in a central location. Goodkey said he doesn't believe incidents went up; both he and Gomes said major incidents at K-Days were down (though attendance was around 200,000 lower in 2023 compared to 2022). Dart said she didn't see an increase.
Edwards pointed to one particular health-and-safety win.
"All the other festivals (at Churchill Square) had multiple overdoses within the festival every day, and we did not have one," she said.
How much does it cost?
The answer to this question varies wildly between events. Dart said the Fringe's budget for security hasn't changed in three to five years, while Gomes said K-Days generally invested more in security this year.
Only Edwards at Cariwest provided specific numbers on security costs. She said she spent $32,000 on EPS extra duty officers and $30,000 for private security, bringing her security budget about $4,000 higher than it was in 2022.
All three festivals are deemed "signature and foundational" events by the civic events department. This means they were all eligible for a subsidy that covers general civic services at 50% and EPS at 75%. Stormer said Edmonton has 20 to 25 events that are considered signature and foundational.