A trade mission to Germany helped a big Edmonton video game developer build more hype around its first big release while giving smaller studios more traction on an international stage.
Next, Digital Alberta hopes to build on the connections made during GamesCom as it heads into the first Edmonton edition of the Alberta Games Series conference on Oct. 12 and 13.
"The biggest thing was putting Alberta on the map," Digital Alberta's Alecia Peters said of her experience at GamesCom, the world's largest gaming convention, which took place in Cologne in late August. "Creating those exposure opportunities, and then building our global connectivity to the broader gaming community."
Inflexion Games released a new trailer for Nightingale, its hotly anticipated title scheduled for limited release in February. It also had a major activation on the trade show floor in Cologne.
"We worked with our partners at Level Infinite to build a large-scale physical portal, and we commissioned two very talented cosplay artists to create and perform as two inhabitants of Nightingale's world — Puck and the Scarlet Woman," Inflexion CEO Aaryn Flynn said in an email. "They spent four days interacting with folks, taking pictures, and making for, in my opinion, one of the most eye-catching and engaging booths across the whole GamesCom show floor."
Smaller studios benefited from the experience, too, Digital Alberta said in a blog post about the event. For example, Crimson Herring Studios received valuable feedback and many a Steam follow for its forthcoming game, Sovereign Syndicate.
"Getting really targeted feedback from those industry groups, it's a really focused look at our game from people who wouldn't normally play it," Crimson Herring CEO Isaac Otway told CBC's Radio Active.
Itzy Interactive put its Mad Devils in front of players and explored co-production with another studio.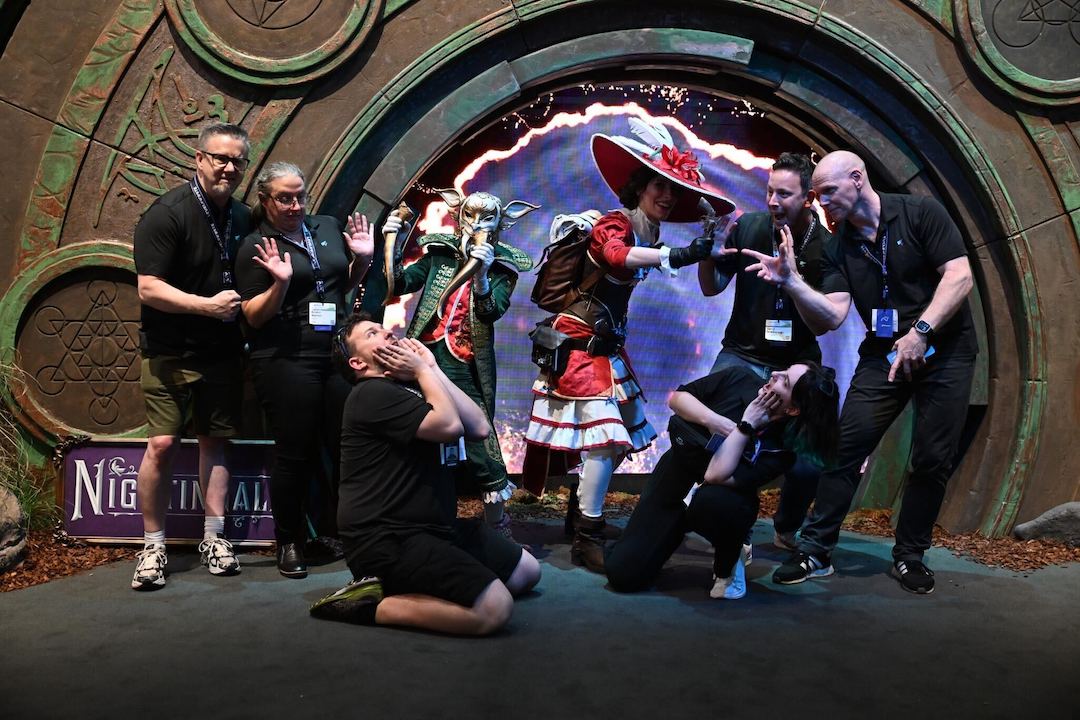 "It's just fantastic to get that feedback … and also have it out there, so it's visible for other industry professionals to come have a look," Itzy Interactive's Kyle Kulyk told Edmonton AM, noting that Mad Devils is coming out for the PlayStation 5 and Xbox this fall.
The Edmonton Screen Industries Office led the local delegation to GamesCom. Its CEO, Tom Viinikka, praised Edmonton's medium- and AAA-sized studios but said now is an especially exciting time to be working as an indie developer. "This is the moment. This is what you live for as an indie, and it's happening right now," he told Taproot.
Peters said she used part of her time at GamesCom to build connections with publishers on behalf of Digital Alberta's members.
"It was our opportunity to learn about what their budgets look like, what genres they're investing in, build rapport with them, and act as a conduit to our ecosystem," she told Taproot.
Those conversations led to a follow-up meeting with indie publisher Team17 and later a webinar hosted for Digital Alberta's members. Team17 will also attend the second annual Alberta Games Series in Edmonton next month.
Full programming details are still to be announced, but the event will be held downtown at the Delta Hotel and Landmark Cinemas on Oct. 12 and 13.
In other gaming news: