The four hospitality veterans behind a new restaurant in central-west Edmonton have been thrilled by the neighbourhood response so far.
Happy and Olive is the brainchild of Frank and Andrea Olson, who operated Red Ox Inn for 25 years and Canteen for 10 years, and Dave and Ann Jackson, who ran The Wired Cup for 10 years. The restaurant (named after Frank Olson's great uncle and his wife) opened on July 13 at 9640 142 Street NW in Crestwood Centre, and it has been busy ever since.
"The day we got our permits and turned on our open sign, we had incredible traffic because people were waiting, peering into the windows," Andrea Olson said. Added Frank: "We have done zero advertising and have been terrible about promoting. But people were hungry. It was like they hadn't eaten in five years."
The Wired Cup closed in 2019, nudged to closure due to the LRT construction in Strathearn, and Red Ox Inn never re-opened after the pandemic, when the Olsons chose to focus on Canteen. When negotiations to extend the lease for Canteen fell through last year, the Olsons started to explore life outside of the restaurant business, and Andrea obtained a real estate licence. But when the vacancy in Crestwood came up, the opportunity was too enticing not to proceed.
"Frank and I saw the space and thought, 'What a space, what a neighbourhood, what a patio,'" said Andrea. "Never did I think for Frank and I that we had another restaurant in us."
They made a call to their longtime friends, the Jacksons; Frank and Dave have known each other since high school, and Red Ox Inn and The Wired Cup were neighbouring businesses. "We had entertained the idea of opening up a small place again," said Dave Jackson. "This is a juggernaut, but we were ready."
The Jacksons' participation made the prospect palatable for the Olsons. "We wouldn't have done this without a partnership," said Frank. "It takes some pressure off."
The concept behind Happy and Olive is ambitious. Open seven days a week, Dave and Ann lead the café service on weekday mornings. Frank and Andrea arrive to support lunch, happy hour, and dinner service. Weekends offer brunch, happy hour, and dinner. All four have been putting in 12-hour days.
"You strike while the iron is hot," said Dave. After the pandemic era, the long hours are welcome, suggested Frank. "People can come any time. It's really good, after COVID especially. We got tired of opening, closing. Everybody is tired of that."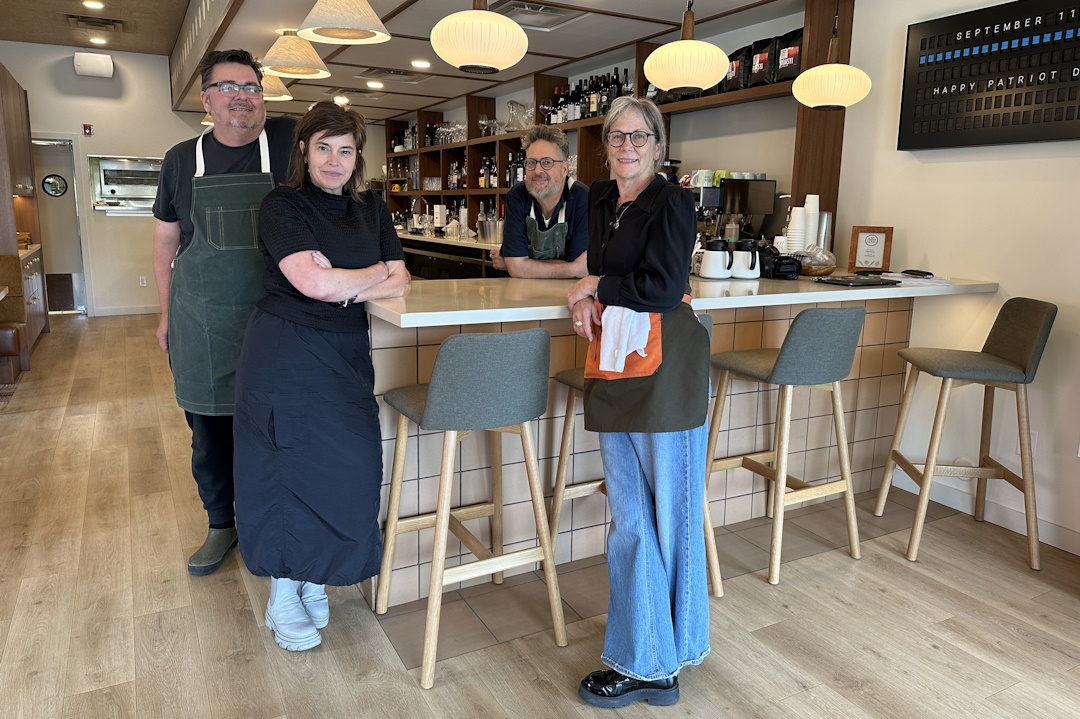 Their landlord has told them Happy and Olive has been a boon for the other retail shops in the complex. "He heard from our fellow tenants that they've had an uptick in traffic throughout the day," said Andrea.
The menu has taken a few elements from the previous establishments, such as the muffins and the brekkie sandwich from The Wired Cup, the lamb chops from Canteen, and bacon jam from Red Ox Inn. But much of the preparation has been streamlined. "We've simplified it. The menu shares things with other parts of the menu. And there are no tweezers and meat glue," laughed Frank.
The latkes, topped with mushroom, Montreal smoked meat, or smoked salmon, have been a runaway hit. Ann Jackson said the rosemary parmesan fries are "addictive," while her husband called the burger, topped with the aforementioned bacon jam, a "revelation."
Still, given Happy and Olive has only been open for two months, some things are still a work in progress. Diners can expect menu tweaks as the cooler weather sets in, and the restaurant has plans for a covered patio, in an effort to extend al fresco options into the shoulder seasons.
Given the decades of industry experience between the two couples, it isn't surprising Happy and Olive has been well received so far. While they all agree the location has been one factor in that success, providing a dependable experience is also key. "The menu has to be executable consistently. That's the business," said Frank. "Plus a little innovation," Andrea added.
There is also something to be said for good hospitality provided directly by the owner-operators, noted Dave. "Any time people come into an establishment that you own, you are fostering that relationship. You are going to care more than your best employee. And it's great if you can remember their name, especially at our age!"
The owners of Happy and Olive are hopeful that this restaurant, like their previous businesses, can contribute to what makes the city unique. "At The Wired Cup, people were always telling us, 'This place reminds me of Victoria or Vancouver,'" said Dave. "Why can't it remind you of Edmonton?"