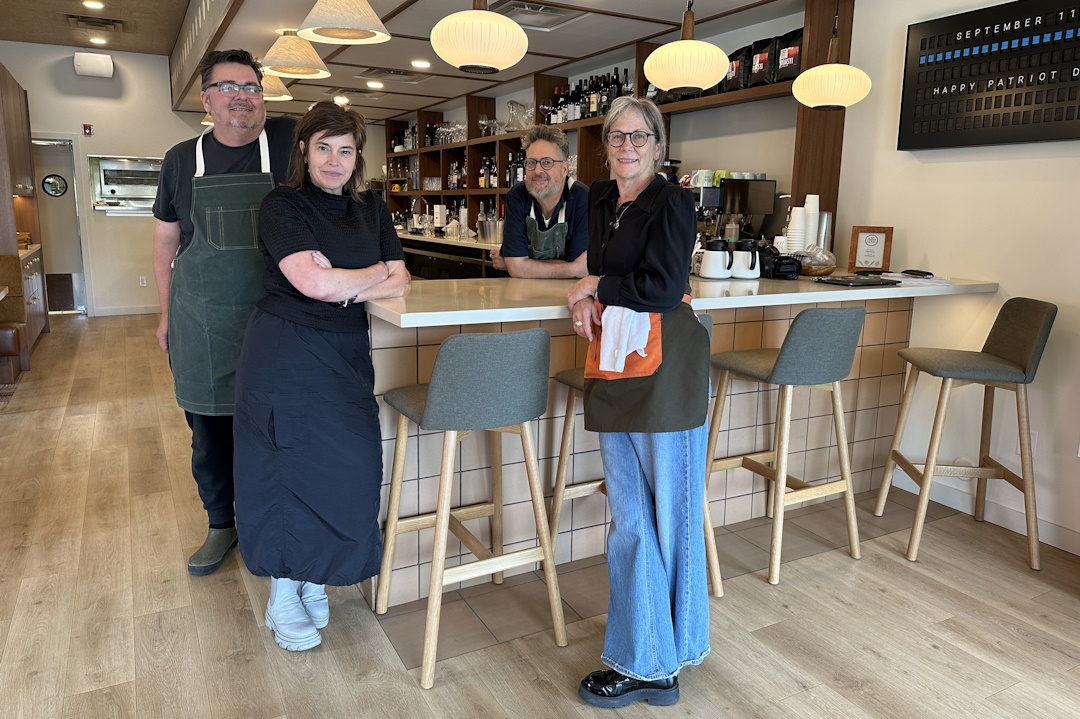 By
Sharon Yeo
The four hospitality veterans behind a new restaurant in central-west Edmonton have been thrilled by the neighbourhood response so far.
Happy and Olive is the brainchild of Frank and Andrea Olson, who operated Red Ox Inn for 25 years and Canteen for 10 years, and Dave and Ann Jackson, who ran The Wired Cup for 10 years. The restaurant (named after Frank Olson's great uncle and his wife) opened on July 13 at 9640 142 Street NW in Crestwood Centre, and it has been busy ever since.
"The day we got our permits and turned on our open sign, we had incredible traffic because people were waiting, peering into the windows," Andrea Olson said. Added Frank: "We have done zero advertising and have been terrible about promoting. But people were hungry. It was like they hadn't eaten in five years."
The Wired Cup closed in 2019, nudged to closure due to the LRT construction in Strathearn, and Red Ox Inn never re-opened after the pandemic, when the Olsons chose to focus on Canteen. When negotiations to extend the lease for Canteen fell through last year, the Olsons started to explore life outside of the restaurant business, and Andrea obtained a real estate licence. But when the vacancy in Crestwood came up, the opportunity was too enticing not to proceed.
"Frank and I saw the space and thought, 'What a space, what a neighbourhood, what a patio,'" said Andrea. "Never did I think for Frank and I that we had another restaurant in us."
They made a call to their longtime friends, the Jacksons; Frank and Dave have known each other since high school, and Red Ox Inn and The Wired Cup were neighbouring businesses. "We had entertained the idea of opening up a small place again," said Dave Jackson. "This is a juggernaut, but we were ready."
The Jacksons' participation made the prospect palatable for the Olsons. "We wouldn't have done this without a partnership," said Frank. "It takes some pressure off."
The concept behind Happy and Olive is ambitious. Open seven days a week, Dave and Ann lead the café service on weekday mornings. Frank and Andrea arrive to support lunch, happy hour, and dinner service. Weekends offer brunch, happy hour, and dinner. All four have been putting in 12-hour days.
"You strike while the iron is hot," said Dave. After the pandemic era, the long hours are welcome, suggested Frank. "People can come any time. It's really good, after COVID especially. We got tired of opening, closing. Everybody is tired of that."
Continue reading