A chef with more than 20 years of experience just opened the first restaurant of his own in the former Three Boars space in Garneau.
"This space had this magic to it, where we didn't have to leave Edmonton to get a more global dining experience," Little Wolf Restaurant proprietor Shaun Hicks told Taproot of his new digs at 8424 109 Street NW. "My first experiences here really gave me a place to go to be excited as someone who worked in the industry."
This is Hicks's first time owning a restaurant, but he is far from green. He ran the Sugarbowl when its first ovens went in around 20 years ago. Since then, he's worked at Woodwork and did two stints at Three Boars (including opening its now-closed sister restaurant Wishbone). Most recently, he served as chef at La Petite Iza.
Hicks said Little Wolf will be "adjacent" to the Three Boars experience he loved. He is focused on internationally inspired small plates on an ever-rotating menu, plus great beer and cocktails.
"The menu itself is based on its ability to be transient," he said. "I haven't really spent too much time getting incredibly attached to anything in particular, but I do really want to make something along the lines of white beans and tomatoes that are roasted with peppers and a fried egg."
Three Boars closed in 2020 when COVID-19 lockdowns began, partly because its concept wouldn't translate well to delivery. Owners Brayden Kozak and Brian Welch pivoted to Detroit-style pizza under the banner of High Dough. That concept began in the Three Boars space but now stands alone at 7341 104 Street NW.
"A lot of people who would come here late at night after they finished their shifts across town," Hicks said of Three Boars's industry-folk clientele. "That feeling of loss of community is what excited me to investigate the space and come back to it."
While Hicks doesn't foresee a pandemic-forced closure for Little Wolf, he wants to make sure it is financially resilient — while still being delicious.
"I feel like there's some insulation that I'm bringing to the table with this space. Some of it is working with a different style of farmer," he said. "Going more for vegetarian, going more for pulses and grains, and looking for things that are really affordable and raw ingredients that we can turn into something here."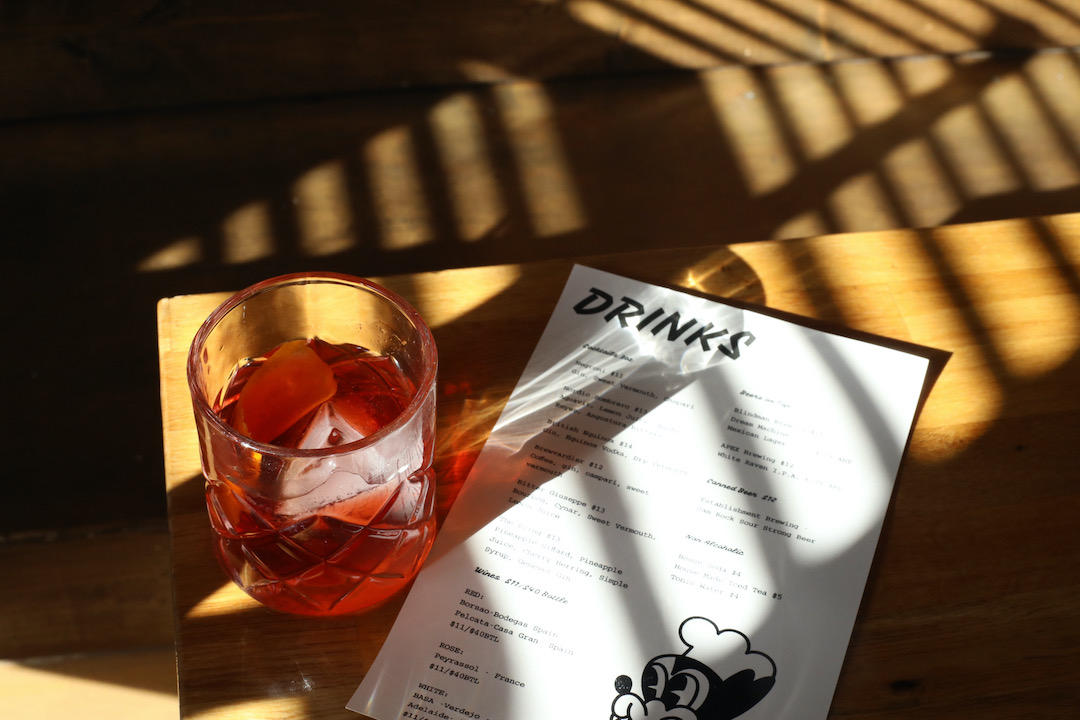 Part of that means buying in season and in bulk from international markets and directly from farmers. Numerous dishes, from hot sauce to pasta, can be made with an unusual ingredient like garlic scapes, for example. Fresh pasta will be part of Little Wolf's menu, as will fresh baked bread and house-made preserves.
"I have a very strong history and experience with fermenting, and doing things like making kimchi and sauerkraut and food preservation, so I can capitalize on the farmers that are coming in," Hicks said. "If I can be saving that money and passing it on to the customers as these prices continue to go up, hopefully I'm still affordable and have that competitive value."
Little Wolf has 45 seats and is open, for now, from 5pm to late, Thursday to Sunday. Hicks hopes to eventually offer brunch service as well.
"I'd be able to take hummus with black lime and za'atar, have some fried eggs on top of that and some preserved lemons, and make a brunch dish that you couldn't find in the city," he said.
Bar-wise, Hicks offers a mostly Albertan beer roster and twists on classic cocktails. This is in keeping with the Three Boars tradition, as is the smoked and marinated olive dish he serves. And while neither Kozak nor Welch are owners at Little Wolf, Hicks considers his former colleagues to be there at least in spirit.
"(Kozak) is like Yoda to me, or like Obi Wan," he said. "He's kind of ethereal, he's not really here. But if I really am asking for any advice or anything, he's just there in the corner."