A queer non-profit is bringing its annual Halloween bash to a historical building in the heart of downtown Edmonton.
The Fruit Loop Society of Alberta is hosting its Halloween Fun House event at the Pendennis Building on Oct. 28.
"We're trying to lean into its natural architecture of whimsy. There is such an encouragement to explore, to be surprised, and to give yourself over to a lens of discovery and curiosity," Joshua Wolchansky, Fruit Loop's director of entertainment, told Taproot.
The event takes place over five floors and features more than 50 performers, such as drag artists Cedar T and Karly Klimax, alongside magician Jay Flair. Some will be presented in conventional performance environments, but many others will be roving and popping up.
"We'll have 50 to 70 individuals who are contracted in a talent capacity," Wolchansky said. "That could be anything from a pole dancer … or a ghost-story teller, where you're roaming and immersive. It could be fortune typists. There's going to be all sorts of people who are lending their artistic expertise in making this show."
People have certain expectations about what a queer or Halloween event looks like, Wolchansky said. Fruit Loop wants to upend that, taking influence from immersive theatre experiences like Sleep No More and Queen of the Night.
"There's going to be things that you know and love, and there's going to be some things that might surprise you — will hopefully delight you," he said. "Then also, with the idea of what a queer party is going to be, there is again going to be things that we all know and expect, and there are going to the opportunities where we want to provide a spotlight for queer performance writ large. It doesn't need to necessarily be the conventional entertainment programming that you would see in a club, but we want to support queer art, centre queer art, and celebrate queer art."
One artist who will do so is CallMeKeeks. She does clown, drag, and "anything circus." While she didn't want to reveal too much, she told Taproot she will bring "very scary, sexy clown and demon stuff" to the event.
The Pendennis Building, a Municipal Historic Resource at 9660 Jasper Avenue NW, was built in 1911 and renovated by Pendennis Developments in 2019 and 2020. It serves as a commercial real estate building in addition to renting space for events.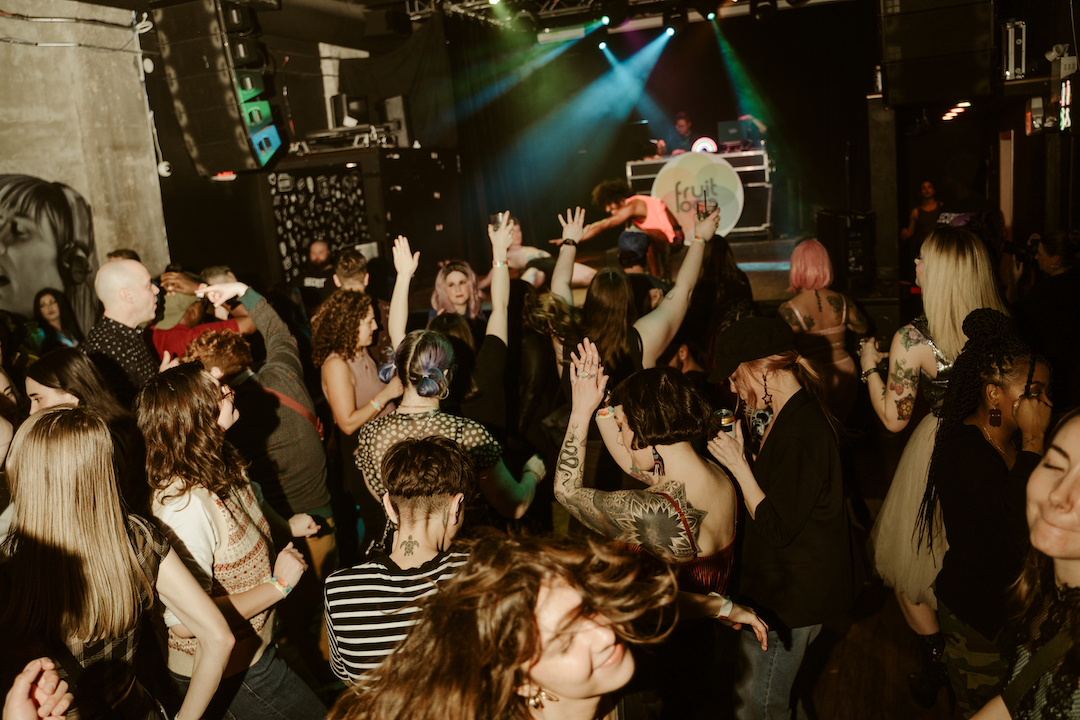 The capacity for Halloween Fun House is 850, and by Oct. 2, more than half of the tickets had been sold. Due to the venue's large size and intricate shape, there will be many self-contained areas, including ones with soft seating and lower levels of stimuli for those who want to relax.
"Fruit Loop is designed for patrons between the ages of 18 and 80," Wolchansky said. "We want to be able to provide an environment where people can party at their pace, and part of that is programming a night wherein you have your peaks and valleys of energy. Sometimes you want to be rocking it on the dance floor. Sometimes you want to be chilling on the couch and catching up with an old friend — or a new friend. And we want to be able to provide an environment where people feel safe."
Fruit Loop employs what Wolchansky called a "safety team." Organizers chose that name over "security" because, in their view, it's more important to take care of people than kick them out if they've imbibed a bit too much. Also to that end, Fruit Loop employs harm reduction services from the Queer & Trans Health Collective. A division of that collective, Spectrum Drug Testing, will provide onsite drug testing.
"Harm reduction saves lives," Wolchansky said, adding that if you don't like drugs, "don't do them."
Fruit Loop is also incorporating visual elements into the event, with a focus on light-mapped projections and an exhibit that celebrates its 10th anniversary.
Each Fruit Loop event donates part of its proceeds to a community partner. This time it's Team Edmonton, an organization that directs 2SLGBTQIA+ people to sports and recreation that is queer-friendly.
"Queer erasure in sports is so prevalent," Wolchansky said. "There's something so special about creating safe spaces and creating dedicated spaces for queer expression. That includes in sports, and Team Edmonton has done an incredible job of building and supporting community."
He explored similar themes of safety and inclusion in Say More, a video released earlier this year by Explore Edmonton to showcase queer businesses and artistry in Edmonton.
Tickets for Fruit Loop's Halloween Fun House cost $20 and are expected to sell out in advance.