Student housing development Laurent Tower opened its doors for its first residents in September, but it's merely one piece of the housing puzzle, student leaders say.
The tower is one of Edmonton's only privately owned, purpose-built student housing facilities, meaning the units are furnished and amenities are designed with students in mind. The building, which sits across the street from the University of Alberta at 8621 112 Street NW, is Maclab Development Group's first venture into student housing.
"We saw an opportunity that U of A was going to grow significantly, and I thought there was an opportunity to provide a solution for students to live near campus, in a safe, secure, really attractive built environment," Maclab CEO and president Bill Blais told Taproot.
The U of A announced plans in September to increase enrolment by 35% to reach 60,000 by 2030.
Laurent Tower can house nearly 500 tenants, with dedicated units for graduate students. It features a gym, shared laundry, a patio, and communal spaces. Studio apartments for undergraduate students start at $1,600 per month; they can also share a two-bedroom or four-bedroom unit, leased by the bed for $1,200 or $890 per month.
Although student-dedicated spaces like this are a good option for some students, campus leaders want to see more.
"A lot of students will quite happily pay those prices for that access, but a lot of students won't be able to either," said Chris Beasley, vice-president external for the University of Alberta Students' Union. "And so the question is, how do we encourage different kinds of density in areas around the university at different price points for different students?"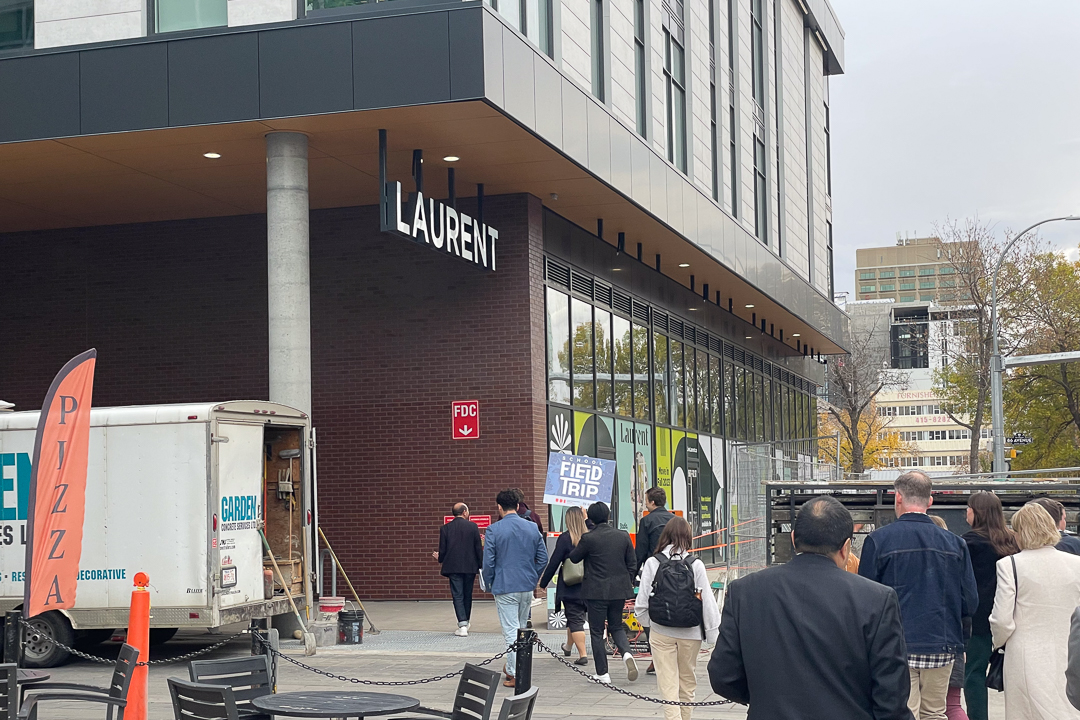 Beasley is concerned about the "missing middle" in student housing that lies between higher-end accommodations like the Laurent and "the $400, six-guys-in-a-house" type of arrangement.
"A lot of people are looking for one bedroom in a larger house with a family, or they're looking for someone to be able to convert their basement suite into something they can live in or to build a garage suite," he said.
Michener Park and West 240, two projects coming from the University of Alberta Properties Trust, may provide some of the missing middle that Beasley is looking for. West 240 is a 220-acre parcel of land between Grandview and Lansdowne, which UAPT is working on developing into a mixed-use, walkable community.
Once offering dedicated student housing for graduate students at the U of A, Michener Park closed due to maintenance costs in 2020. The land was transferred to the UAPT, which is redeveloping it into a mixed-density housing community.
Beasley said these developments have the potential to increase the student housing supply, and the proposed zoning bylaw renewal, which proposes consolidating zones to promote density and mixed-use neighbourhoods, could make that easier elsewhere in the city, too. Edmonton's zoning bylaw renewal has a final public hearing starting on Oct. 16, before city council votes on it.
"Really, what students are looking to see out of that is removing a lot of the red tape that's preventing density and development in and around university areas," Beasley said, "so that we can actually provide a degree of incentive and just make it easier for those families that want to transform their basement into a basement suite or their garage into a garage suite."
Affordable housing options are important for graduate students, who often need more space, said Bishoi Aziz, president of the Graduate Students' Association at the U of A.
"Most of our constituency, our graduate students, are not single students — they are a family of students at least with a spouse, if not a dependent," he said.
Edmonton's student housing market may not be in the same dire situation as Calgary, but with rents rising and university enrolment growing, student representatives say we need to start working to make sure that doesn't change.
"It's a problem that we need to tackle now, and it can't wait anymore," Aziz said.
A survey of students in 2022 found that about 2% of students had experienced being unhoused at some point in their enrolment; the number increased to 5% for disabled students and 6% for members of gender minorities.
"And that can sometimes mean couch-surfing, sleeping in cars, and people don't necessarily even realize that that is being unhoused," Beasley said.
The cost of housing plays into other affordability challenges for students.
"We're seeing a high degree of strain on our campus food bank in particular, and the top three reasons for using the food bank are rising food prices, tuition increases, and then rent increases," said Beasley.
Maclab may venture into more projects like Laurent Tower in the future to try to meet growing demands, Blais said.
"We look forward to feedback from our first residents and learning from them, so we can build the next project even better," he said. "We just think that there's going to be more and more demand for safe, secure, attractive, well-designed, and well-built student housing, as all the educational institutions in Edmonton continue to grow."