A market for socially responsible brands, a brewery, and a combination furniture-store-bakery-and-florist will set up shop downtown with the help of a grant administered by the Edmonton Downtown Business Association.
Good Goods Co., The Growlery, and Consign Design are the first recipients of the Downtown Retail Project grant, Puneeta McBryan announced at the annual EDBA fall luncheon on Oct. 12.
"We were really excited to participate in the revitalization of the downtown core," said Aga Wajda-Plytta, co-founder of Good Goods Co. "We're very much community-driven, and we feel like sometimes downtown doesn't get the same attention from a community aspect."
Downtown vibrancy is good for everyone, added co-founder Nina Karpoff. "Your city core needs to be part of the strength of the city and being a part of that effort is a really exciting opportunity for us," she said.
Good Goods sells products online and has a pop-up store in the Manulife building until the end of the year. The founders said they are hoping the new brick-and-mortar space will open in February 2024 and will announce the location soon.
"Good Goods stood out immediately because they clearly have latched onto almost a cult following," said McBryan, the executive director of the EDBA. "(Their customers) will go wherever that retailer locates. … That is exactly the kind of influx of foot traffic and customers that we're hoping for."
The Growlery, which has a brewery and taproom near Blatchford, will open a new brewery downtown. Consign Design, which has a storefront at 11474 149 Street NW, will be opening a new project called Obj3cts to serve as a place to browse curated furniture, housewares, coffee, baked goods, and flowers.
Those three businesses, plus three more to be announced at a later date, will each receive $212,000 plus $38,000 worth of marketing support and business consulting from students at the Alberta School of Business. The businesses must stay in the core for at least 18 months to qualify, McBryan said.
"All of them are signing three- to five-year leases, so that's a huge win in and of itself," she added. "We want retailers who are wanting to come downtown and be in it for the long haul and add to the fabric of downtown."
The Downtown Edmonton Streetfront Retail Report, which was released at the luncheon, found that 33% of street-oriented storefronts downtown are vacant.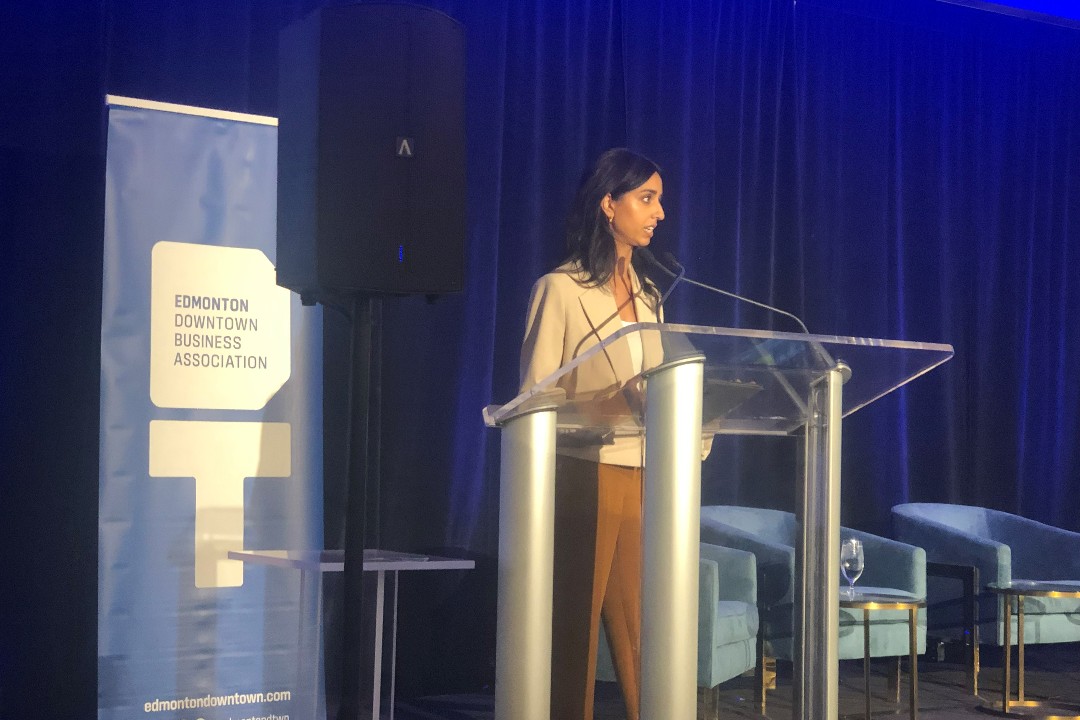 The study looked at almost 500 retail spaces in the 11.5 square kilometres that make up the downtown area and categorized each space as either vacant or occupied in May 2023. The study looked only at businesses that can be accessed from the sidewalk and didn't factor in square footage.
Vacancies were slightly more concentrated on the east side of downtown, and they were twice as high around surface parking lots, said researcher Heather Thomson, executive director of the Centre for Cities and Communities at the Alberta School of Business.
The study recommended prioritizing beautification as well as focusing on getting more people to live downtown and to get those who live elsewhere to hang out outside the 9am-to-5pm schedule and on non-event nights. It also recommended more pedestrianized spaces and incentives for retail to open in the neighbourhood. The report didn't touch on the subjects of crime and safety in its recommendations, but it's all of a piece, Thompson suggested.
"Bringing in more businesses brings in more traffic, and then you've got a bit of a cycle," Thompson said. "It just really helps make the whole downtown feel vibrant and makes it feel safe."
McBryan said the grant received 32 applicants. She hopes this program creates a snowball effect that helps to address the other 160 or so vacant retail spaces in the area.
"It created a pipeline of leads for landlords and real estate brokers downtown," she said. "Because of the program, it got these conversations started … at least a handful of them were still continuing even after they weren't successful in the program."
The Downtown Retail Project is funded by the Government of Alberta and the City of Edmonton. It's just the latest of many initiatives aimed at reviving downtown in the aftermath of the pandemic.
The Downtown Vibrancy Strategy Funding Program awarded almost $5 million to 53 projects in 2021 and 2022. The money was spent on a mix of perennial events, new events, crisis intervention, business supports, and efforts to explore revitalization, according to a list of 31 of those projects obtained by Taproot.
The city also introduced the Meet Me Downtown campaign earlier this year, a marketing blitz aimed at encouraging Edmontonians to visit downtown and support local businesses.