A solar-advocating non-profit is running a campaign to demonstrate opposition to the province's moratorium on approvals for new renewable-energy power plants.
Rise Up For Renewables is a response to a seven-month ban issued in August, which halted the development of large new biomass, geothermal, hydroelectric, solar, and wind power plants until February 2024.
The campaign focuses on lawn signs and direct outreach to elected officials, similar to the Defend Alberta Parks movement, said Heather MacKenzie, the executive director of Solar Alberta.
"I'm not going to say it's uplifting, but it is empowering to speak out, to put up a lawn sign, to put up a couple lawn signs on other people's lawns, and to really just 'rise,' as we're saying, in a way we haven't before," MacKenzie told Taproot. "I think we need a combination of activism but also to focus on the here and now, and what can we do in terms of solar in our homes and neighbourhoods? That does help you stay on the sunny side."
About 500 lawn signs had been distributed as of Oct. 10, and there are other indications of support.
"We've seen 1,000 new followers in the last month since folks realized that they needed to really show their support. We've seen huge increases in the number of volunteers that we have, and we've seen membership numbers increase," MacKenzie said. "The moratorium is really resulting in a lot of folks becoming more vocal in their support for renewables, because they're realizing we can't take this growth for granted."
The campaign's page says the planned capacity growth of solar power plants in Alberta is down by 21%, a figure it attributes to the Alberta Electric System Operator. MacKenzie said the trend had "always" been an increase in solar capacity until the moratorium.
"We are now basically gone back in time by a year, we're back at 2022 projections for growth on our grid, in terms of solar," she said. "Just imagine how much further we might get bumped back in the seven-month moratorium that's been imposed."
Mayor Amarjeet Sohi suggested in September that the moratorium would not significantly affect Edmonton's contracts with renewable-energy companies, nor would it stand in the way of efforts to reach carbon-neutral status by 2050. But the moratorium does affect the city, MacKenzie countered.
"All Edmontonians and all Albertans will end up paying more for power with a renewables moratorium, essentially, because you're reducing the amount of solar and wind that will be coming onto the grid," she said.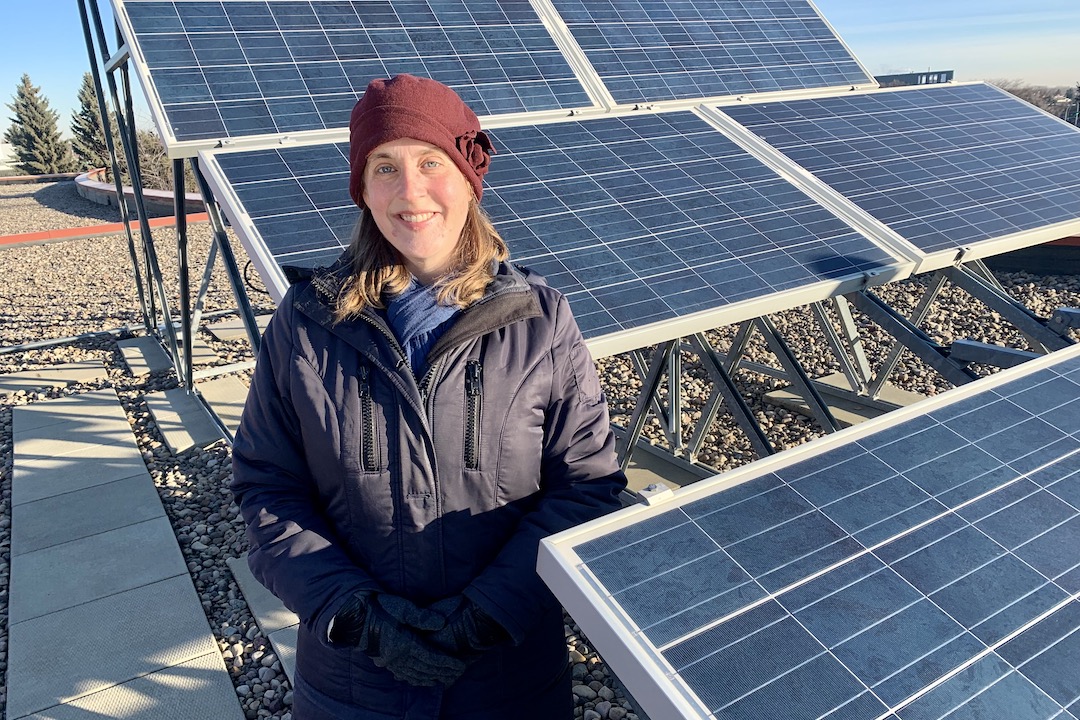 Sohi agreed it's important to keep the ball rolling as the city aims to meet the climate goals set out in the City Plan. He's hoping for progress when the Alberta Utilities Commission issues its report at the end of February.
"Where the province's regulatory framework on renewables can be strengthened, we hope that the provincial regulator can implement these changes in a timely and thoughtful way so that we can maintain momentum on growing this key sector," Sohi told Taproot in an emailed statement. "We remain committed to climate resilience and transitioning to net-zero by 2050 here in Edmonton."
The moratorium arose from concerns raised by the AUC, Rural Municipalities of Alberta, and landowners about the rapid pace of renewables development, the type and amount of land used, and the rules around reclamation. The AUC says its report will include considerations around environmental, agricultural, and Crown land use; maintaining "viewscapes;" end-of-life cleanup;, electrical generation supply mix; and the reliability of renewable electricity.
MacKenzie said the renewables sector is completely open to addressing these concerns and updating regulations. But she believes this can be handled without pausing approvals.
"It is entirely possible for us to have conversations about all of the topics that have been raised without a moratorium," she said. "That's not only possible, but that's common."
Not only is the moratorium "unAlbertan," according to MacKenzie, it's not something the concerned stakeholders cited in the province's decision even asked for.
"If you look at what (Rural Municipalities of Alberta) and the AUC asked for, in the motions and the letters referenced by the Government of Alberta, it was never for a moratorium. They asked for discussion," she said.
Two separate polls released in September suggest just over half of Albertans support a national oil and gas emissions cap. A third poll indicated two-thirds of Albertans oppose the renewables moratorium.
However, an official in Vulcan County, home to one of the continent's largest solar farms, supports the moratorium. Reeve Jason Schneider told CBC that even though he wasn't hoping for a moratorium, he understands it and has long hoped for more robust legislation around renewables.
MacKenzie said responsible land use is something Solar Alberta already advocates for through its solar-siting recommendations. She feels this moratorium has unfairly singled renewables out.
"This type of discrimination is very disconcerting to everybody in the energy sector. And it doesn't matter if you're primarily invested in natural gas or primarily invested in solar or wind," she said. "It is nerve-racking, because you think, well, if they're willing to do this to renewables now, what will they do to us next?"
MacKenzie said there are many consequences of the moratorium that go well beyond the price of electricity for consumers. She said fewer green-lit projects mean fewer jobs, slowed action on climate change, and a reduction of investor confidence.
"What we're seeing here is investor confidence has been fundamentally shaken, and investors are running away from Alberta," she said. "We are seeing that in that there are projects running away that aren't even directly impacted by the moratorium. They are being indirectly impacted because their investors are balking at the situation we find ourselves in."
Reuters reported on Aug. 21 that at least four major international companies had ditched plans for renewable projects in Alberta following the ban.
As MacKenzie awaits the February update on renewables and works on the Rise Up campaign, she made some predictions about the outcomes of the AUC's review.
"The AUC has already started the consultation process, and they're anticipating wrapping it up in December," she said. "The types of things we're likely to see as a requirement in the future are very similar to the types of things they already started requiring in the interim — things like land studies … We're likely to see new conversations asking for plans on end-of-life. That's going to be very interesting because, of course, solar farms never run out of solar."
Alberta Municipalities has a resource page for engagement opportunities with the AUC ahead of its report. Next up are oral submissions, lasting until mid-November.