Those involved in the economic development of the Edmonton region are shifting their focus from celebration to action with the launch of four task forces.
The working groups, which were announced at the second annual forward/slash at the Edmonton Convention Centre on Nov. 2, set high-level goals for the region to become:
Canada's fastest-growing and most resilient economy;
Canada's most connected and respected business community;
Canada's smartest working and most adaptable workforce;
Canada's most attractive region for affordability and quality of life.
About 18 months in the making, the task forces began development even before last year's inaugural forward/slash.
"We realized that there's so much that needs to happen and that from a sector perspective, there's actually quite a bit of activity already. But what was missing was more of the connective tissue across the community," said Chris McLeod, vice-president of global marketing and communications for Edmonton Global. "The sectors were going incredibly well, but we still had some missing parts. So that's where we started doing the work around shifting our thinking a bit and started to look more at what are the underlying foundations that we need to make sure are strong."
The names and objectives emerged from more than 50 interviews with business and community leaders across the 14 municipalities Edmonton Global serves. About 100 businesses weighed in on the themes.
"We are purposely doing this under forward/slash, rather than Edmonton Global," McLeod told Taproot. "We want it to be something that any organization can lead and can be part of. And while we're doing some of the upfront organization of it … we're trying to ensure that it really is a regional approach — that Explore Edmonton, Edmonton Unlimited, airports, businesses, and others can say, 'This is the part of it that we own and that we're doing.'"
The approach can also reduce duplication of effort, said Joan Hertz, a member of the forward/slash advisory circle.
"If Edmonton Global is trying to bring investors to the city, or if the airport is trying to attract airlines to the city, or if Explore Edmonton is trying to attract more conferences and events to the city, doesn't that all sound like the same thing?" she told Taproot. "And yet, we're doing it in three different ways. So how do we pull together and make sure we're all chasing the same thing?"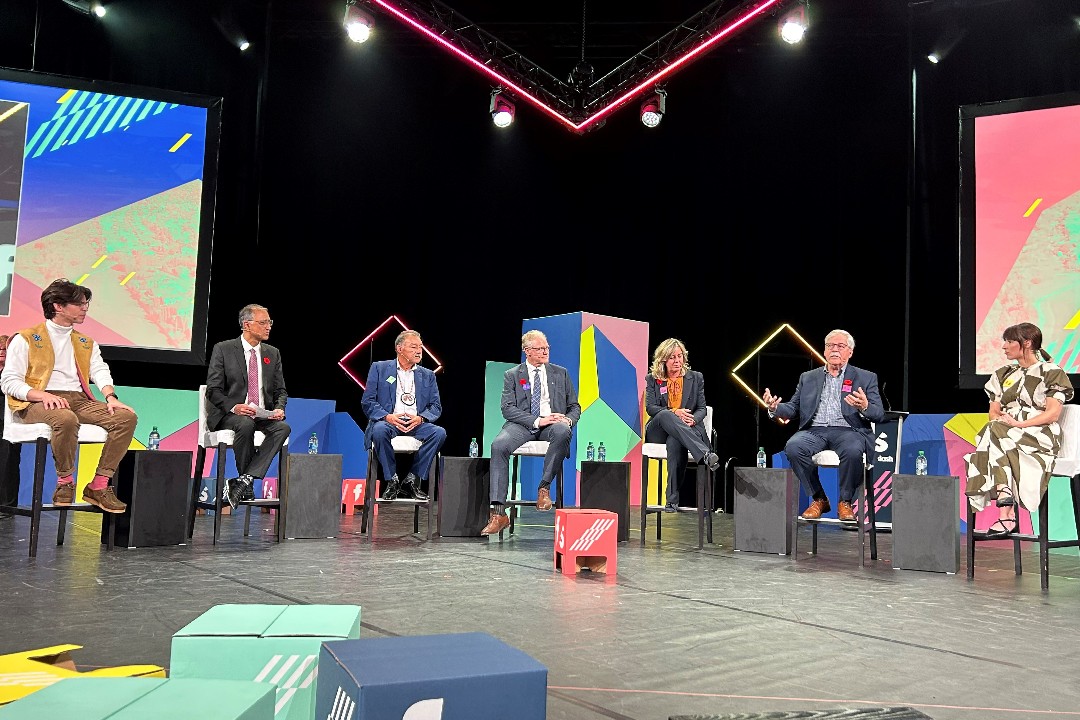 Hertz, who chairs the boards of the Edmonton International Airport and ATB Financial, has been part of conversations about forward/slash since long before the formation of its task forces. Going forward, she will help steward the actions taken by the groups in her official capacity as a member of the advisory circle.
"I think like many in the business community, I was just really trying to find ways to activate each other and ourselves to drive positive economic momentum in the region," she said. "I was never thinking that I would have a role and, honestly, this one kind of crept up on me."
Hertz said a great deal of her role is listening, finding gaps, and making connections. While work on the task forces is just beginning, her experience as a business leader and forward/slash collaborator has given her some insight into some of the Edmonton area's potential and areas of strength.
"I think we're going to be the centre for artificial intelligence, and perhaps traditional industries figuring out how to adopt artificial intelligence because of having (the Alberta Machine Intelligence Institute)," she said. "Our potential for transportation and logistics is incredible. It is way faster to get by train from Edmonton to the coast than it is from anywhere else in Alberta. We are the closest city of more than a million to the North. And so you take that with our ability to get straight south by truck, and that's why you're seeing a lot of intermodal companies choosing to locate in our region."
Both Hertz and McLeod pointed to talent attraction, retention, and deployment as key metrics for economic success.
"Being able to talk about how we have 130,000 post-secondary students in our region is huge power," Hertz said. "If we can create that match between what industry is looking for and what post-secondaries are producing … I think that would make us the smartest region."
The task forces are expected to begin delivering some results within a year, though McLeod estimates certain impacts could take one to two decades to unfold. The tentative plan is to have around three specific outcomes for each task force. However, specific roles and responsibilities have yet to be determined and may be subject to ongoing change.
"We think that we'll discover things in the setting up of this process that we don't know before we start. If we do too much to preset everything before we begin, we'll lose out on things that may actually be far more important than what we've got in our heads today," he said. "If you're too open, too flexible, you end up never doing anything. So we're trying to figure out the sweet spot."
McLeod said forward/slash's work is supported by a broad group of funders. A few of them are post-secondary institutions, Alberta's Industrial Heartland Association, Edmonton International Airport, Applied Pharmaceutical Innovation, Explore Edmonton, Edmonton Unlimited, and Invest Alberta. It's also made possible by Toronto-based consultancy Optimus SBR, which is providing in-kind services valued at $350,000.
As the task forces get underway, forward/slash continues to accept expressions of interest to join, lead, or stay informed about them.
The forward/slash event also included the presentation of three awards:
Edmonton International Airport won the forward/together Award, recognizing "individuals or businesses that exemplify a spirit of collaboration"
Entos Pharmaceuticals won the forward/momentum Award, recognizing "individuals or businesses that inspire others with their approach to building an economically and environmentally sustainable future for our region"
Air Products won the forward/thinking Award, recognizing "those who take bold action to effect change."