A University of Alberta student who has co-founded two startups — one that decentralizes plastics recycling and another that uses AI to better understand the shape of wounds — was among the recipients of this year's ASTech Awards.
"By seeing the ASTech committee say, 'We see what you're doing, we appreciate what you're doing, and we also believe that what you're doing will make a positive impact,' that's invaluable to me," said Connor Povoledo, who was named the student changemaker of the year at the 34th annual awards, which were presented in Calgary on Nov. 3.
One of Povoledo's companies is Level 7 Plastics, which is working to help institutions take care of their own plastic waste. Many products are too small to recycle or are made up of a mix of different materials that make identifying the type of plastic and sorting it for recycling nearly impossible, Povoledo said.
"If it's hard to sort things, and if it's hard to process things smaller than a fist, maybe what we can do is build out an open-source recycling infrastructure that institutions or small businesses can implement in-house to take care of their own plastic waste," he said.
One of Level 7's clients is Future Fields, which uses Level 7 to recycle pipette containers.
"They know that it's polypropylene or high-density polyethylene, they can tell us that upfront, and it's relatively clean, but it's just small, so it won't be recycled generally," Povoledo said. "We can sort of skip the sorting process."
The University Hospital is a great candidate for this approach, Povoledo said, because it goes through so much small plastic waste.
"The University Hospital generally knows what these materials are, because they're heavily regulated, but they're too small," he said. "Imagine you just set up one of these decentralized recycling plants and grab two students to run them. At that point, you could actually get a pretty effective decentralized manufacturing plant that might be able to offset the entire plastic output of the University Hospital annually."
Povoledo's other company is Wound3, an app that creates three-dimensional images of chronic wounds to improve treatment.
"We wrote some pretty clever software, trained some rather sophisticated visual AI models to essentially take the information that can be captured by just a smartphone camera and transpose that into 3D space," he said.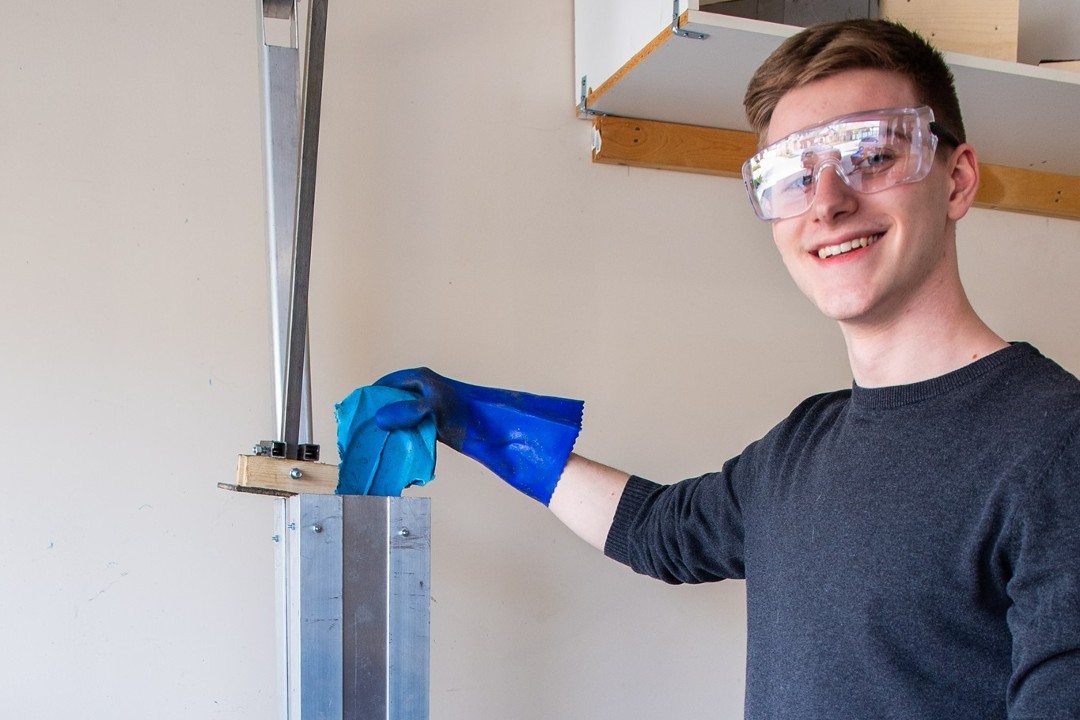 The software looks at characteristics such as the shape of the wound, its placement on the body, and its colour, and uses those data points to create a healing trajectory to be shared with the caregiver. Povoledo said not only can this technology potentially improve the healing process, but the software is more accurate than traditional ways of measuring and classifying wounds.
"The standard of care is a ruler — basically, the clinician or healthcare professional will unroll a paper ruler from the spool of rolled-up ruler and measure the length and width of the wound," he said.
Wound3, meanwhile, takes thousands of depth probes and extrapolates them into a high-resolution topology, he said. The company is now asking clinicians to participate in a focus group aimed at improving the app's usability.
Povoledo was one of 15 winners from the Edmonton area at the annual awards celebrating Alberta's science, technology, and innovation ecosystem. A total of 25 awards were presented.
NeurAlbertaTech, another student initiative born at the U of A, won first place in the community division.
"We are so excited to receive this award. It is a testament to our mission of fostering neurotech innovation at the grassroots level in Alberta," the organization posted.
Rafiq Ahmad, founder of the Smart & Sustainable Manufacturing Systems Laboratory at the University of Alberta, was recognized for digital innovation in smart manufacturing.
"This accomplishment stands as a testament to the unwavering dedication, hard work, and innovation of my exceptional SMART team at the University of Alberta," Ahmad said. "Together, we will continue to drive innovation and make a meaningful impact on our society."
About 400 people attended the awards, which were organized by Technology Alberta. "The gala was exciting, exhausting, but also a warm, community-filled, inspiring event, with the venue at sold-out capacity," Technology Alberta president Gail Powley told Taproot.
Here are the rest of the Edmonton-area honorees:
The other winners were Yang Gao, Hadis Karimipour, Elise Fear, and Kathryn Birnie of the University of Calgary; Sumantra "Monty" Ghosh of Alberta Health Services; a team from Calgary's Excir; Dick Brown of Calgary's Kathairos Solutions; Calgary's Exro Technologies; Melissa Hozack of Medicine Hat's TrueMe Whole Health; and Mohamed Elhabiby of Calgary's Robogarden Inc.
Full bios of all the finalists can be read online.