The southwestern community of Allard will become Edmonton's 163rd community league later this month, a feat accomplished in record time.
"I made sure that we were always doing what needed to be done in the current step, but we were always looking ahead," Steve Pittis, chair of the Allard Community League steering committee, told Taproot. "I found that definitely kept us going because it always gave us something else to think about."
Allard, whose southern boundary is the edge of the city at 41 Avenue SW, will reach the last of 15 steps required to become a community league on Nov. 22 when it holds its first annual general meeting and board election. It reached Step 12, "Incorporate as a Society," after about eight months of work.
"Usually, groups take about two years," said Laura Cunningham-Shpeley, executive director of the Edmonton Federation of Community Leagues. "It is a tremendous amount of work."
Meanwhile, in the central neighbourhood of Blatchford, efforts to establish a league haven't even reached Step 1. The EFCL requires a population of at least 5,000, and Blatchford isn't there yet.
"There was genuine frustration at the 5,000-person benchmark that they've set. That's pretty ridiculous. It seems really arbitrary," said Heather MacKenzie, the president of the non-profit Blatchford Community Society. "If you have the volunteer capacity to establish a full board — as we have with over 10 people — and a high-functioning executive, I really don't think there should be a specific quantity of people residing in your neighbourhood for you to be allowed to formally exist as a community league."
Allard had the opposite problem. Residents were informed about two years ago that they were being ejected from the Blackmud Creek Community League due to a growth in population that the league could no longer accommodate. The maximum size of a community league is 15,000.
Pittis spearheaded the formation of Allard's steering committee earlier this year. He's a maintenance carpenter who has spent most of his career in commercial construction. His background in navigating permitting and paperwork gave him an edge when it came to steps such as writing a letter of intent to the city, registering as a society, and creating a needs assessment, bylaws, and objectives.
"The actual steps were not difficult," he said. "The hardest part that I found for this whole thing was figuring out who could do what."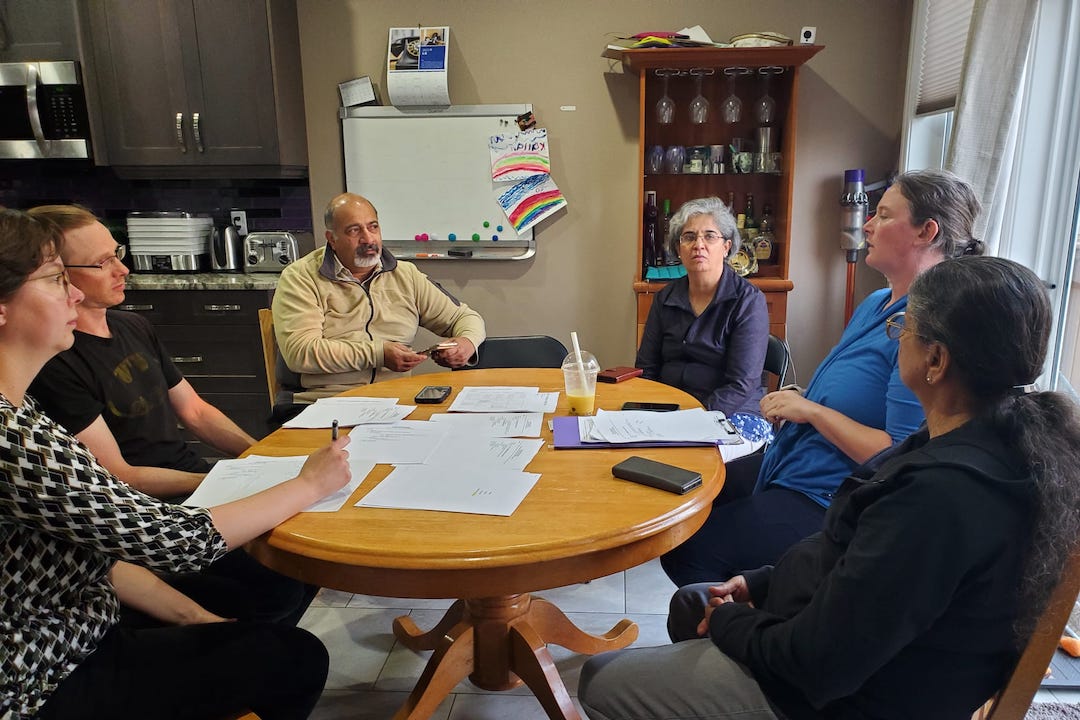 It was challenging to establish a league in a neighbourhood with an existing homeowners' association, said committee secretary Tricia Jenkins.
"I think one of the challenges is outreach to the community, and ensuring people understand what a community league does … differentiating what the (homeowners' association) versus a community league is, and how those two entities are going to work together to make this community a better place," she said.
The community league system is unique to Edmonton. Leagues are para-governmental, non-partisan, non-profit, volunteer-run groups registered with the city (which provides access to municipal parkland), the province, and the EFCL. They are dedicated to neighbourhood improvement, often in the form of building and/or operating facilities, providing recreation, and advocating for the community's interests.
"The mandate of a league is to provide public recreation, essentially," Cunningham-Shpeley told Taproot. "In order to do that, you have to have a certain number of residents that live there."
Allard was established in 2007, and as of the 2019 municipal census, it had a population of 6,847. Blatchford was first approved for development in 2014, had zero recorded residents in 2019, and is now home to about 100 people, MacKenzie estimated.
MacKenzie said she wants local recreation in Blatchford, a sustainably designed community on the land formerly occupied by the City Centre Airport. But she also stressed that advocacy to the city is critical for the Blatchford Community Society, and she wishes she could do it as a recognized community league.
"A lot of decisions are being made about us without us," she said. "They're exploring single-family detached housing, they are spending time and energy thinking about how to put natural gas into our community in two to three years' time. These decisions aren't final yet, and we still have an opportunity to say 'No.'"
MacKenzie announced the Blatchford Community Society to the city in an Oct. 3 email that reads, in part, "we kindly request to be made aware of, and consulted on, all matters pertaining to Blatchford, including rezoning, development and redevelopment applications, as well as any decisions that may change Council's original vision of this sustainable community."
What's next
The Allard Community League will make its first foray into facilities management with the Allard Community Rink, previously managed by Blackmud Creek's community league.
"Community leagues usually spend years on fundraising before a rink is present in the community," Jenkins said. "We're kind of at a disadvantage, not having any finances right now. In order to run a rink, it costs money for utilities and maintenance and all these things. We're starting from scratch, and we don't have that yet."
All neighbourhoods in Edmonton can participate in the community league system, whether their local chapter bears their name or not. Cunningham-Shpeley suggested Spruce Avenue would be the best one for Blatchford residents to connect with "because that's within the same district."
But MacKenzie doesn't think that's a fit. "Blatchfordians don't identify with Spruce Avenue as their community in any way, shape, or form, and I doubt Spruce Ave residents would see us in any way as an extension of them," she wrote in an email.
While frustrated, MacKenzie has reaped some benefits from engaging with the EFCL.
"They did offer to review our bylaws to make sure that we wouldn't have trouble down the road when we officially changed our name and became a community league," she said. "In the interim, we can be recognized as an associate of the community league system and have a couple of the benefits and supports that exist."
MacKenzie will speak about Blatchford's efforts to organize during a speakers' event organized by Coun. Michael Janz on Nov. 28 at Metro Cinema. The EFCL's next regular general meeting is on Dec. 5.