One of Edmonton's newest fashion brands comes from the mind of a founder who is finally doing what she wanted to do when she grew up, after detours into neuroscience and an internet-of-things tech startup.
Emma Doolin created GALLERIADELE after her previous pursuits left her unfulfilled and convinced her to chase her true passion.
"I learned that nobody knows what they're doing and everything is making stuff up, and I thought, 'I could also make stuff up and not know what I'm doing, but own the full company myself and actually potentially love what I'm doing,'" Doolin told Taproot. "That's kind of what inspired me to start my own fashion brand."
Doolin's heart has been with design since she graduated from high school. But after moving to Toronto, she opted to ignore fashion programs that called to her and enrolled in a psychology program at the University of Toronto.
"I was this close to wanting to go to fashion, but instead I went to U of T because I thought, 'You know what? I need to get a traditional career. What sort of careers are there in fashion?'"
Partway through her degree in Toronto, she returned to Edmonton and finished it at the University of Alberta. She went on to earn a PhD in neuroscience after completing a thesis focused on patient recovery from spinal cord injuries.
She briefly enrolled in a post-doctorate degree before switching gears to co-found Element 4 with her husband, Callum, and other business partners. Doolin took the role of chief operating officer at the startup, which manufactures battery-less devices that harness ambient energy and help power the industrial internet of things.
Doolin and her husband "forfeited their stock options" at Element 4 and parted ways with the company in 2022. "I didn't love technology either," Doolin said. "It was a fun experience and I learned a lot, but also it was not my passion or where my heart was."
Officially founded in 2022, GALLERIADELE went live in June 2023. Doolin said the brand offers "edgy, luxury wardrobe staples" that are ready to wear. The name (pronounced gallery-uh-day-luh) is a combination of "gallery" and the German pronunciation of Adele, one of Doolin's middle names.
GALLERIADELE had its first in-person showcase at the PARKLUXE 2023 Fashion Show in Calgary on Oct. 13. The event included a runway featuring designs from Holt Renfrew, Greta Constantine, UNTTLD, and Paul Hardy, in addition to the local vendor market.
"PARK invited me to have a booth there, and they've been so supportive," Doolin said. "That was the first time where I had my clothes out and people could come and feel the clothes, shop it."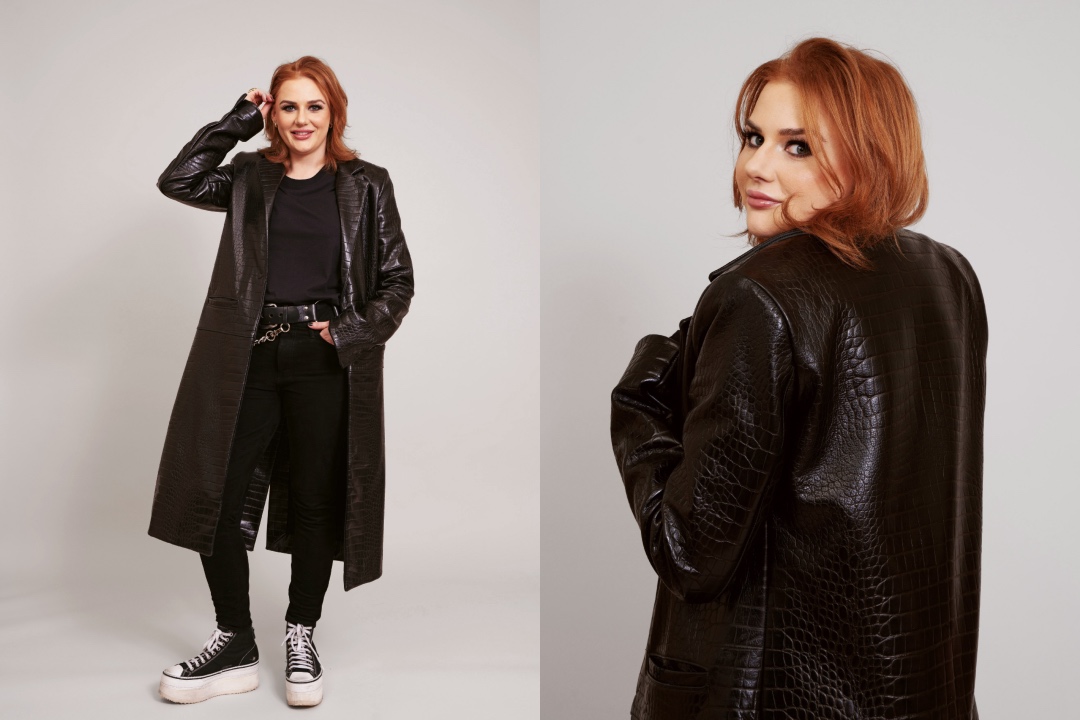 Doolin's products reflect her preference for a gothic edge. Offerings include a black long-sleeve T-shirt ($190), a classic black blazer ($1,240), and a solid 10-karat gold skull ring ($2,370).
"I like to pull clothes from my closet that are super easy to wear," she said. "I could wear it and feel cool at the grocery store, but I could also go out to a nice restaurant and feel cool there, too."
She said her spinal cord research has had little influence on GALLERIADELE, but the soft skills she learned along the way have transferred over.
"You just have to figure it out yourself, and try, and fail," Doolin said. "I think all those skills translate to entrepreneurship because, especially when starting a company, you have to wear so many hats, and you have to figure out things by yourself."
Using tech to tell the story
Where Doolin's background in science and technology has shone through in GALLERIADELE is the NFC tag software development, which she is putting to use in highly priced garments like the blazer and trench coat, the latter selling for $2,390.
"Each clothing (item) has a unique number, and then that unique number is encrypted in that NFC tag," Doolin said. "You know when it was made, where it was made, styling tips, the story behind each piece."
The idea came to life with the help of her husband, whose technology experience made the development easily managed in-house, and gave them another opportunity to work together.
"I was thinking of ways that we could make the brand stand out a bit," she said. "Especially because I'm the manufacturer, it's so easy for me to track things and know where everything's coming from. I'm putting so much effort into making these clothes really high-quality, (so) how can I show that to the end consumer?"
Doolin sources the majority of GALLERIADELE's natural materials from a limited number of locations: organic cotton comes from Mississauga, Ont.; cow leather is from Korea; Bemberg linings come from Japan; and the wool in the Emma Blazer is made in England. Most of the raw materials are handmade into clothes at factories in Calgary; she has also worked with factories in Montreal, Mississauga, and Vancouver.
For special details, Doolin uses other brands' deadstock — that is, materials from companies that have gone out of business or no longer require them. The Emma Blazer, for example, features buffalo horn buttons from a Toronto designer, Lida Baday, whose company went out of business in 2014.
Doolin said the NFC tag system allows consumers to better understand why the products cost what they do, and proves the items are authentic as opposed to a reproduction — a feature that comes into play at the re-sale point of a garment's life cycle.
"I wasn't sure if it was worth the work — if people would care, but I would say the response to that was really good as well," she said. "Their faces lit up when they saw that they could tap their phone, and they're like, 'Wow, I can read about my garment.'"
Doolin sees potential to grow the technological side of the brand in the future, and she has already been approached by other companies interested in using the feature. If she is to expand the technology, she would like to extend its use to a full, virtual closet app that retains the items you scan to give you cross-brand styling tips.
"I can see — down the road — many opportunities for this technology," she said. "Right now, it's just a prototype."
While local support has been good so far, Doolin said the niche nature of GALLERIADELE's style has prompted her to seek out international fashion hot spots like New York City.
"Not everybody's gonna like it — I don't want everybody to like it," she said. "When you're wearing such a cool, unique product, you don't want seven people in the street wearing it, so I definitely need to expand to different markets because I'm gonna have a smaller market if I stay local, for sure."
For now, Doolin will focus on growing her brand's awareness and product line. She is working on samples for a full organic cotton collection, leather pants, and sterling silver accessories.
"I should be focusing on building my brand and selling what I have, but it's so much fun to do the product development and think about new products," she said. "I'm constantly doodling in my sketchbook."