Mayor lauds anti-racism efforts amid acrimony
Committee in charge of Edmonton's strategy dissolved against its will, work now in administration's hands
When the Strong Cities Network invited Edmonton Mayor Amarjeet Sohi to Berlin to talk about the city's anti-racism efforts, he jumped at the chance.
"Anti-racism work is a generational work," Sohi told Taproot, recalling what he said in his June 16 presentation at the Cities on the Frontline conference. "It is not a one-time event. It takes generations to dismantle the colonial system, takes generations to deal with the systemic nature of racism and how institutionalized it is."
Anti-racism was Sohi's first order of business after he was elected mayor, and he says work on the file has accelerated since. But the Anti-Racism Advisory Committee (ARAC), which was charged with shaping the city's anti-racism efforts, was told in March that its work was being paused. That has led members to question the way the city handles community involvement as it implements its strategy.
Sohi said the committee concluded its work after it helped create the city's anti-racism strategy, which city council approved in February 2022.
"The Anti-Racism Advisory Committee played a very important role, putting together our high-level strategy on the anti-racism initiative that I launched when I got elected," he said. "And they have done a remarkable job."
However, Shalini Sinha, the committee's chair, said the decision to pause ARAC was not what the committee wanted.
"It's against everything we fought for to say that the city will pause (ARAC) while the city implements their anti-racism strategy, while they determine the best way to go forward," Sinha told Taproot. "What we fought for from 2020 was partnership between people being impacted (by racism) and administration."
Meanwhile, others are wondering why some of the strategy's components haven't been implemented yet after being approved by council more than a year ago.
"There has been an anti-racism strategy for how long? We've got a strategy. This is an action plan. We need to go into action," said Africa Centre chair Kemoh Mansaray. "My fear is that it's going to be shelved and forgotten."
ARAC's genesis and mandate
ARAC was initially formed in 2019 during Mayor Don Iveson's term. Its mandate was "to raise awareness and catalyze action on racism and anti-racism in Edmonton, and provide advice to council regarding community perspectives on issues relating to racism." The committee consisted of several members of the public working in a volunteer capacity, along with two city councillors.
ARAC was first paused early on in 2020 when the COVID-19 pandemic began. However, it was resumed after a Minneapolis police officer killed George Floyd in May 2020, reigniting the Black Lives Matter movement and other calls for racial justice. Part of Edmonton's response, after weeks of public hearings on policing and racism, was to create the Community Safety and Well-being Task Force. The revived ARAC worked alongside the task force, which released its 14 recommendations in March 2021.
Following the 2021 municipal election, in which Sohi was elected mayor, council voted on Nov. 1 to begin work on an anti-racism strategy. ARAC was to work with city administration in developing that policy. In February 2022, the committee came up with three main recommendations:
Create an independent anti-racism body, separate from other city bodies.
Create a high-level anti-racism organization in city administration.
Establish funding for core operations to strengthen grassroots, BIPOC-led organizations.
To implement the strategy, council also allocated $2 million in one-time funding, directed from the money council withheld from the projected increase to the Edmonton Police Service budget at the end of 2021.
ARAC also oversaw the anti-racism grants program, which launched in June 2021 and had initial funding of $300,000. The committee distributed most of those funds in November of that year. Another $1.174 million in one-time funding was approved by council at the same time for the Anti-Racism Community Safety Fund, which was supposed to be adjudicated by ARAC. That funding was eventually distributed in February 2023 based on recommendations made by a nine member panel of community adjudicators and administration.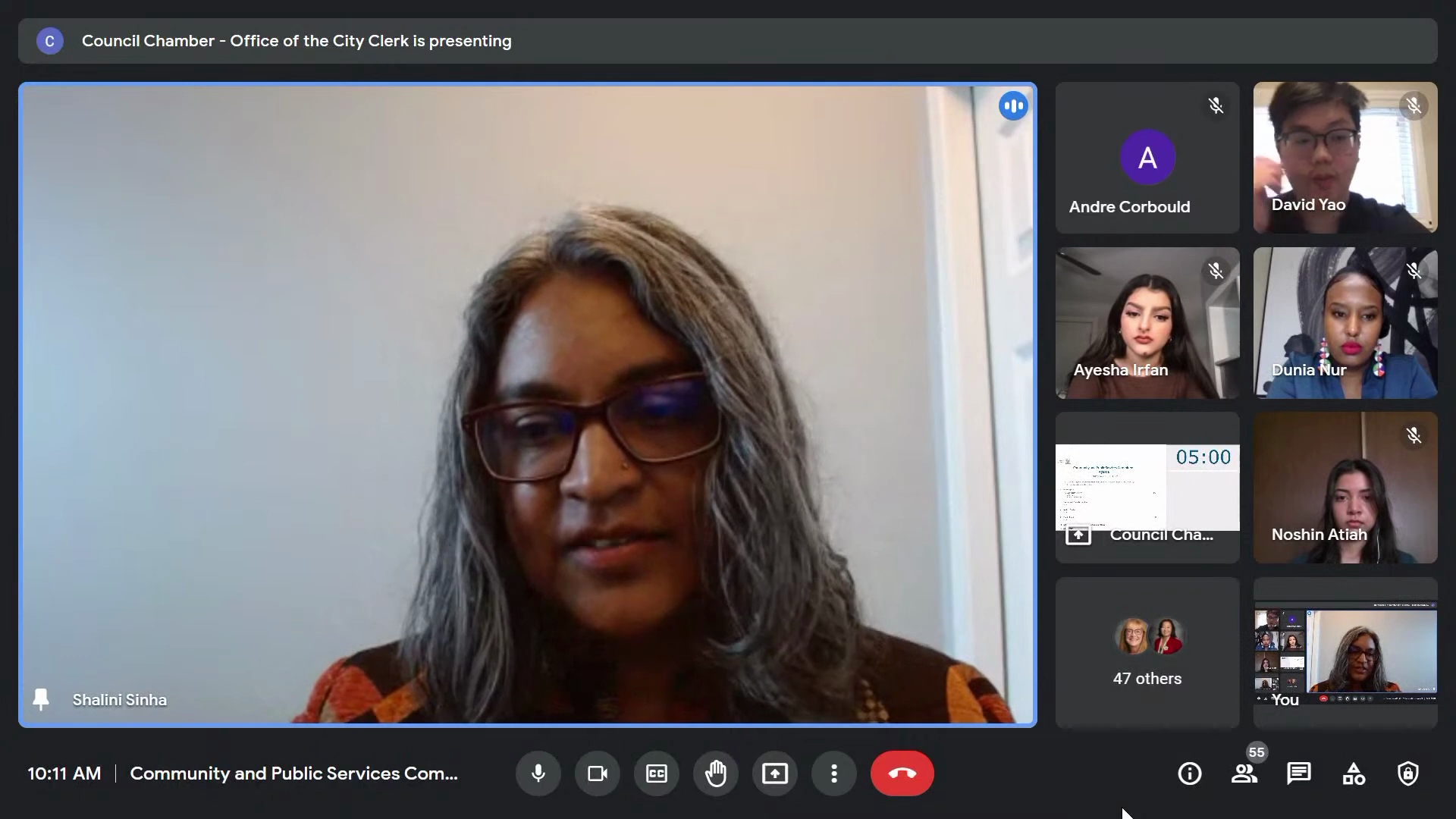 Initial difficulties
As it worked on the anti-racism strategy, one problem ARAC faced was the time commitment needed and the difficulties of having this type of work done on a volunteer basis. Several mentions of this are present in the report ARAC presented to the community and public services committee on Feb. 14, 2022.
"ARAC achieved these successes only because some of our members acted outside of the scope of the expected volunteer commitment to an advisory committee, and dedicated countless hours to advocacy and relationship building in order to achieve some critical changes in the city," the report said.
Sinha said some committee members worked between 40 and 60 hours a week while working on the strategy. Rehana Gilani, the committee's vice chair, said the experience of working on the report emphasized the need for better resources.
"Working through this strategy, we put in a lot of time and effort, and we did a lot of outreach with the community, we put in a great amount of personal resources into getting the strategy passed," Gilani said. "It was a recognition on our part that this work is not sustainable as a volunteer activity. There needs to be resourcing behind it."
In August 2021, council approved a policy that Edmontonians appointed to council committees should be paid $100 for meetings up to and including five hours, and $200 for meetings over five hours, with a bit more allocated to committee chairs. But Gilani said that was something ARAC had to ask for, as it wasn't available at the outset. She also said the committee members received no other forms of remuneration.
Additionally, Sinha feels the anti-racism strategy document that ARAC produced is being put out of sight on the city's website, as administration's report to council is the first visible document on the page. Meanwhile, the report submitted by ARAC is included as Attachment 5.
"If you look at the city website, and it says 'View the anti-racism strategy,' you will see only the administration's executive report on it," she said. "In my opinion, that's being buried."
Crisis
A major turning point for the committee was a contentious public meeting that occurred on July 13, 2022. According to the draft minutes, two community groups — Black Women United YEG and Shades of Colour — demanded Sinha's resignation as the chair of ARAC. Their concerns stemmed from the February 2022 dismissal of Dawn Carter from her role as executive director of the Pride Centre of Edmonton, where Sinha served as chair of the board (and still does). Carter, who is Black, sued for wrongful dismissal. The matter has not yet been resolved.
In addition to asking for Sinha's resignation, Black Women United YEG said it wanted to return a $10,000 grant it received from the anti-racism grant program. The group asked ARAC to "overhaul its processes to rid itself of the structural violence/structural conflict which leads to structural violence and anti-Black racism."
Junetta Jamerson, co-founder of the group, told Taproot that accepting that grant money would have gone against the group's credibility and values.
"It felt like blood money," she said. "It was tied to the harm of a Black woman. And not just any Black woman, a Black woman in our network."
Sinha said she could not comment on either Carter's dismissal from the Pride Centre of Edmonton or what was said about the matter at the July 2022 meeting, given ongoing litigation.
For Jamerson, the two matters are connected.
"You cannot throw rocks and hide your hands, and you cannot divorce one from the other and start hiding behind boards and roles and titles," she said. "Particularly when words like openness, transparency, accountability, are being flouted."
One of the guests who watched the meeting was the Africa Centre's Mansaray.
"What I saw in the meeting, I didn't like, and it seems like people were bringing their personal issues to the table," he said.
Mansaray thinks that the meeting did play a part in council's decision to pause the committee in that the city didn't know how to handle the conflict between the groups involved. He also brought his concerns to Sohi's office directly.
Trent Daley, one of the committee members, said the July 2022 meeting caused a breakdown between ARAC and city administration, as committee members became concerned that they could be publicly criticized for their work outside the committee.
"Some members of the committee felt like they weren't safe in their capacity as volunteers," he said. "If there's a process for members of the public to critique a member of ARAC, what process does the city have in navigating that?"
ARAC held one additional meeting in 2022, on Oct. 12, to discuss that concern with city administration. This ended up being the committee's last public meeting.
In November, Gilani said the city told the committee that it was being paused until 2023. Both Gilani and Sinha expected the committee's work to continue, but they were officially informed by the city clerk on March 23 that the committee would not be returning.
"I was surprised not to have any communication from the city until that March email and was also surprised that it was just a decision and there was no conversation," Gilani said.
In an email to Taproot, a spokesperson for the city said council made the decision to pause the committee to "allow council an opportunity to consider the work administration is currently undertaking regarding anti-racism." The spokesperson added that the discussions were conducted in camera.
Next steps on anti-racism
The city says work on developing an independent anti-racism body is ongoing.
Currently, a temporary advisory panel has been working on recommendations to city manager Andre Corbould about the establishment and function of the independent body. The panel consists of 14 members, including community leaders and anti-racism experts, and has been meeting every two weeks since February.
However, the names of those on the panel have not been announced publicly. The city said this is "to ensure an intellectually, emotionally, and physically safe environment for panel members to conduct debate, undertake sensitive and challenging discussions, and be creative in developing recommendations." The city added that the panel's membership can be made public once it finalizes its recommendations.
Sohi said that while city administration is handling the work of implementing the city's anti-racism efforts, it is still being done in collaboration with community partners.
"A lot of the work that is being done is actually being done by the community organizations that we are supporting through our work," he said. "The creation of the independent, community-based organization to lead the work of anti-racism is being informed by the community."
The city also announced an Anti-Black Racism Action Plan in August 2022, which was accompanied by a special proclamation by Sohi re-committing the city's support for the UN's International Decade for People of African Descent. The city appointed two consultants based in Halifax — DeRico Symonds and El Jones — to create the plan. The draft version released in May makes numerous recommendations, including the creation of an office "devoted to meeting the needs of the city's Black population."
As for the future of the $300,000 anti-racism grant program, the city said it will be integrated with the community safety and well-being anti-racism grant program starting this year, bringing the total funding to around $1.5 million. Information and applications will go online in early July.
The two city councillors who attended ARAC meetings as council advisors, Aaron Paquette and Erin Rutherford, declined interview requests for this story. Paquette said in a statement that council and administration "remain deeply committed to building an anti-racist city." Rutherford said in a statement that "I truly enjoy my time on ARAC and look forward to continuing anti-racist work through many avenues."
For Sohi, while the committee is no longer meeting, the city's work on the anti-racism file still goes on.
"I don't think pausing ARAC's work has in any way hindered our work on anti-racism," Sohi said. "We are moving forward on their work. We are moving forward on creating a community-based organization to lead the anti-racism work."