Edmontonians are clamouring to become electric-bike users, says Coun. Michael Janz, but they'll need more secure parking to keep their pricey pedals safe.
"We'll need more safe, easy lockup facilities," said the councillor from Ward papastew, who is hosting an e-bike information session geared toward seniors on July 28. "An e-bike is much more expensive. You're much more worried about bike theft. If you don't have a parkade or a clear, visible, solid place to lock it, that's concerning."
That's not to say that no secure parking options exist in the city. Century Park Transit Centre launched its secure bike-storage pilot this year. Bike Edmonton is partnering with the city for a bike valet pilot, not dissimilar to one happening in Calgary, to roll out in August.
"It's light infrastructure. We'll be setting up some fencing, and we have some bike racks that we use for different events and programs across the city," said Bike Edmonton's executive director, Greg Glatz. "We'll bring our bike racks, and then we're hiring staff to provide some light tuneup services and monitor parking."
The bike valet will be located on 102 Avenue between 102 and 103 streets, adjacent to Edmonton City Centre mall. More details are forthcoming, but it will be open Thursdays through Sundays at "busy times," said Glatz.
"They've done this in Calgary, Victoria, etc. You bike up, you hand over your bike — and boom — somebody's watching it, and you know it's safe," Janz, who has a page dedicated to cycling in Edmonton, told Taproot.
It's important when expanding secure parking facilities to design bike racks effectively. Lisa Brown, an avid e-bike user who lives in Oliver, said many existing racks are flawed — including those originally installed at Century Park.
"The bike racks that they use are really terrible design," she told Taproot. "It's not easy to fit most normal bikes in there. If you've got a basket and a (storage) rack on your normal bike, you're not going to be able to park your bike on those bike racks and have two points that you can secure a lock to the frame and wheels."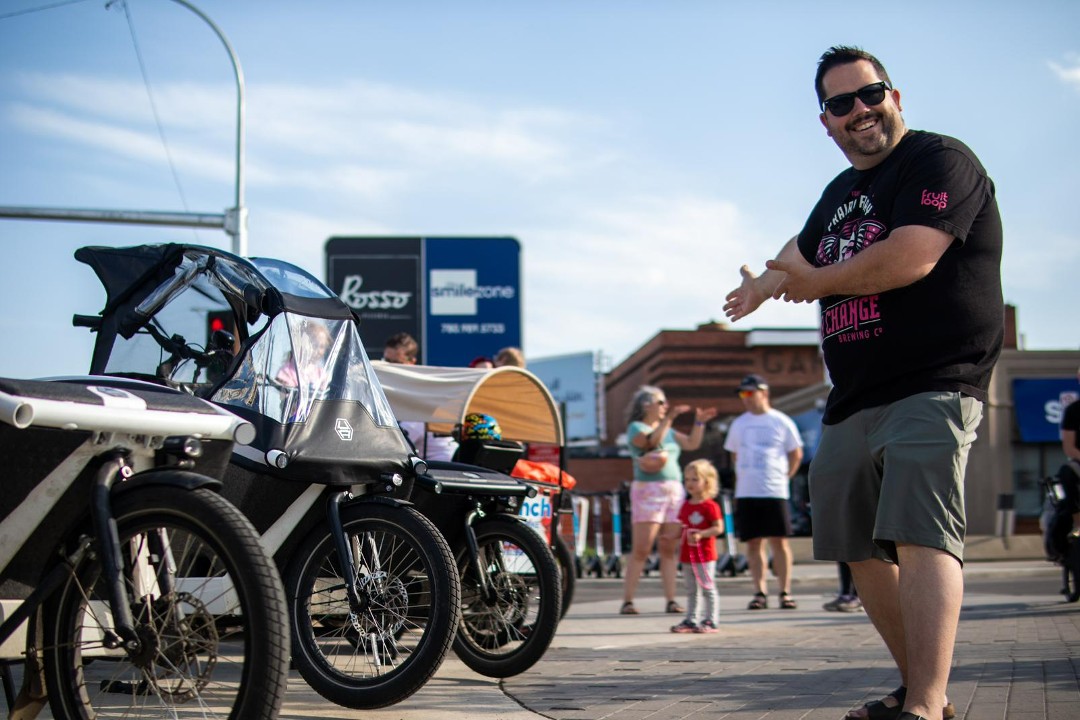 Brown, a past president of the Oliver Community League who was part of lobbying efforts to implement the 102 Avenue bike route, pointed out that the city itself has best practices for bike rack design. Bike Edmonton also has guidelines, though they are mostly the same as the city's.
"I don't have an official comment (on Century Park) at this point, only because I haven't got down there to observe it myself," Glatz said. "Bike racks aren't complicated. I think with design… form sometimes outweighs function."
Taproot has learned since speaking to Brown that the Edmonton Transit Service responded to complaints like hers. After opening the Century Park bike lock-up facility in mid-June, ETS completed the installation of new bike racks on June 28.
"These new racks have an inverted 'U' design and have increased spacing between them. As a result, they now fit a wider range of bike styles, including cargo bikes and e-bikes," James Cott of ETS said via email. "The new bike storage area accommodates up to 15 bicycles at a time, and the room is visible from the outside to increase safety."
To use a locker, riders need to register for an access card by filling out a form and submitting it in person at the Edmonton Service Centre, Cott added.
Both Janz and Brown make regular use of electric-assist cargo bikes. This style of transportation is becoming increasingly popular because these bikes can assist with things like grocery runs.
Janz gets lots of question about e-bikes, especially when he rides his cargo bike. People ask: "Where do I go? Where do I get one? How much money do you save? How does it ride in winter? And how do your kids like it?"
One population that expresses a great deal of interest to Janz is seniors.
"Seniors, we've seen, are the highest adopters of electric bikes around the world. Part of it is they have more time to go out and recreate," Janz said. "Secondly, they don't have to worry about being in and out of the office in a suit and tie with their hair done perfect."
That's why the July 28 event Janz is hosting on e-bike literacy is aimed at seniors. The free event, presented in partnership with Bike Edmonton and Pedego Electric Bikes Edmonton, happens from 9am to 11am at City Hall's Heritage Room. It will include a presentation and Q&A as well as e-bike test rides.
"I'll never forget a phone call I had with a woman who had just bought an e-bike when she was in her 70s," Janz said. "She said, 'Michael, I bought it in my 70s because I still want to be biking when I'm in my 80s. It keeps me fit. It helps me balance.'"
This isn't the first time the city has addressed interest in e-bikes. An ill-fated rebate program was both launched and axed in June 2020. It had allotted $100,000 to be disbursed between 2020 and 2022, but ultimately only paid out 83 applicants before council repealed it.
"I'm open to the idea (of an e-bike rebate program)," said Janz, when asked if he'd like to see the program revived. "The question for me is, is the money better prioritized in things like multi-use paths, or in parking, or in safe-storage facilities?"
Edmonton has a Bike Plan, and this council approved $100 million in the 2023-2026 budget to expand the active transportation network. Brown hopes to see some of that money put to use in the Oliver area.
"I'm a volunteer with the group that works on the public infrastructure piece, in terms of advocacy," she said of her work with the Oliver Community League's RecreACTION committee. "We're going to be the ones pushing the city on the neighbourhood renewal, which will include hopefully some bike-lane infrastructure."
If you have a burgeoning interest in e-bikes, make sure you are familiar with the rules. Most can be found as part of the city's general bike rules, but the province requires that riders must be at least 12 and wear a helmet. The City of Edmonton has also published answers to common questions about e-bikes.
This file has been updated to reflect that new bike racks to accommodate e-bikes and cargo bikes were installed at Century Park and to share additional information about locker access.