Organizers of Chinatown After Dark say its success demonstrates how low-cost community events can be effective in bringing vibrancy to a neighbourhood.
YEG Chinatown Re:VITA, a grassroots collective focused on Chinatown revitalization, organized the event on July 29 in the back alley of the China Marble Restaurant on 97 Street. The event featured food vendors such as Van Loc and Hing Lung BBQ House, as well as activities like karaoke and mahjong.
Jenny Trinh, an organizer with YEG Chinatown Re:VITA, told Taproot the group wanted to highlight Chinatown's vibrancy with a night market-style event that leveraged existing infrastructure in the area.
Since Hung Trang and Ban Phuc Hoang were fatally assaulted near their workplaces in May 2022, much of the attention has turned toward policing Chinatown. The group wanted to counter those narratives around crime and disorder, Trinh said.
"There is this stigma around the Chinatown neighbourhood that it's dangerous, unsafe to be around here, and those kinds of narratives perpetuate and become self-reinforcing," she said. "But within this community, there's a lot of vibrancy and a lot of connections to be made… just there wasn't like a place for a gathering to showcase that vibrancy."
Organizers didn't know what to expect from the event, as it mostly came together in about two weeks and there wasn't much time to promote it, said William Lau, another member of YEG Chinatown Re:VITA. But it was a success, generating around $4,500 in revenue and attracting somewhere between 300 and 400 people.
It shows that steps can be made toward community revitalization without relying on costly, large-scale plans, Lau said.
"The importance of grassroots initiatives, I think, really comes into how inclusive and how affordable events can be," he said. "When you do things grassroots, you can cut so many costs that you don't have to pass on to your consumer."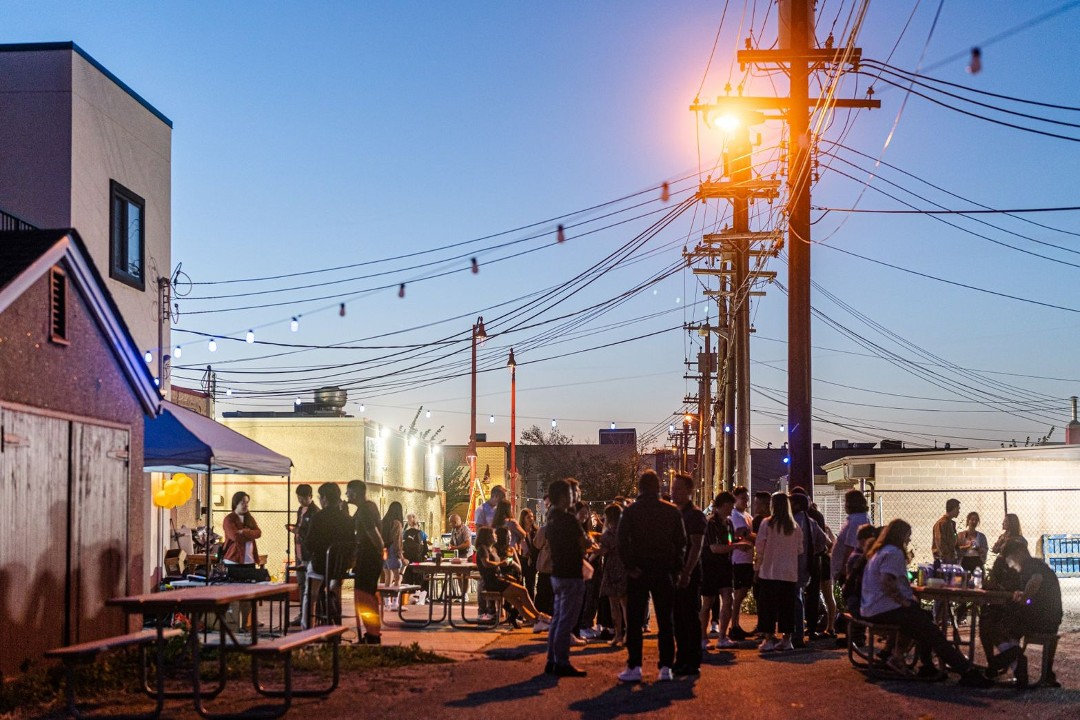 William Chen, owner of Van Loc, said he had low expectations for the event but wanted to give the organizers a chance because he believed in them. He was pleasantly surprised to see people from different age groups enjoying the event.
"This is so awesome that everybody is mingling and having fun and laughing and smiling," he said. "It was very heartwarming to see and super, super encouraging to see what these guys can pull off in what seemed to me a very short time."
Such grassroots events can be organized quickly compared to a festival-style event put on by a business association, Chen added.
"I think they offer such speed and agility that you don't see from other organizations," he said. "We don't need to wait for people to vote on something, to approve a budget… everybody's just there."
Andrew Hui, another organizer with YEG Chinatown Re:VITA, said one challenge in organizing Chinatown After Dark was getting vendors on board due to communication errors and unclear expectations. However, he said, vendors have expressed interest in participating in future events.
Instead of hiring a private security company, Hui said, the group reached out to the Bissell Centre to have outreach workers on site.
"It's not really enforcing security but rather applying safety in a way where everyone can feel safe, no matter what circumstances they're in," he said.
The success of Chinatown After Dark shows there is a demand for such gatherings in the community, Hui said. He cited similar events in other parts of the city, such as the Alberta Avenue Night Market, which is organized by the Alberta Avenue Business Association.
"I think it just shows how each area of the city has their own appeal that they can definitely utilize to have similar events," he said. "It's always just about how they market themselves and create that community for people to be motivated and incentivized to come in."
There have been previous night-market-style events in Chinatown. One iteration was the 97 Street Night Market in 2013 and 2014, which was inspired by the Canada Day Heritage Chinatown Night Market in 2013.
As for the future, Lau said YEG Chinatown Re:VITA hopes to have more events, keeping them relatively simple in terms of set-up and take-down. The group is beginning to plan its next one, possibly in September for the mid-autumn festival.