Submissions to the new Edmonton Edge Fund will be evaluated based on the degree to which they make Edmonton a better place to live.
"The fund gives local business owners and entrepreneurs the support they need to not just grow their businesses, but transform our community," Mayor Amarjeet Sohi posted after the fund's launch. His campaign platform included the creation of an innovation fund, though what has launched is less venture-focused than the Opportunity Calgary Investment Fund that he cited as a model.
Expressions of interest are due on Sept. 18 for the long-anticipated (and occasionally questioned) fund, which has a total of $5 million to grant in its first phase. Up to $100,000 is available per applicant in the Start Stream for early-stage companies to develop and commercialize their innovations; $250,000 to $1 million is available in the Scale & Grow Stream to help more established businesses increase export readiness, expand into other markets, and diversify.
"While we expect to support some large-scale projects, I am particularly excited about the Start Stream," Sohi said at the Aug. 28 launch event.
Proposals will be evaluated based on the degree to which they create jobs, generate benefits for other businesses, strengthen Edmonton's economy, and/or generate outcomes that benefit Edmontonians.
"We're not targeting specific industries or sectors, per se. We want to keep the net wide," program manager Nik George said at the launch. "But when we're looking at applying specific assessment criteria, we're looking at growth potential (as one component)."
Non-profits are eligible to apply. "We could look at non-profits that run social enterprises, wherein they do have revenue streams and business streams, but they still do ultimately function as a non-profit," George said.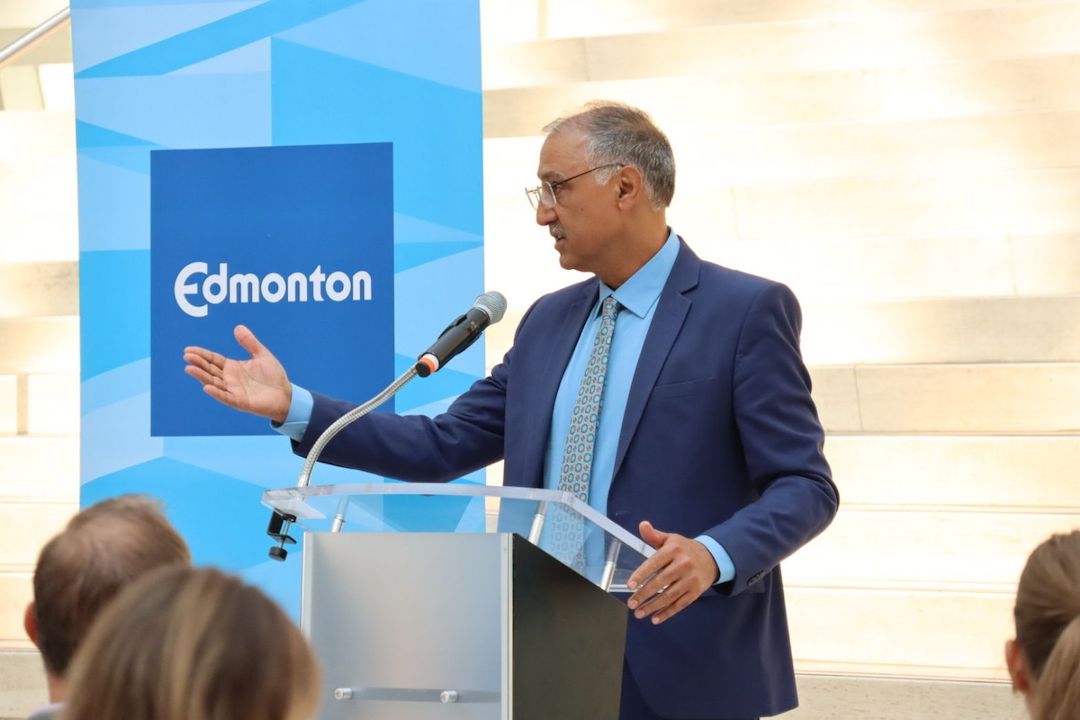 The innovation in question does not have to be related to tech.
"When we talk about innovation for the Edge Fund, we mean an idea that results in a new product or service; improvement of an existing product or service; approaching an existing problem in a different way; or investing in an industry, sector, product, or service that has significant growth potential," Kim Petrin, deputy city manager of urban development and economy, said at the event.
While Edge Fund disbursements are grants, not investments, there are conditions. George said the funding agreements come with a "milestone payment mechanism" that will ensure accountability. In the Scale & Grow Stream, the city requires a 50% matching amount from other funding sources.
The Edge Fund's parameters and evaluation criteria were created in collaboration with an advisory committee comprising Alisa Laliberte, the city's branch manager for economic services; Azim Esmail of ATB Ventures; Bhavnish Bilimoria of BDC; Catherine Warren of Edmonton Unlimited; David Chang, an industry liaison officer at the University of Alberta; Leanne Hedberg of MacEwan University's Social Innovation Institute; and Stephanie Stefura of Innovation Canada. The advisory committee will not be a part of adjudication for expressions of interest but will continue to advise on the Edge Fund at large.
The Edge Fund's program guide has more information for applicants. Expressions of interest will be evaluated by Oct. 6, and shortlisted applicants will be invited to submit a full application by Nov. 6, with final decisions expected by December.
Hear more about the launch of the Edge Fund on Episode 231 of Speaking Municipally, Taproot's podcast about civic affairs in Edmonton.