A recently graduated chef is leading his first kitchen at the new restaurant concept from The Common.
Joshua Nhan graduated from NAIT's Culinary Arts program this year and is already running the kitchen at Dolly's Cocktail Bar. With guidance from executive chef Winnie Chen, he built a menu that honours his Peruvian heritage.
"Learning from my mom, and learning all these different dishes, really makes me feel much more connected to my roots and much more of an individual in this Western world," Nhan told Taproot. "One of the main focuses for me was, how do I turn Peruvian food into plates that are cute and colourful?"
Dolly's opened at 9902 109 Street NW in August, replacing the exceptionally popular past occupant, Fu's Repair Shop, which moved to a bigger space on Jasper Avenue in July. Chen is the mind behind Fu's and now serves as executive chef for both that restaurant and Dolly's. She helped Nhan turn his creative vision into a robust menu that has profitability and different dietary needs in mind.
"I was already trying to shift into more of a culinary director (role) for The Common group," Chen said. "I know Josh is immensely talented and the flavours he creates are amazing. I want him to flourish creatively. But then also … we need to commercialize it."
The resultant menu includes high-tea-inspired canapés, seafood-heavy cold plates, and hot dishes such as empanadas, which riff on a Nhan family recipe. They are perhaps his signature menu item.
"They started with my mom and then they kind of evolved. They're just the recipe that I do have a lot of fun with," he said.
Nhan, 32, spent much of the pandemic as one-third of Nena's Empanadas, a takeout-and-delivery operation that he ran alongside his mother and father, Raquel "Nena" Nhan and David Nhan. In 2022, he and pal Richard Wood released an Edmonton Heritage Council-funded documentary on how Nena's immigration journey from Peru intersected with her culinary life. The empanadas on the Dolly's menu were named in her honour.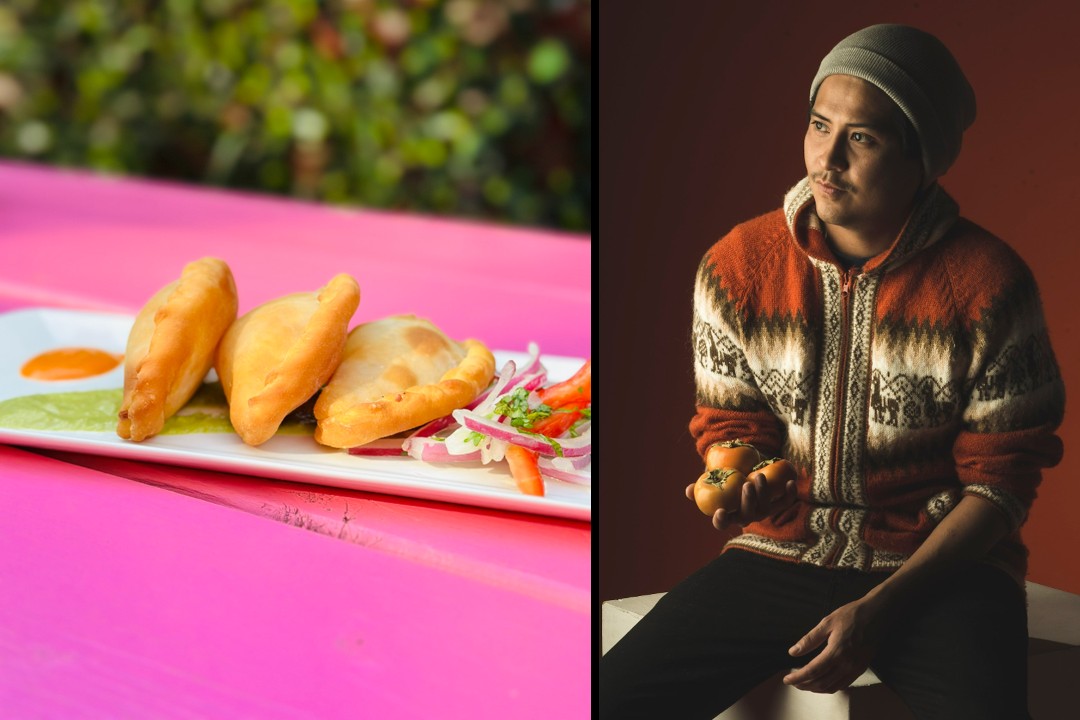 Nhan has worked in restaurants since he was 15. His longest stint was at Bistro Praha, where Nena's Empanadas first operated. He credits his mother's cooking and the more formal education he received at NAIT for his style, which takes a bit from both worlds.
"A roux is generally fat and some sort of starch and that becomes a thickener. That's the classical way of thickening something," he said. "Whereas Peruvians, they'll just take a handful of saltines and toss it in the blender. And that's perfectly fine for them and their recipes."
Chen's mentorship involved pushing Nhan to be singular in his culinary identity.
"You've got everything that you learned at school; you've got everything that your mom taught you," she said. "Now, what is Josh gonna bring to the table?"
Nhan got the gig by reaching out to Kyla Kazeil from The Common's ownership group to ask for bigger opportunities after working in various roles for The Common and Fu's. He was nearing graduation from NAIT, and once Kazeil and her team had conceptualized Dolly's — all bright and pink and beachy — he pitched Peruvian cuisine and became the head chef.
"It's a big combination of excitement and fear and accomplishment," he said of his feelings about running his first kitchen.
The creative team behind Dolly's also includes bar lead Nicole Willis (who heads up Fu's bar, too) and general manager Emma Frazier (who occasionally moonlights in a cover band). Though it has been described as a Dolly Parton- and Barbie-themed bar, Dolly's is really just a product of its makers' passions, Chen said.
"It's just a group of people just wanting to open up a fun place," she said. "There's no need to define it."
The Common just celebrated 15 years in business with a bash at another one of its new concepts, Double Dragon.
Nhan plans to continue to develop the menu at Dolly's as the space matures. In his time away from work, he'll continue playing in the band bedside. and gearing up to compete at the IKA Stuttgart 2024 Culinary Olympics, at which he'll represent NAIT.