It may seem odd for a business-oriented coworking space to offer its facilities to a social services agency in need of a new home, but for Work Nicer founder Alex Putici, it was completely aligned with his mission.
"No one succeeds alone. We believe that if you help enough other people get what they want, you will get what you want," Putici told Taproot. "Work Nicer is a community that exists outside of the four walls of the buildings that we occupy, so it doesn't just apply to our members, it applies to the community at large."
Boyle Street Community Services vacated its community centre at 10116 105 Avenue NW at the end of September after determining it wasn't financially viable to continue to lease the space from the Oilers Entertainment Group. Its new location at 10010 107A Avenue NW, called okimaw peyesew kamik (King Thunderbird Centre), is not yet ready, so the agency found temporary quarters for its services at Bissell East, CO*LAB, two trailers outside the new site, and Work Nicer's outpost in the Mercer Warehouse.
The Calgary-based Work Nicer took over the old Startup Edmonton space on the third floor of the Mercer in 2022. It operated for a few months, then closed for renovations earlier this year, sending members to the company's first Edmonton outpost, Beaver House. So the space was there when Boyle Street found itself in need.
"We had to do what we could to step up to bat and at least explore what that looked like," Putici said. Work Nicer paused renovations and moved to the second floor to make room for Boyle Street's Indigenous cultural support programs.
Offering those services in a somewhat commercial space will have its challenges, but this is also an opportunity to break down stereotypes about Boyle Street's clientele, said Lina Meadows, senior manager of adult programs.
"I think by integrating our community members into this building, it breaks down that wall of, 'Who are these people?'" she said. "And (it) really allows people who, more often than not, probably don't have a lot of intimate exposure to the clients that we would work with at Boyle Street, and really helps work towards building those healthier communities where we don't see 'us versus them' as much. We just see it as Bob, the guy who goes upstairs to access services at Boyle Street and is having a hard time."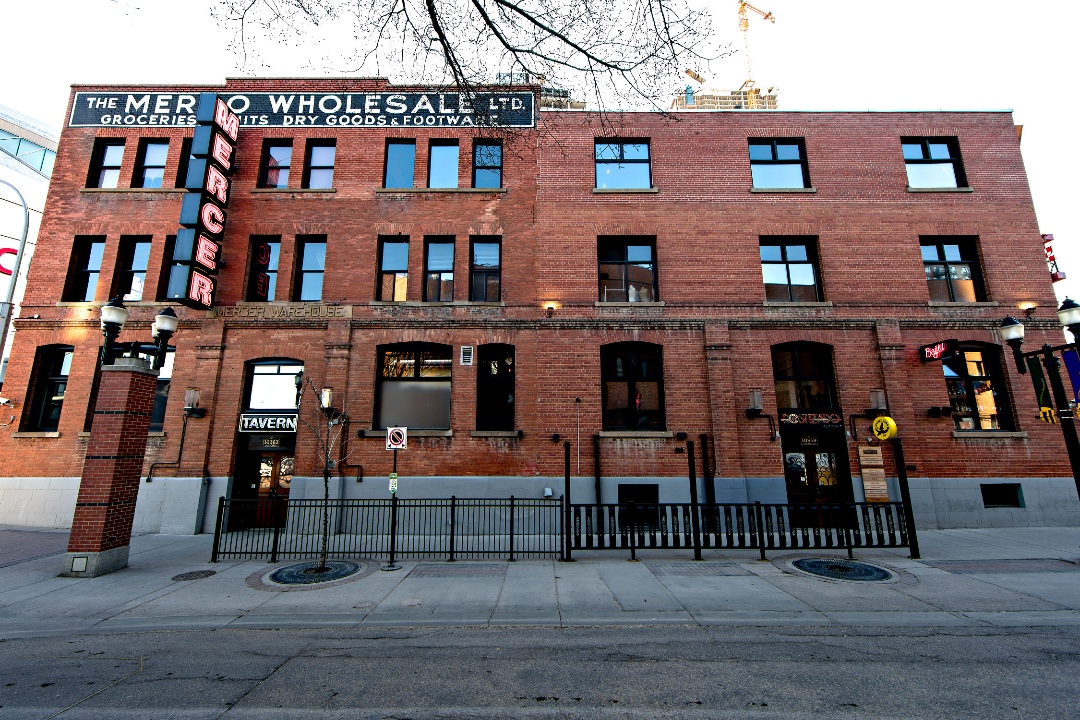 Gather Co., run by Kelly and Devin Pope, owns the Mercer Warehouse. The Popes have a relationship with Boyle Street through the Stovel Block, where sakihta kikinaw provides housing and support services for female-identifying people experiencing homelessness and poverty.
"When we were finding ourselves in the situation of having to relocate, we reached out to the Pope family to see if there was any possibility of any locations that they had that we could have a conversation about relocating to," Meadows said. "That's how the Mercer Building came into the conversation."
Construction began this summer on King Thunderbird Centre after some delays in securing development permits, and it is expected to be finished by the fall of 2024.
"Boyle Street will be in there for whatever period of time that they're in … That is their spot — they're running all the awesome work that they do there," Putici said. "And then we'll kind of work out what the plans are for Work Nicer in the building beyond that. We've really just been focused up till now on supporting that and just getting out of the way."
The Indigenous cultural support program encompasses a number of services, including Boyle Street's den-based model of interdisciplinary care and assistance for survivors of the Sixties Scoop and residential schools to apply for benefits and compensation.
"It's also a very traumatic process for folks to have to complete those applications and retell the traumas that happen to them, so that's what that program is for," Meadows said. "And they also provide cultural support to our staff, so ensuring that all of our staff have cultural competencies, providing our programs with access to cultural medicine, all of that."
The warehouse, which sits across from Rogers Place at 10363 104 Street NW, is within walking distance of Boyle Street's previous location, a factor that Meadows said was crucial.
"That was one of the biggest things that we were looking for when we were trying to secure a location — we wanted to still be within walking distance to shelter because if services are too far away from where community are staying, it makes it a barrier for them to be able to access," she said. "So we lucked out in this location being so close to where our Community Centre was."
Disclosure: Taproot Publishing is a Work Nicer member.