The Latest
Here's the latest from Taproot Edmonton.
---
The Pulse
In this edition: Sprout Fund II nears $10M target to put into seed-stage tech companies; Coun. Anne Stevenson wants to cancel a plan to spend $26.5M on the 103 Avenue Pedway; Premier Jason Kenney said that Omicron infections in Alberta may have peaked.
The Pulse
In this edition: a retired lawyer turned playwright has won a screenplay competition; the city won't pay for damage caused by Edmonton police during an arrest at Tzin last summer; our moment in history goes back to 1951.
The Pulse
In this edition: AltaML partners with venture capital firm to combine AI and life sciences expertise; the city has launched a new dashboard to share the status of public services in relation to COVID-19; the new grand chief of Treaty 6 wants to get everyone aligned.
---
News
Sprout Fund is quickly approaching the goal for its second fund, which will eventually provide momentum to a new group of seed-stage tech companies in Western Canada.
Continue reading
News
A program to turn an emerging screenwriter's work into a short film has awarded its top prize to David Haas, a retired lawyer who owes his writing career to anger in the courtroom and a penchant for winning competitions.
Continue reading
News
AltaML has formed a strategic alliance with Amplitude Venture Capital, a top Canadian firm focused on life sciences and building precision medicine companies. The partnership will look to leverage the possibility of artificial intelligence and machine learning in the biotechnology sector.
Continue reading
---
Feature
As Edmontonians weather a fifth wave of the pandemic, the prolonged closure of many downtown offices has left daycares in the heart of the city struggling to stay open.
Continue reading
Feature
Most candidates for mayor and city council agree that Edmonton needs more permanent public washrooms, a move that is vital for a city to work for everyone, says consultant Lezlie Lowe.
Continue reading
Feature
The 15-minute city is an urban design strategy that the current city council adopted as part of the City Plan at the end of 2020. The next city council, and its successors, will make the decisions that either help bring this plan to life or leave it to languish. As the municipal election approaches, this is a good time to examine what this concept means for Edmonton.
Continue reading
---
Brief
This weekend's events include a mix of outdoor and indoor fun, with a few virtual events if you're not ready to venture out.
Continue reading
Brief
On this day 71 years ago, On this day in 1951, Alberta's first newspaper was going to press for its final few issues. The Edmonton Bulletin was established in 1880 by businessmen Frank Oliver and Alex Taylor.
Continue reading
Brief
An interim review of the bus network redesign shows growing use of on-demand transit since it was introduced last April to mitigate a decrease in regular service to parts of the city.
Continue reading
---
---
Podcast
Council's back and wasted no time packing our schedule with stuff to talk about. We've got pedway memos and police flashbangs - both the physical kind and on Twitter too.
Listen to this episode
Podcast
Due to the outcome of a game of Rocket League, Andrew Knack will be "guest hosting" this episode along with Keren Tang. You can listen to them outline their plans for 2022 and beyond, or you can skip this episode and our download stats will conclusively prove a fact.
Listen to this episode
Podcast
This episode is about the budget. Happy holidays and may your break be not filled with nightmares of watching city council debate the budget. Ours will be.
Listen to this episode
---
Blog
As we look back at 2021, we are filled with gratitude for the support that has enabled us to accomplish so much this year. See what our members, sponsors, and clients have made possible.
Read this post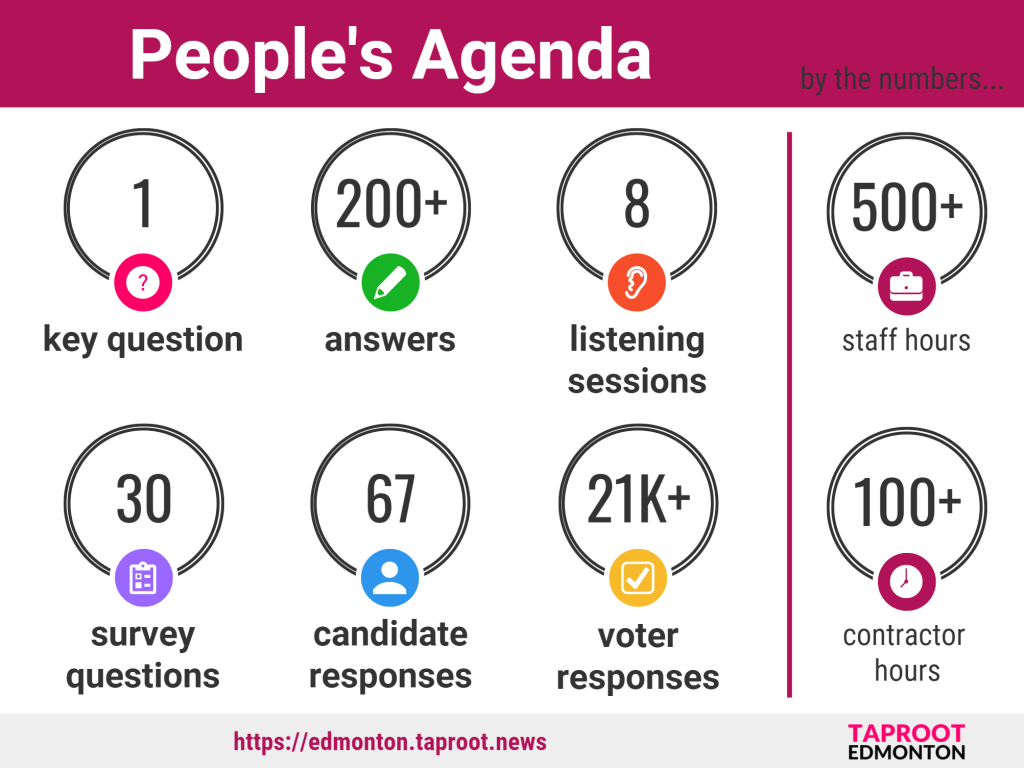 Blog
The votes are counted, the new city council is about to get to work, and we're putting a bow on our People's Agenda project.
Read this post
Blog
We are buoyed and blown away by the response to the Taproot Survey, our matching engine to help Edmonton voters discover how well they align with the candidates running for mayor and city council.
Read this post